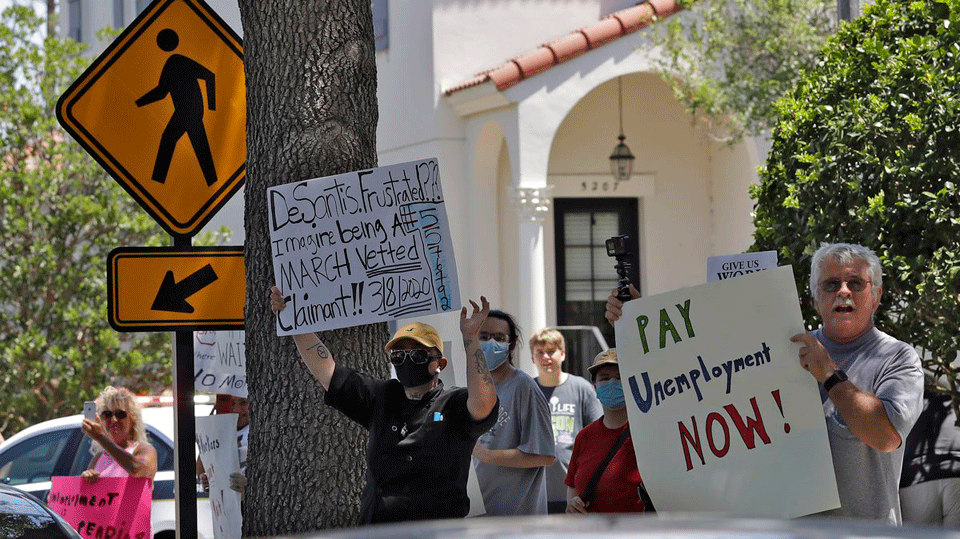 WASHINGTON—Another 2.226 million people filed for jobless benefits in the week ending May 30, the Bureau of Labor Statistics reported on June 4. That pushed the total official number of jobless benefits claims in this new great depression to 42.65 million.
And that may understate the case. AFL-CIO President Richard Trumka has said for weeks now that the real jobless total is likely above 50 million, which would be more than one-third of the active workforce.
The Bureau of Labor Statistics reported 1.877 million people filed new claims for state jobless benefits in the week ending May 30. But another three million-plus newly jobless workers were forced to seek only new federal jobless benefits available from the $2.2 trillion stimulus law Congress passed in March, Economic Policy Institute Policy Director Heidi Shierholz pointed out.
Those are the benefits available to workers who can't file for traditional state benefits. Such shut-out workers include Uber and Lyft drivers and other "gig economy" workers, so-called "independent contractors" whose bosses misclassify them in order to escape paying unemployment insurance or allowing them to organize, and household workers and farmworkers.
The 42.65 million workers who have sought jobless benefits since the depression began in mid-March are 29.3% of the new base total of 145.67 million U.S. workers, posted in a BLS footnote—and that base number itself is down by at least eight million in the last two months.
The weekly numbers are more up-to-date than BLS's monthly jobless numbers, to be released June 5. Those cover May, but the survey week for then is mid-month.
Shierholz said the BLS numbers may actually understate joblessness because 15 of the 50 states—she didn't name them—don't report claims only for the new federal benefits, but just "traditional" unemployment benefit claims to state agencies.
In some metro areas, the jobless numbers were even worse than the state figures, according to a separate BLS report. Every single one of the nation's 389 metro areas saw jobless rates rise in April, compared to April 2019, that report said.
And 13 of the 51 metro areas that each house more than a million people saw jobless rates of at least 20%, led by Las Vegas (33.5%), Detroit-Flint (24.4%), and Cleveland (23.1%). The largest April-to-April increase was in Kahului-Waihina, Hawaii. There, 35% of workers were jobless this April, compared to 2.5% jobless in April 2019.
The next-largest year-to-year hikes were in Las Vegas, with a 29.5 percentage point April-to-April increase, and Atlantic City, N.J. (29.1 percentage point hike). Not coincidentally, all three with those huge hikes are also big tourism destinations, with Hawaii featuring sunshine and beaches and Las Vegas and Atlantic City as gaming meccas.