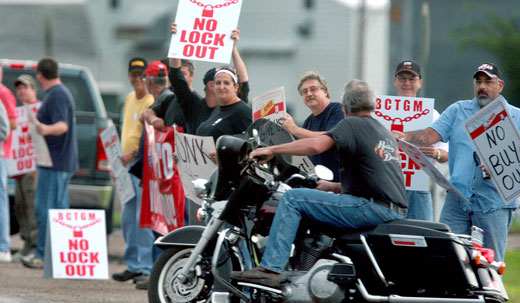 Some 1,300 workers at seven sugar plants in three states are locked outside company gates this week as their union battles an employer they say is determined to slash health benefits and weaken job security.
The lockout followed rejection by members of the Bakery, Confectionery, Tobacco Workers and Grain Millers union of the company's "final offer" by a nine-to-one margin. The contract expired Sunday night and the lockout began Monday.
"We offered what we thought was a terrific contract," claimed company spokesman Brian Ingulsrud. He boasted about what he said was American Crystal's offer of a 17 percent salary hike over five years.
But the union says the company's latest offer guts health care benefits and takes away the job security measures built into previous contracts. The last raise workers received was a 2 percent raise in 2004 that came with the last contract, which also locked in health care costs for the duration of the seven-year deal.
"We're not asking for much," said John Riskey, president of BCTWG Local 167G in Grand Forks, N.D. "We're asking for a contract that doesn't put our jobs in jeopardy. We're asking to continue health coverage that won't put our families in financial ruin if someone gets sick and we're asking to continue the short-term disability coverage we've been paying for nearly 30 years."
Union representative Mark Froemke said the company, in its drive to maximize profits, is trying to "destroy what it took workers 70 years to negotiate."
American Crystal produces almost 40 percent of sugar processed in the United States from beets and 15 percent of the total amount of sugar.
Scab workers are on the job at the company's seven facilities in East Grand Forks, Moorhead, Crookston and Chaska, Minn., in Hillsboro and Drayton, N.D. and in Mason City, Iowa. Replacement workers arrived early Monday morning at the sugar plants, just hours after workers rejected the company's offer and the contract expired.
Union reps say that the speed with which replacement workers arrived proves their contention that the company didn't really want negotiations to succeed.
The union has filed an unfair labor practice charge against American Crystal, charging the company has not bargained in good faith since talks began in May.
As workers outside the Moorhead plant carried "No Lockout" signs, the union challenged company claims that workers were easily replaceable. "The jobs we do, it's not rocket science, nor are we brain surgeons," Froemke said. "But the jobs we do in the factory are very skillful jobs. They are not going to be able to run factories with transient workers who have never been in a sugar factory."
Union reps are trying to educate the public about what it takes to run a sugar plant. They note that the operation requires everything from electronic control technicians and welders to boiler operators, payload operators, warehouse workers and maintenance workers.
At the Moorhead plant union workers have been stationed at six of the locked gates, around the clock. Picketers say they get encouragement from drivers who pass by, often shouting words of encouragement like "Good luck" and "We hope you make it."
The union, with the help of the Minnesota AFL-CIO, which has been running radio ads, wants to ensure that the public gets the workers' side of the story.
Ending the lockout and negotiating an agreement, union reps say, will benefit not just the wide variety of skilled and unskilled workers at the plants and their families but the company, farmers in the region and entire communities as well.
More than 3,000 people have signed an online petition urging American Crystal Sugar to end its lockout of the 1,300 workers, the Minnesota AFL-CIO reported Wednesday.
Photo: American Crystal Sugar Co. union workers picket in front of the company's plant in East Grand Forks, Minn. after being locked out by the company. (John Stennes/GrandForksHerald/AP)