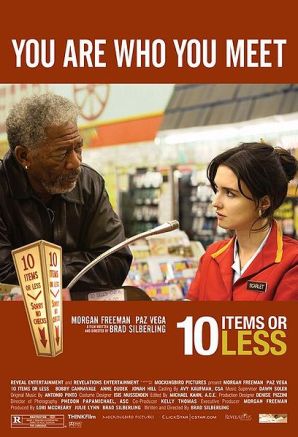 The picture 10 Items or Less, from 2006, is the sort of gentle, insightful film I wish they made more of. Morgan Freeman is endlessly engaging portraying an unnamed, but well known Hollywood actor, who has not made a picture for the past four years. A meticulous practitioner of his craft, the actor wishes to roll up his sleeves and do some on-location character studies for his next role as a supermarket manager. The clueless lackey of a dubious production company thus drops him off at a grocery store in the community of Carson, California, a largely industrial Los Angeles suburb. It is here that he finds himself stranded, as his ride never returns, and he is placed into the hands of a sympathetic, if unimpressed, checkout employee played by Spanish actress, Paz Vega.
The day's adventures will take the duo to fast food joints, big box stores, into a confrontation with a former spouse, and most memorably, to a car wash. The two are fast to form a candid mentor/pupil relationship as Freeman gives Paz pointers for an upcoming job interview. Of course, as the day goes on, every once in a while it is not so clear who is learning from whom. Freeman's character at times appears silly, but is always sincere and good natured, as he makes the best of each of the somewhat ridiculous roadblocks that the two encounter on the way to get the actor back home to the exclusive enclave of Brentwood.
When watching 10 Items or Less, you will no doubt find other familiar faces in small roles, such as Jim Parson who plays the character Sheldon Cooper on the television hit series The Big Bang Theory. We also get a few glimpses of Bobby Cannavale and Jonah Hill.
Another star of the film is Paz's yellow AMC Gremlin vehicle, the car assembled by United Auto Workers at the once thriving plant in Kenosha, Wisconsin. It is this unlikely conveyance that will take the two through a multitude of greater Los Angeles area landscapes from non-descript dusty back alleys, to the glittering neighborhoods populated by Hollywood power couples.
This is a film that portrays working people with the honesty and affection they so richly deserve.
Viewers of this enjoyable movie are well advised to watch it all the way through the closing credits in order to be treated to a couple of more humorous moments, while enjoying the Latin soundtrack.
Photo: Wikipedia (CC)