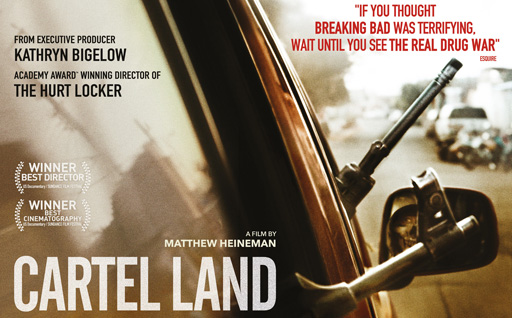 13 Hours: The Secret Soldiers of Benghazi and Cartel Land, two current films about vigilante actions, share common roots and concerns, but end up worlds apart.
13 Hours is a political screed told through the eyes of six secret mercenaries, an implausible Benghazi for Beginners, that often ignores the findings of eight Congressional Subcommittee Hearings, jettisons inconvenient conclusions and blames the local C.I.A. chief and "Harvard- and Yale-educated" bureaucrats running our government.
Cartel Land is a more fact-based, sobering documentary that examines anti-drug cartel citizens' group actions on both sides of the U.S.-Mexican border.
Director Michael Bay's 13 Hours purports to be the story of "the secret soldiers of Benghazi," or in other words, the efforts of shady ex-armed forces security contractorsto fight off Libyan insurgents' attacks on the U.S. Ambassadorial staff in 2012. "When everything went wrong, six men had the courage to do what was right," proudly announces the theatrical release poster. The film is based on Mitchell Zuckoff's controversial book,13 Hours. It stars James Badge Dale, John Krasinski, Max Martini, Toby Stephens, Pablo Schreiber, David Denman and Dominic Fumusa.
The film's trailer states: "This is a true story." But there seem to be problems with the truth right from the beginning. The new security guards pull their guns to get through their very first checkpoint, an incident which neither film, nor findings support. It is implied that government officials impeded assistance to besieged Embassy workers, including repeated direct orders to "stand down." Yet the Senate Committee found "no evidence of intentional delay or obstruction."
The film also suggests that air force intervention would have saved American lives. But the House Armed Services Report contradicts this, finding that air support was unavailable or would have arrived so late as to make no difference. Throughout, 13 Hours blames and belittles the efforts of career diplomats, while extolling the efforts of the six vigilantes who had very little access to information as events unfolded.
The film's disingenuous, dishonest mash-up of disproven shibboleths aimed at the U.S. government and Secretary of State Hillary Clinton was timed to be released just before the Iowa Caucuses and New Hampshire Primary. Sadly for right-wing supporters, the film seems to backfire as badly as the Congressional Hearings, which actually ended up bolstering Secretary Clinton's standing in the handling of the Benghazi tragedy. Pretentious inaccuracies aside, the film is a poorly written, sloppily directed, overly long exercise in de rigueur action scenes which seem to be dialed up from Expendables outtakes.
In contrast, Cartel Land is a serious film, evenhanded in showing the complexities of vigilante action. Director-Producer Mathew Heineman cuts back and forth across the border showing how, absent effective government response, citizens' groups arose in Arizona and Michoacán, Mexico, to fight the powerful drug cartels.
Tim "Nailer" Foley organizes the Arizona Border Recon. Only an hour and a half from Tucson, in the Alter Valley, Foley claims there's no law in these border lands. He arms other citizens and begins patrols to stop the drug smugglers. On the other side of the border, Dr. José Manuel Mirelesorganizes towns in Michoacán to fight the murderous Knights Templar Cartel. Claiming that the Mexican government often works with cartels, Dr. Mireles becomes a folk hero as his Autodefensas citizens' groups take back control of 28 towns. Members of the public are armed to fight back against the cartel foot soldiers, and Citizens' Councils organize to govern.
But ultimately both Nailer and Mireles' popular movements founder. Overly vigorous citizen enforcers beat suspects and invade homes. Seizure of drugs and "stolen" property leads armed vigilantes down the path of abuse. Dr. Mireles cashes in on his cult standing to engage in relationships with young admirers. As Autodefensa breaks its own rules, robbing, killing and chaos ensue. Angry civilians questionthe benefits of this new rule. "If we do not believe in institutions of state," asks one townsman, "we are no longer citizens."
Unlike 13 Hours Director Michael Bay, Mathew Heineman is not the prisoner of an agenda. In showing us a more complete picture of vigilante action, he raises honest questions: What happens when governments fail to protect and serve? When is it justified to override established authority? Is it better to try to work within existing institutions or work outside them?
Cartel Land has been nominated for an Academy Award for Best Documentary Film.