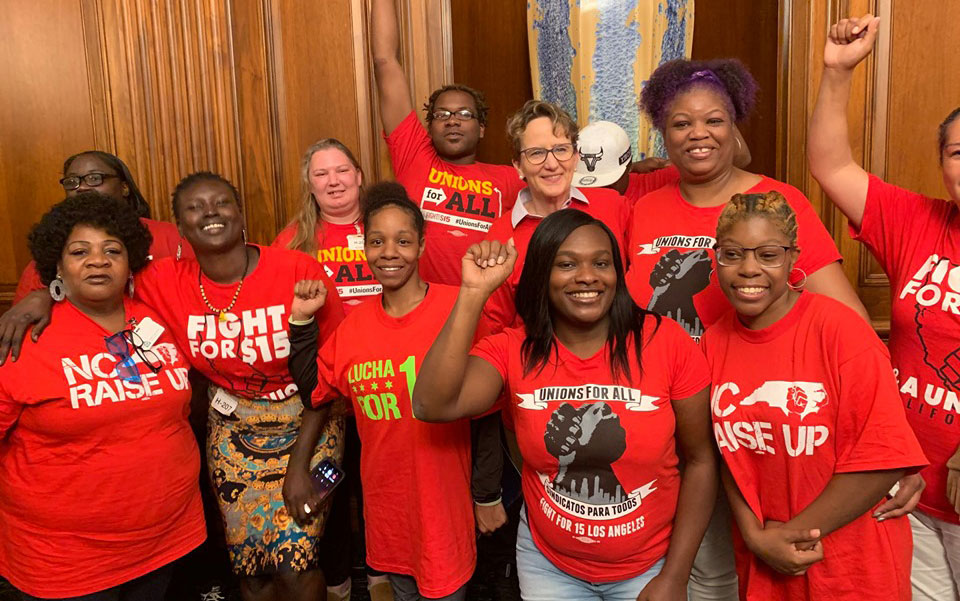 WASHINGTON—Women's groups and union leaders cheered as the Democratic-run U.S. House voted to raise the U.S. minimum wage to $15 an hour by 2025.
The 231-199 vote, virtually along party lines, presages a tougher struggle in the GOP-run Senate, where Majority Leader Mitch McConnell, R-Ky., is completely hostile to raising the wage—or any other progressive legislation the House sends him.
Democrats voted 228-6 to raise the wage in stages for virtually all workers, including tipped workers and youth now covered by a so-called "subminimum wage."  The minimum wage bill, HR582, eliminates both those exceptions.
Only three Republicans voted to raise the federal minimum wage, while 192 of them, plus ex-Republican Justin Amash of Michigan, now an independent, voted against it.
The increase would help between 27 million and 40 million workers, supporters calculate. It would especially help the tipped wage workers, such as porters, servers, and taxi drivers.
Their minimum, $2.13 an hour, hasn't risen in more than 25 years. Employers and tips are supposed to make up the difference between that and regular minimum wages, but many bosses steal their workers' tips, instead.
The federal minimum, $7.25, has been flat for a decade. That's prompted half the states, plus Chicago, New York, Los Angeles, Seattle, Philadelphia, San Francisco, and other cities to raise their minimums. Kansas City, St. Louis, and Birmingham, Ala., did, too, but GOP-heavy state legislatures overrode those hikes. The federal increase would also help workers whose state lawmakers yanked their raises away.
"Passing the #RaisetheWage Act of 2019 empowers working families in need and moves us toward building an economy that works for everyone. The Senate should follow suit and give millions of hard-working Americans a raise they've deserved for 10 years," AFL-CIO President Richard Trumka tweeted after the 12:01 pm vote.
"One in nine workers in the U.S. is in poverty—even when working full time and year-round," the federation added in a pre-vote analysis. "Passing the Raise the Wage Act as it stands would empower working families in need."
"Thank you @SpeakerPelosi for standing with working families across the nation and passing the #RaisetheWage Act! This is good for America. It's time for the Senate and President Trump to follow your example," tweeted the Service Employees, whose majority-female union includes tens of thousands of low-wage working women. "SEIU members and workers across the country will continue to #FightFor15," the union added in another tweet.
"We just left the House Gallery after the passage of the #RaiseTheWage Act – here's our reaction!" Fight for 15 and a union supporters tweeted. "@McDonalds, there's no need to wait. See the writing on the wall, pay workers $15 NOW and respect our union rights! We're just getting started! #FightFor15 #RaiseTheWageNOW."
"Republicans are sitting in there crying crocodile tears saying this raise is too much. Can anybody make it on $7.25? NO!" tweeted Rep. Donald Norcross, D-N.J., an Electrical Worker and former president of the South Jersey Building Trades Council.
"We were just debating this bill on the floor," tweeted Rep. Mark Pocan, D-Wis., a Painter. "I think it's funny that people in Congress, many of whom are millionaires, are telling people making $15,000/yr they have to tighten their belts."
"At a time of historic income inequality, today's passage of the Raise the Wage Act is a victory for women, families and working people," added Debra Ness, president of the National Partnership for Women and Families.
"Raising the federal minimum wage to $15 an hour will especially help women of color, who are more likely to hold low-wage jobs due to barriers such as structural racism. This legislation will also eliminate the sub-minimum wage for tipped workers, which will help close the persistent gender wage gap and diminish the workplace harassment that tipped workers are subjected to," she added.
But in an indication of the potentially rocky road ahead, Sen. Patty Murray, D-Wash., top Democrat on the Senate Labor Committee, praised the House vote and urged McConnell to bring the minimum wage hike to the Senate floor immediately. The Labor panel would handle the minimum wage bill, and committee chair Lamar Alexander, R-Tenn., was silent on it. So was GOP President Donald Trump.
"Today's vote in the House of Representatives is an important step toward ensuring that millions of workers, especially women—who make up two-thirds of minimum wage earners—are given a much-deserved raise so they can support themselves and their families," Murray said. "In order to truly make a difference for working families, the Senate must act now, and I'm calling on Leader McConnell to bring the Raise the Wage Act up for a vote as soon as possible."
The six House Democrats who voted against raising the minimum wage were Reps. Joe Cunningham (S.C.), Kendra Horn (Okla.), Kurt Schrader (Ore.), Xochitl Torres-Small (N.M.), Anthony Brindisi (N.Y.) and Ben McAdams (Utah). The Republicans who supported raising the wage were Reps. Brian Fitzpatrick (Pa.), Chris Smith (N.J.) and Francis Rooney (Fla.).