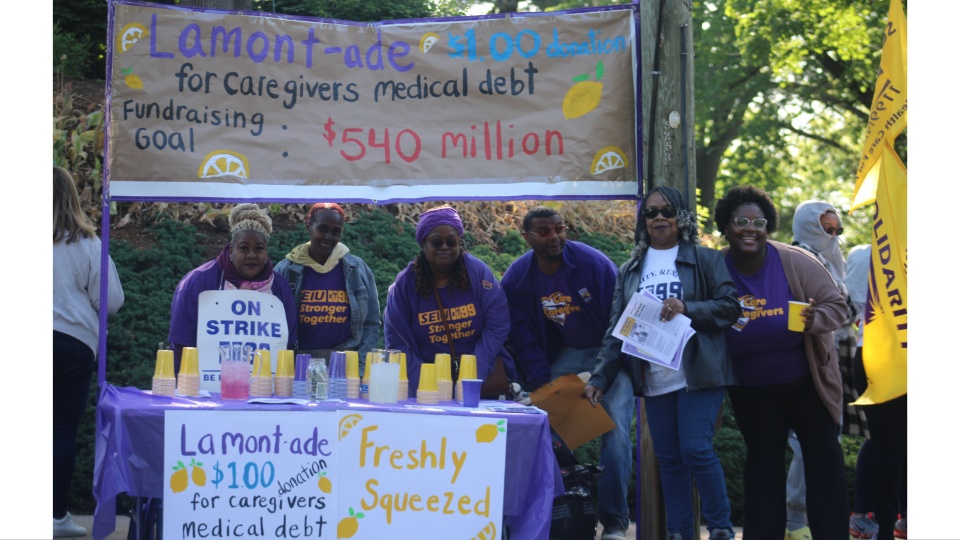 HARTFORD, Conn.—Over 1,700 union group home and day program workers providing care for individuals with disabilities in six Medicaid-funded agencies across the state walked off their jobs on Wednesday, May 24, in an indefinite strike to end poverty. They are members of SEIU District 1199NE.
After picketing in the morning, the caregivers moved to the State Capitol to bring their message to Gov. Ned Lamont and state legislators. On Friday, they moved the strike to the Governor's Residence, 990 Prospect Avenue in Hartford, with a "Lamont-ade Stand" in demand of livable wages, affordable health insurance, and a pension after decades of service.
Several homeless long-term care workers pitched a "tent city" at the Capitol on Thursday, including home care personal care attendants (PCAs), a growing sector of long-term care workers funded by Medicaid who are struggling with homelessness, poverty wages, and lack of health insurance.
"I've been in the long-term care field for 20 years; I make $17.25 an hour," said Sylvia Grant, a caregiver working with Oak Hill for the past two years. "I'm prediabetic. I cannot afford my health care. I cannot afford to get sick. This is not acceptable. I should not have to make these choices in my life, not while I'm taking care of the lives of other people."
The striking workers are receiving wide support. An appeal was issued by Connecticut AFL-CIO President Ed Hawthorne with six ways to support the strike.
Click here to sign the workers' petition and share it on social media.

Click here to make an online donation  to the strike fund.
Commitments to adopt a picket line are also being organized.
Calls to legislators and the governor's office are urged "to let them know that strikers deserve a living wage, affordable healthcare, and a pension to provide care for individuals with intellectual and developmental disabilities. Gov. Lamont's office number is 860-566-4840."
Caregivers are demanding a pathway to a $25-an-hour minimum wage, as well as health insurance that they can afford and a retirement plan that won't leave them in poverty. To achieve these improvements in compensation and economic justice, strikers are demanding an additional $400 million in the state budget in Medicaid funding for group homes and day programs that care for individuals with disabilities.
This Medicaid funding, which requires $200 million in state funds and $200 million matched by the federal government, will lift both union and non-union group home workers out of poverty in Connecticut.
Workers are striking six agencies at nine locations providing care for about 1,500 individuals with intellectual and developmental disabilities: Oak Hill, Mosaic, Whole Life, Network, Caring Community, and Alternative Services, Inc.
"This work is almost entirely funded by the state with Medicaid dollars. This pays for the care received by individuals with disabilities and provided by our members, in many cases 24 hours a day," said Rob Baril, President of the New England Health Care Employees Union, SEIU 1199NE.
"Tragically, the workforce of 1,700 members that is striking does that work at poverty-level wages, with entry-level wages of $17.25, many of them without affordable health insurance."