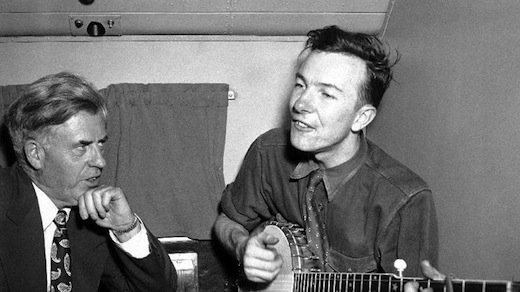 I heard Pete Seeger many times, but the most stirring was his 1948 appearance in Buffalo, N.Y., at a rally for Henry Wallace. I described Seeger's courage in my book, "Joy in the Struggle":
In 1948, Henry Wallace agreed to run for president as a third party candidate. Progressives supported his campaign. As Curtis D. MacDougall summed it up, Wallace wanted to stop "a trend toward American imperialism in foreign affairs and destruction of the social gains of the New Deal at home."[1] The Wallace campaign on the Progressive Party ticket was the most important third-party campaign of my lifetime (to date).
A strong cultural movement was a prominent part of the Progressive Party campaign. Pete Seeger and Paul Robeson both made history when they performed at the Wallace rallies in Buffalo. Early in the campaign, Seeger sang at a rally held at Kleinhans Music Hall, near my apartment in Buffalo. It was standing room only, and we had to turn people away. Just a few months later, a second rally was held in the same location. This time, the huge auditorium was filling more slowly. Some of the earlier support had melted away because many feared the election of the Republican, Thomas Dewey. Also, Truman had changed his campaign rhetoric to give "lip service" to Progressive Party program planks.
We activists were worried sick. We did not want Wallace to come to a half empty hall. Pete Seeger was supposed to sing a song or two before Wallace spoke. But we needed to stall until the hall filled. Seeger came forward and I thought he was very brave and upbeat. He sang and he sang and he sang, until the hall was as full as it was going to get. Everyone's morale picked up as Pete belted out one after another of the people's songs. I have loved him deeply, ever since.
Photo: This Aug. 28, 1948, file photo shows Henry A. Wallace, listening to Pete Seeger, on a plane between Norfolk and Richmond, Va., campaign stops (AP Photo/File).