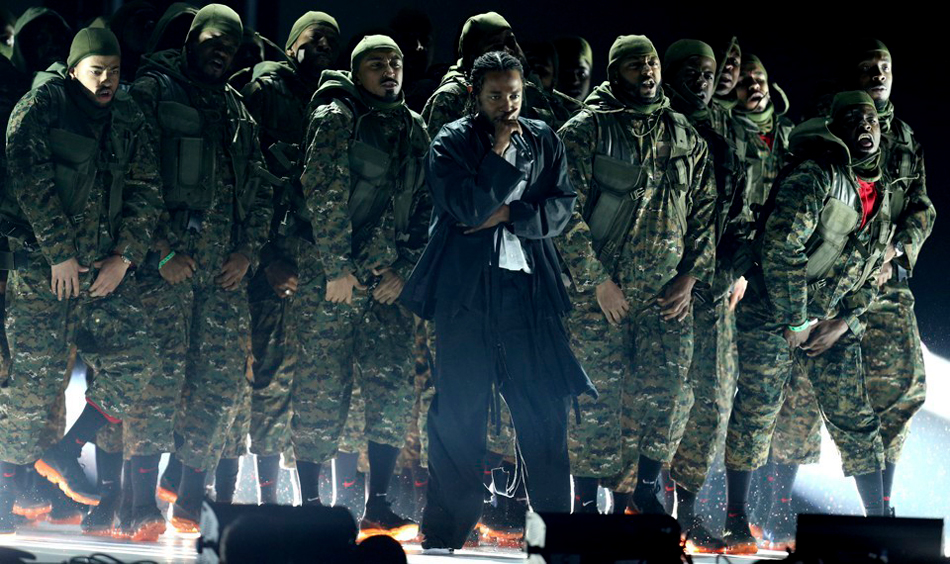 The Recording Academy's 60th Annual Grammy Awards ceremony hit viewers with a barrage of riveting performances Sunday night, beaming out a stream of consciousness-raising political messages to the nation from New York's Madison Square Garden. The evening was filled with a lineup of artists that touched on trending social issues, including the #MeToo movement, immigration, police brutality, and suicide prevention.
After opening the show with an electrifying performance, Compton-based rapper Kendrick Lamar took home five Grammys. K-Dot launched the show with a medley of his songs that included "XXX," "King's Dead," and his hit single, "DNA." Rocking an American flag as his backdrop, Lamar's backup dancers donned camouflaged uniforms as he rapped to his politically charged lyrics. "XXX," one of the songs featured in his mashup, is a scathing critique of U.S. imperialism and includes verses such as "the great American flag is wrapped and dragged with explosives, Compulsive disorder, sons and daughters barricaded blocks and borders."
Lamar brought veteran artists Bono and The Edge, both from U2, on stage with him and had comedian Dave Chappelle interrupt the performance to make an announcement: "I just wanted to remind the audience that the only thing more frightening than watching a black man being honest in America, is being an honest black man in America." Lamar's number climaxed with a chilling, but powerful display of performance art as all of his backup dancers, dressed in bright red hoodies, collapsed one-by-one to the sound of gunshots.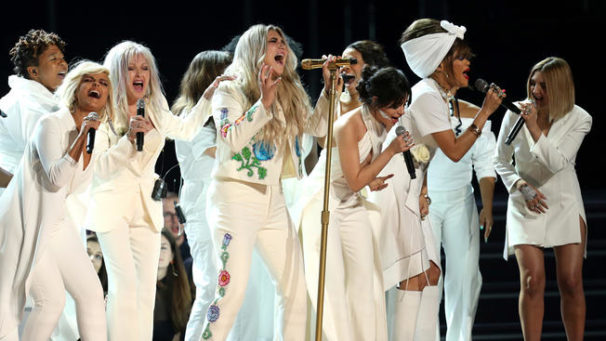 Janelle Monáe also graced the stage with a powerful message on behalf of the #MeToo movement before introducing singer Kesha. "It's not just going on in Hollywood, it's not just going on in Washington, it's right here in our industry as well," she said. During Kesha's performance of "Prayer," several other female vocalists dressed in white joined her on stage. The performance, coming after years of prolonged court proceedings with the artist's ex-producer and alleged rapist, brought many in the audience to tears. Kesha sung the emotional lyrics to a song that was inspired by her tumultuous journey of healing after the assault: "I'm proud of who I am. No more monsters, I can breathe again."
Another hot topic of the night was mental health. Rapper and songwriter Logic performed his hit single "1-800-273-8255," a song titled after the telephone number of the National Suicide Prevention Lifeline. The performance also featured Alessia Cara and Khalid, who were both also part of the original track. The performers had people in white shirts join them on stage wearing affirming messages such as, "You are not alone." At the end of his act, Logic made a plea for unity and empathy, recalling the words of the Emma Lazarus poem engraved on the Statue of Liberty: "Bring us your tired, your poor and any immigrant that seeks refuge, for together we can build not just a better country, but a world that is destined to be united."
Overall, the Grammys remained consistently and overtly political throughout the night. Although the awards show has faced much criticism in the past for the lack of diversity in its nominations, it seems to be making a conscious effort to address current social issues. This could mark a crucial shift, as even the tamest parts of mainstream pop culture are finally delving into dirty political territory.