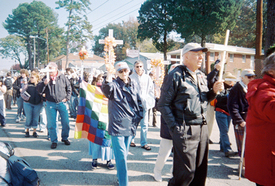 FORT BENNING, Ga. — More than 22,000 people from all over the United States and Canada, half of them young people, gathered here Nov. 17-19 to demand that the Defense Department's School of the Americas (SOA) be shut down and that justice prevail in Latin America. Remembering victims of soldiers trained in torture at the school, they conducted a solemn funeral procession to the main gate of this military base, location of the SOA and home base for 60,000 U.S. soldiers.
This was the largest anti-SOA demonstration ever at Fort Benning. Simultaneous protests took place in other U. S. cities, eight Latin American countries, Canada and Ireland.
Founded in 1946 at the beginning of the Cold War, the SOA has trained 61,000 Latin American soldiers. Graduates have participated in massacres, torture and assassinations. Yearly protest demonstrations coincide with the Nov. 16 anniversary of the 1989 killings of six Jesuit priests and two women in El Salvador at the hands of SOA graduates.
First located in Panama, the SOA promotes U.S. military influence in Latin America. Critics say it provides troops used by right-wing governments to repress students, religious workers, union organizers and popular movements. School torture manuals came to light in 1996. Reacting to mounting criticism, Washington changed the school's name in 1996 to the Western Hemisphere Institute for Security Cooperation.
In 1990 Catholic priest Roy Bourgeois founded SOA Watch in order to carry out nonviolent direct action and legislative advocacy to close the school. That group organizes the Georgia demonstrations.
This year 16 protesters, defying the guards, entered the base and were arrested, purposefully risking the jail sentences handed out to trespassers in previous years.
Over the course of 12 hours spread over two days, 70 musicians and speakers held forth on a stage at the main gate of the military post. Protesters heard from SOA organizers, civil rights leaders, torture survivors, union organizers, religious activists and representatives of indigenous groups.
"Living the Dream" activists had walked from Selma, Ala., and a Buddhist Peace Pilgrimage arrived on foot from Atlanta. Early on Nov. 19, 200 Veterans for Peace members and supporters walked four miles to the gate.
"We have to keep a check on what our government does," said Victor Kittle from Detroit. "I'm afraid terrorism begins at home."
A Vietnam War veteran pointed out, "Many of us don't know what goes on here, but we know what the results are."
The war in Iraq was on people's minds. A member of Iraq Vets for Peace said, "Iraq was terrifying. Not only that but if you complained about anything — shortages or the food — you become a marked man and had to watch your back."
Education was a big part of the tightly organized event. Over 65 presentations were offered, mostly at the Convention Center in Columbus. Nonviolent protest, immigrant rights and prison reform were covered, as well as conscientious objector training, debt cancellation and human rights volunteer programs.
Participants attended sessions on union repression in Colombia, killings of women in Guatemala, indigenous rights in Bolivia and Venezuela's revolutionary process, conveyed by that country's ambassador.
At a remarkable labor caucus organized by the Georgia AFL-CIO and Michigan UAW leaders, former Congressman David Bonier, who now heads American Rights at Work, Human Rights Watch labor researcher Carol Pier, and AFL-CIO Organizing Director Stewart Acuff connected the proposed Employee Free Choice Act with workers' rights in Latin America.
Representing Colombia's trade union confederation CUT, Alfonso Velasquez detailed violent union repression endemic in that country. AFL-CIO Executive Vice President Linda Chavez-Thompson presented labor rights "as a strand in the fabric of social and economic justice," emphasizing that wherever workers are abused, the rights of all people are under siege.
Many speakers cited recent electoral victories in Latin America and opposition there to the U.S. military buildup as signs of hope and positive change in the region. SOA Watch activists described their campaign to persuade Latin American political leaders to no longer send troops to the SOA, a step already taken by Uruguay, Argentina and Venezuela.
Encouraged by Democratic victories in the recent congressional elections, SOA Watch plans to intensify its campaign to persuade Congress to vote the SOA out of existence. In June 2006 an amendment to that effect introduced by Rep. Jim McGovern (D-Mass.) lost by 30 votes.
Mike Giocondo contributed to this story.