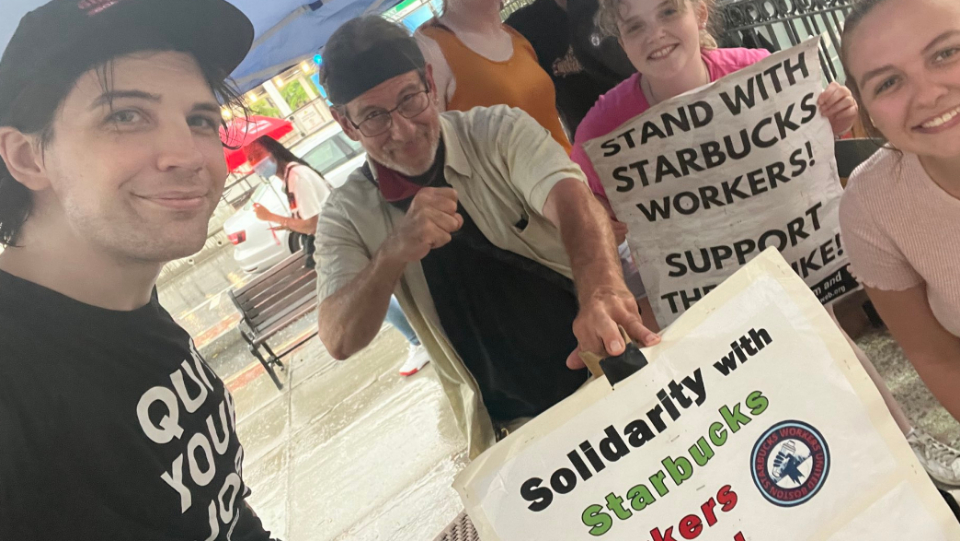 Spencer Costigan is a worker and a union organizer at the Starbucks store at 874 Commonwealth Avenue in Boston. The workers there have been on strike for nearly a month, pushed to the picket line by the company's rollout of a divisive unequal employee benefits plan aimed at curbing support for the union and by the installation of a store manager that workers say has a history of racist, homophobic, and transphobic behavior. 874 Commonwealth is one of five Starbucks locations currently on strike in the Boston area. Workers at four other stores walked off the job on August 1st. People's World reporter Jacob Buckner talked with Costigan about the effort to unionize, the company actions that prompted the strike, and how the struggle is going now.
Jacob Buckner / People's World: How did the organizing effort begin at your Starbucks store? What was the response from management when you all decided to unionize?
Spencer Costigan: The process began when I heard about the store up the street, Starbucks 1304, unionizing, and I was immediately on the hunt for who to talk to about getting involved. I started looking for a contact who could get me in touch with someone from 1304 or Starbucks Workers United.
I've always been a politically involved person and have always been concerned with working class issues specifically. Growing up in a relatively poor household, it has always been at the forefront of my life and politics. I saw unionizing as an obvious win for my workplace, so I thought, let's figure out how to do this.
We decided to go through with it at the end of March. We were trying to do it so the manager wouldn't find out. It was such an overwhelming drive from the entire store, and we were stoked for it. We had a mail-in vote that was agreed upon by the NLRB and the company. We mailed the ballots in, and they were counted on June 3rd. The company tried to contest a lot of the ballots, trying to water down all of our support. We still won unanimously, 10 to 0.
My vote was contested by the company because me and the other person who helped set it up with me were shift managers, and there was a gray area as to whether or not we were allowed in the union.
I know that the company then held these anti-union meetings. What were some of the main points that were being conveyed at the "captive audience" meetings?
They split us up into three groups over the span of three weeks. Each group went to three meetings, so nine meetings in total. I made sure in every group that there was somebody to call out company disinformation.
They would say, "We don't want someone to stand between you and Starbucks, we're going to avoid getting a third party involved." I would say, "Aren't you all bringing in third parties? I do not recognize any of these people." They flew corporate people out from Texas, and they seem more third party than the people in the union.
The union consists of us, the people who work together in the store. They are trying to pull this with negotiations, saying the union is trying to get in the way, but they're the one getting lawyers while the union is people that work at Starbucks.
They would also try to say there's no telling how much your union dues would be. But there is telling, you could look at what kind of union dues similarly compensated fields pay. But people in unions, similar to the one we would be joining, typically make 15% more than non-unionized workers, and the union dues are usually $12 a week. They said we can't guarantee that the dues wouldn't be more.
Starbucks said if you all unionize, we can't guarantee you can keep all your benefits, but we said, "You can't guarantee we can keep them right now!" The whole point of unionizing is that you get a contract, to make sure that the company could not take benefits away because they feel like it.
They said Starbucks wouldn't do that, well lo and behold, two months later they said we might have to get rid of abortion protection and trans health care. They would say unions are just a business that is trying to take your money, but the union we're talking to does not take dues until we get a contract. We can say no until we get the contract we want.
We countered everything they said. They made it sound like unions are esoteric, outdated institutions, where there's no individuality. Saying the union is going to talk for you, the union will make you do things you do not want to do. But we're already forced to do things we don't want to do by the company, at least we will get to vote on whether we want to do it if we have a union.
So we understand that after you started organizing, Starbucks rolled out a new benefits program—improved sick leave, credit card tipping for 240,000 employees, expanded training. It all sounded good except they cut you out—the company explicitly excluded workers involved in the union. When did you all find out that these benefits were coming?
I believe it was in mid-May, after we had filed to have a vote. I immediately asked a couple people involved in organizing work because this rollout seemed incredibly illegal, and they confirmed that it was and that Starbucks couldn't do this.
We put a note up next to the flyer about all of the benefits we would not be getting and saying this was illegal. Management then took it down, so I wrote it on the flyer itself and made sure everybody in the store knew that it's illegal if they don't give this to us. We weren't going to stay quiet about it. It was a guerilla marketing campaign to make sure everybody in the store got loud about how illegal this was and to guarantee that management knew that we knew.
Your strike has been going on for almost a month now. It was joined by the workers at other locations in Boston who went on strike August 1st. You all at the 874 Commonwealth Avenue store took action first because of the new manager that corporate sent into the store. Can you tell me about what you all are demanding?
By June 6th, a new manager came in and immediately started cutting our hours across the board, telling me when I was writing the schedule that I should focus on making sure workers don't get more than 18 hours. Some of these people were getting 36 hours prior, so this meant cutting their pay in half. Your rent is not going to cut in half just because you are not working as much.
She demanded that people expand their availability despite the fact that they were getting less hours, and if they couldn't do it, she was threatening to fire people, which is incredibly illegal. She has also been racist, homophobic, and transphobic, migendering a lot of our trans partners and making racial comments about Black partners' hair.
This is part of a pattern of behavior; she's been investigated for this sort of behavior in the past, but of course the company that she previously worked for ended up finding no wrongdoing. That is what Starbucks is trying to say now, and one of the main demands of our strike is to fire her and get rid of her.
The company loves liberal posturing, saying things like, "We love people of color and queer people, we think it's so important that they have a safe space to be who they are," but then they're bending over backwards to defend this monster manager from the kind of behavior they claim to be against. This shows that businesses are businesses and profits will always be put ahead of workers. It has been very good for me, because it has helped further radicalize all of my co-workers.
The strike has been super-inspiring; I cannot overemphasize how helpful and welcoming the community has been. It's really tough to imagine a different world, but having that reminder that people do care and see themselves and understand themselves as workers is powerful. Even if they don't understand it on a political level, they understand it on an innate level, which is very important. They will never be [Starbucks CEO] Howard Shultz, and they are much more likely to be a barista, they're much more likely to need the kind of defense we're arguing for.
Everyone has been very helpful, with a lot of people I did not expect to be as involved as they were stepping up in incredible ways. It has shown that those people who were at first weary of a strike are getting more confident and outspoken with their demands. Every time I'm out on the line, which is everyday, I'm meeting new people who are very kind and inspiring to be around. Every single day we have new people, like teachers, who say, "I heard about this from my union and needed to get out here to make sure you all are okay."
The school bus drivers' union has been really helpful, Teamsters, and I can keep on naming various unions and political organizations. I've met people from 25 different unions at this point in and around the Boston area. We have people driving from an hour or more away to hold down the line at 11:00 PM; people are really committed to helping us. The sense of solidarity has been unreal.
The movement to organize Starbucks workers is relatively new, being only a year old. Yet with all of this action happening, in Massachusetts especially, do you feel this represents that workers are realizing the power of unions?
I know that our strike helped inspire workers in a lot of stores to go on strike for August 1st and remain on strike until today. I've had other stores request people from my store to talk to them about our experiences on the line so they know what to expect.
It has been hugely rewarding for people to look to us for inspiration of what to do next. We're only the Boston area Starbucks, but all of the coffee shops in the area, both at the unionized coffee shops and a couple of people from non-unionized ones, have all shown up to help us, talking about how crucial what we're doing is.
What we're doing is really important in a way that we did not understand at the time we started. Initially, we were supposed to go on strike for one or two days, but once it began, everybody in our store thought, "No, we can keep this going for as long as we need" because it is crucial. We saw this easing into it with a lot of the other stores that went on strike August 1st, where they would go on a strike for August 1st and then they would see from there. August 2nd comes around and they're still on strike because they understand this is how you do it, this is what to expect.
For the past five days or so, these stores have been on strike, explicitly in solidarity with us. Saying, "This strike started in order to be included in these benefits that you're illegally withholding from us, and now we're on strike because the people at 874 Commonwealth Ave deserve to have their demands met." This solidarity being shown is setting an example.
Starbucks wants to atomize us and make us seem like we work at individual stores disconnected from one another, but we are actively choosing to ignore that and bargain as a cohesive unit. We are either all at the table or all at the line. I know that if the workers at one of these other stores have to deal with some of the same bullshit that we're dealing with, since it is inevitable, I can depend on a lot of people at my store to show up to their picket line and make sure they have the kind of support that they've shown us.