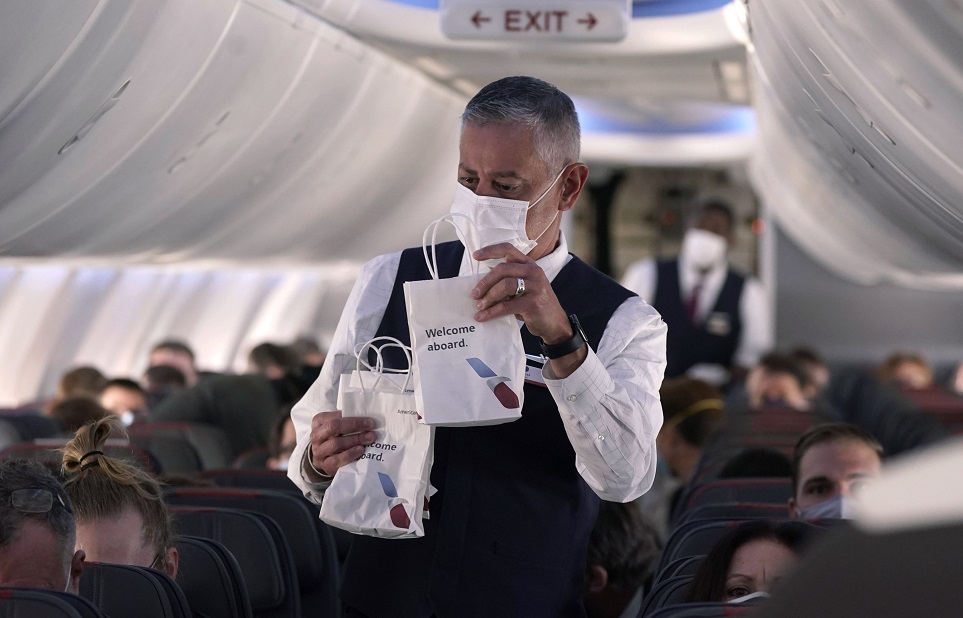 DALLAS-FORT WORTH (PAI)—After little management movement in bargaining, even with a federal mediator involved, and no raises since January 2019, the 26,000 flight attendants at American Airlines will begin a month-long strike authorization vote on July 28.
Key issues are pay and working conditions. With no raises in four years, news reports indicate the flight attendants and their union, the Association of Professional Flight Attendants, seek a 35% catchup increase and raises of 6% yearly.
But they also resent being treated as "second-class citizens" on such issues as crew scheduling and availability of "deadhead" seats on flights which would let them return to their home bases. They even get shorted on guaranteed hotel rooms when they can't return home, and management hasn't budged on that, either, APFA bargainers reported July 21.
"After years of negotiations, APFA has proposed essential improvements, in areas such as wages, benefits, and reserve," union President Julie Hedrick said in a video to her members about the board's recommendation for a vote.
"While some progress has been achieved, American Airlines management has failed to return a response to the economic proposals submitted to them in March of this year. Where is their accountability? This response has left us no choice but to call a strike authorization vote, aiming to show management our unwavering solidarity and the pressing need to finalize these negotiations.
"American Airlines flight attendants have worked through the toughest time in history, risking our lives during a pandemic and being assaulted by passengers, all while not receiving a raise since January 2019.
"At the same time, management took advantage of this pandemic and severely cut staffing, forcing flight attendants to work understaffed, placing an undue burden on ourselves and our passengers.
"And let's not forget the 1.3% profit-sharing we received this year, while management received 60% bonuses. Profitability should not just mean more money in management's pockets."
The APFA board unanimously approved seeking the strike authorization vote from the members, who serve on one of the nation's "Big Four" air carriers. Voting closes August 29, with the results announced the next day, accompanied by informational picketing nationwide. In May, American's pilots authorized a strike and are now in mediated bargaining.
The board's resolution adds American Airlines bosses "offered no improvements in compensation" and "demanded concessions" from the workers even though the carrier, the nation's largest, is highly profitable.
Under the Railway Labor Act, which governs worker-boss relations on railroads and airlines, when the two sides can't agree on a new contract, either can seek National Mediation Board to aid them. If that doesn't work, there's a "cooling-off period" before either can invoke "self-help": A strike by the workers and a lockout by the bosses.
If that threat looms, the president can name an emergency board to hold hearings and propose a settlement, and Congress can impose it legislatively. That's what happened last year to the 115,000 workers from 14 unions who toil for the nation's freight railroads last year.
We hope you appreciated this article. At 

People's World

, we believe news and information should be free and accessible to all, but we need your help. Our journalism is free of corporate influence and paywalls because we are totally reader-supported. Only you, our readers and supporters, make this possible. If you enjoy reading 

People's World

 and the stories we bring you, please 

support our work by donating or becoming a monthly sustainer today

. Thank you!