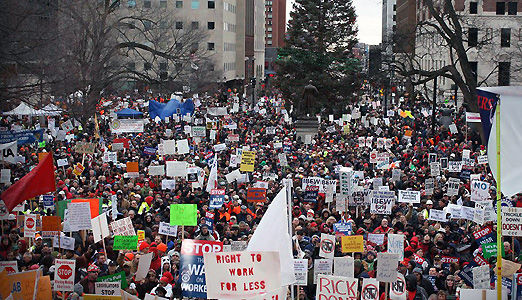 LANSING, Mich. – The 58 Republicans who rammed through a 'right to work' for less bill were dwarfed by the 30,000 who descended today on the State Capitol here to protest their assault on union rights.
Thousands, including union members and their supporters from community organizations, religious groups, civil rights and women's rights groups and many other organizations jammed the steps leading up to the Capitol, the lawns in front of it, and filled the surrounding streets, completely encircling the seat of state government. They marched into the building itself, where they chanted from the balcony in the rotunda.
"This is part of a national attack on working families led by the Koch brothers and ALEC," United Auto Workers President Bob King told the people jamming the Capitol rally. "They want to shift more and more of the wealth to a smaller and smaller group of people."
Any hope Republicans had of splitting the ranks of the labor movement by leaving firefighters and police out of their bill stripping union rights were dashed today as firefighters and cops joined the demonstrators.
"Not only are we joining the rest of the workers on the line, but we are going to be out front on the line," declared Harold Schaitberger, president of the International Association of Fire Fighters. "You can't tear us away from our brothers and sisters in the labor movement."
Blake, who has taught school for 19 years in Grand Rapids, Mich., was among the thousands encircling the Capitol. "This is an opportunity to show we stand against the systematic destruction of labor in Michigan," he said. What they are doing with right to work (for less) is also another cog in the wheel of destruction of public education."
Snyder had long maintained that he would not go the way of Republican governors in Wisconsin, Indiana and Ohio by trying to strip union rights in his state. Republicans emphatically did not campaign on this issue in the 2012 elections, with no GOP state lawmaker even mentioning "right to work" for less during the campaign. Last week the governor suddenly reversed himself, however, saying he would sign 'right to work' for less legislation as it was rammed through by state Republican lawmakers.
Pointing to the Capitol building, Dennis Delling, a retired UAW member from Flint, Mich., said, "Snyder has pulled a dirty trick."
Republicans claim that the law will help Michigan's economy by attracting businesses to the state.
President Obama yesterday condemned the Republican push to strip union rights in Michigan, saying the bill had nothing to do with economics but "everything to do with politics.
"What they are talking about is giving you the right to make less money," the president said. "What we shouldn't be doing is try to take away your rights to bargain for better wages or working conditions."
Speaking at an engine manufacturing plant in Redford, Mich., Obama said, "You only have to look to Michigan, where workers were instrumental in reviving the auto industry, to see how unions have helped build not just a stronger middle class but a stronger America.
"We don't want a race to the bottom," the President added. "We want a race to the top. America's not going to compete based on low skills, low wages, no workers' rights. That's not our competitive advantage. There's always going to be some other country that can treat its workers worse."
As demonstrators marched in Lansing a new report from the Economic Policy Institute refuted Snyder's claim that the law will boost the state's economy by bringing in new business and his citation of Indiana as an example of the success of "right to work" laws. The report shows how not a single company has moved to Indiana as a result of the "right to work" for less law put in place there last year.
Michigan Republicans have tried to cover all their bases by heading off what they expect will be a continued fightback by the labor movement and its allies.
When they rammed through their bill last week they tried to ensure that the law would never come before voters by including an appropriation, which, under Michigan law, means it cannot be put to a "citizens veto" referendum.
Unions and their allies, can, however, with a higher signature threshold, still put an initiative on the ballot in 2014 to overturn the union-stripping law. Snyder would then be forced, during a re-election campaign, to have to defend his assault on union rights.
Photo: Working Michigan Facebook