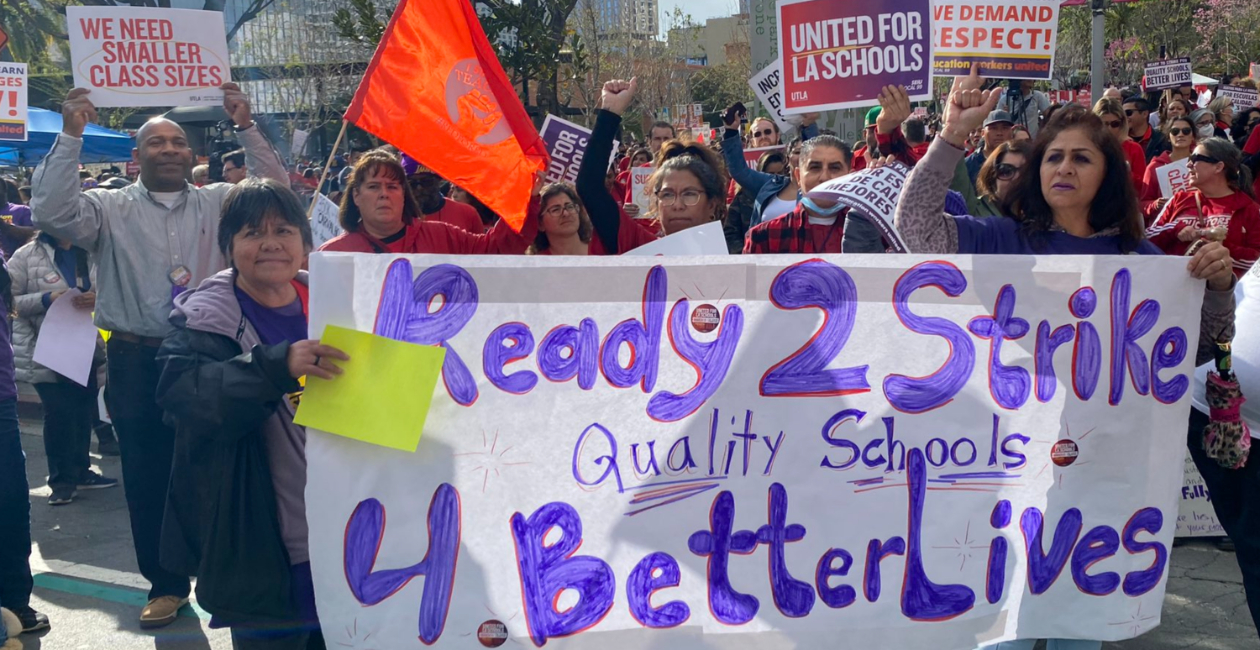 LOS ANGELES (PAI)—At least 30,000 support staffers toiling for the Los Angeles Unified School District (LAUSD) will stage a three-day strike March 21-23 to protest low pay, lack of respect, and their bosses' labor law-breaking refusal to bargain.
With support from the United Teachers of Los Angeles, an AFT affiliate, the cafeteria workers, bus drivers, custodians, and special ed assistants—all members of Service Employees Local 99—will combine to shut one of the nation's largest school systems down, in an effort to get district officials to move off the dime.
"These are workers who have been treated as a second-class workforce by LAUSD for far too long," Local 99 Executive Director Max Arias said in a statement as he was forced to file yet more labor law-breaking charges against the district.
Prior to their planned forced strike, some 45,000 workers and their supporters marched through downtown Los Angeles the week of March 17 in a mass show of solidarity. And they're drawing citywide support from other unions, both in the march and in tweets. And UTLA has already said its 30,000 teachers won't cross the Local 99 picket line.
"We were deemed essential, and now we know the district is disrespecting and undervaluing our work," Local 99 Communications Director Blanca Gallegos told KCAL-TV on March 16. "These workers are making $25,000 a year" in average salary "and this is about those poverty wages."
Gallegos added many of the workers have kids in the L.A. schools, and Local 99's fact sheet says many must take additional jobs to make ends meet in the high-cost L.A. metro area.
The workers say the LAUSD is flush with cash and can afford their demands: A 30% pay raise over a four-year contract and a $2 hourly bonus for hazardous work, since the coronavirus pandemic still ravages greater L.A.
The workers, like other legions of exploited low-wage workers nationwide—and, like most of them, women—demand "equitable wage increases, more full-time work, respectful treatment, and increased staffing levels for improved student services," the union fact sheet says.
LAUSD has a $14 billion annual budget and a $4.9 billion reserve fund. Local 99 says its wage demand would add about 7% to the budget "and bring them (workers) above the poverty line," Gallegos said.
The district offered 5% raises in the pact's first three years, retroactive to July 2021, plus a 4% bonus in the third year and a final 5% bonus—but no raises—in the 2023-24 school year,  the fact sheet adds.
Last December, the school district forced Local 99 to declare an impasse in bargaining. Sessions began last April. A mediator was brought in to try to bring the two sides together, unsuccessfully. That led to a strike authorization vote in February, which passed 96% to 4%.
Throughout bargaining, including the runup to the strike authorization vote, the district subjected workers to harassment, spying, and intimidation. That forced Local 99 to file dozens of labor law-breaking—formally, unfair labor practices—charges with the state Public Employees Relations Board.
"I'm ready to strike for the respect we deserve," special ed assistant Janette Verbera told Local 99. "I am a single mother, and for the past 20 years, I have worked two and sometimes three jobs just to support my family.
"I'm exhausted and not just because I'm physically tired. It is debilitating to do a job day-in-and-day-out that I passionately love and be at a salary below the poverty wage level. How do we properly service our students when we are being overworked and underpaid and disrespected?"
"Workers have been interrogated about what they discussed in union meetings, threatened with termination if they participate in a strike, and have been demoted and forced to take a pay cut for their union activity," Local 99 Executive Director Arias added. A Local 99 bargainer received "a poor performance review for attending too many union meetings.
"In some of the most egregious cases, food service workers were locked in a cafeteria to prevent them from voting on a strike, and a special education assistant, six months pregnant, was threatened with arrest and had the police called" into her school when she updated her colleagues on the negotiations, he noted.
We hope you appreciated this article. Before you go, please support great working-class and pro-people journalism by donating to People's World.

We are not neutral. Our mission is to be a voice for truth, democracy, the environment, and socialism. We believe in people before profits. So, we take sides. Yours!

We are part of the pro-democracy media contesting the vast right-wing media propaganda ecosystem brainwashing tens of millions and putting democracy at risk.

Our journalism is free of corporate influence and paywalls because we are totally reader supported. At People's World, we believe news and information should be free and accessible to all.

But we need your help. It takes money—a lot of it—to produce and cover unique stories you see in our pages. Only you, our readers and supporters, make this possible. If you enjoy reading People's World and the stories we bring you, support our work by donating or becoming a monthly sustainer today.