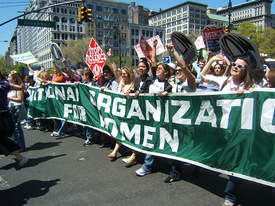 NEW YORK — On a perfect spring day 350,000 people flowed down Broadway April 29, marching to bring the troops home from Iraq, for health care and education, to rebuild a nation torn by war, hurricanes and Bush administration lies.
The marchers assembled north of Union Square and walked south to Foley Square for a street festival. Marching near the front were Veterans for Peace, Gold Star parents and Military Families Speak Out. Greg Niederer, father of 2nd Lt. Seth J. Dvorin, killed in Iraq, told the World, "I do this for my son … for 2,400 others who lost their lives."
"I think this is a worthless, senseless war based on lies and deceit. It's a great war if you want to make profits," he said. "It's all for them, not for us."
The National Organization for Women mobilized a huge contingent. Olga Vives, NOW executive vice president, told the World "an unprecedented coalition" had organized the march: "Women, the peace movement, labor, veterans, religious groups all came together with one thing in mind: to call for an end to this war, to restore democracy. Our goal is to mobilize people today for the November elections. We need to take back the House and Senate before these extremists destroy our country and the world."
At least 30,000 union members marched, the largest-ever labor turnout for a peace demonstration. "The children of our members are the ones fighting and dying in this war," said Wilfredo Larancuent, manager of the Unite Here Laundry Workers Joint Board. "There's a move afoot to try to defeat the working-class movement in this country, to try to control the oil or the natural resources of other countries. Our members oppose this war."
Todd Johnson, an electrician, marched with 25 other members of Chicago's IBEW Local 134, who rode a bus overnight to get here. "So much money and so many lives are being wasted in Iraq," he said. "And in the Gulf Coast, Bush is trying to get rid of the prevailing wage for construction workers. It's ridiculous. Our country is definitely headed in the wrong direction."
Leading a contingent of transit workers was Roger Toussaint, president of Transport Workers Union Local 100. Toussaint was recently jailed for defying New York State's Taylor Law that bars strikes by public employees. He told a pre-march press conference, "We just did some jail time because they need to silence the fight-back movement at home, because they are attacking pensions and health benefits and living standards at home, while they are waging a war abroad, spending a billion dollars a day to conduct a war against the Iraqi people."
An estimated 10,000 members of health care union Local 1199 marched in their purple and gold T-shirts. A majority African American and Latino, they came from D.C., Baltimore, Philadelphia, New England and New York City.
Andy Griggs, a member of United Teachers of Los Angeles, held the banner of U.S. Labor against the War. "People are making the connections," he told the World. "They see the profiteering by companies like Halliburton and Exxon while we are stripped of our benefits."
Vast numbers marched in contingents from Riverside Church, the Quakers, Unitarian Universalists, Pax Christi and Church of Saint Francis. "No torture, No war," proclaimed a banner behind a cage on wheels with a "detainee" in an orange jumpsuit slumped inside. Mike Maguire of Baltimore said, "This is a call to conscience to shut down Guantanamo." Many carried placards calling for impeachment of Bush and Cheney. Another message was "Stop the invasion of Iran before it begins."
The Communist Party USA and Young Communist League marched behind a bright red banner, "U.S. out of Iraq, Rebuild America. No money for war." CPUSA National Chairman Sam Webb said, "It's a beautiful day, a beautiful crowd. It's sending a message to Bush and the Republican-controlled Congress: 'Get out of Iraq!'"
Vinie Burrows, an actress and playwright, marched with the Raging Grannies Peace Brigade that recently won a court decision upholding free speech.
Rivera Goldstein, chairperson of the National Network Opposed to the Militarization of Youth, came from her home in Port Townsend, Wash. "The military is juggling the numbers to hide the fact that youth are saying no to war, no to militarism," she said.
Press conference speakers also included Unite Here President John Wilhelm and other labor leaders, NOW President Kim Gandy, the Rev. Jesse Jackson, leaders of veterans, environmental and immigrants rights groups, the National Youth and Student Peace Coalition and elected officials.
Rep. Major Owens (D-N.Y.) said, "There's no reason why we can't move right now to pull the troops out. Save lives, save dollars, save America!'