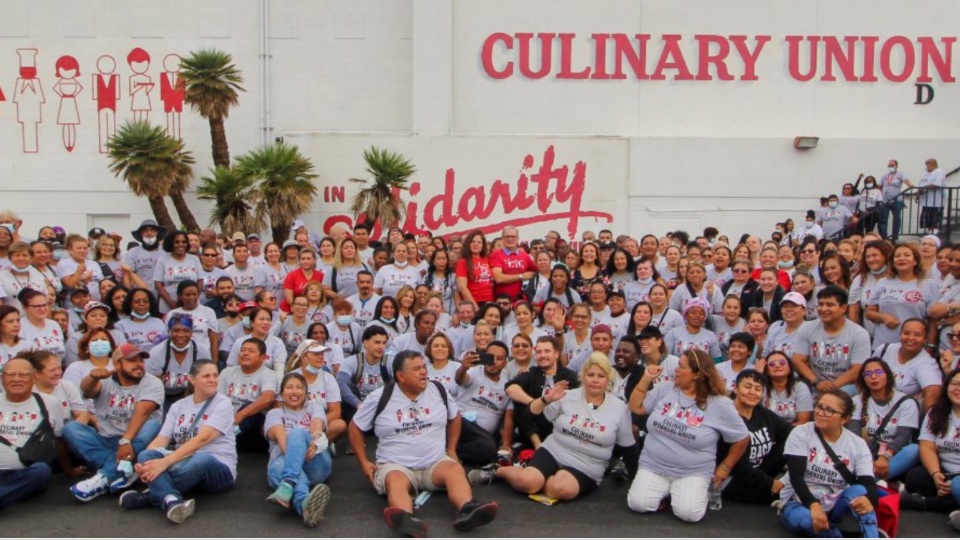 LAS VEGAS (PAI)—After working under expired contracts for more than a month, 40,000 Culinary Union Local 226/Unite HERE workers at 18 big hotels on the Las Vegas strip may be the next big group of workers to strike. They'll preview their cause to the public with a mass rally on October 25.
And on the eve of their event, they picked up heavyweight political support when Vice President Kamala Harris spoke to a group of them at the union hall. Her boss, Democratic President Joe Biden, has pledged to be the most pro-union president ever—and isn't afraid to say so, even to non-unionists and to groups of CEOs.
"When you guys fight for workers' rights, it benefits everybody, including people who are not with this union," Harris told the group, including local President Ted Pappageorge.
"You guys are lifting up the voice of so many people, including women in the workplace, who often are overlooked and underpaid. And your strength gives so many people, regardless of their gender, the ability to know they are being seen and heard and that someone is on their side."
After Pappageorge thanked Harris and said she's "always been on our side," the VP responded: "We see you. We hear you. We stand with you."
"This week, between negotiating sessions with the largest private employers in Las Vegas, thousands of Culinary Union members will participate in a rally on the Las Vegas Strip off of Flamingo Road and Las Vegas Boulevard," the local declared.
"And 75 workers to participate in a civil disobedience action in the middle of the Las Vegas Strip as workers continue the push for a new 5-year union contract," the union posted on October 23.
"The Center Strip between Paris & Bellagio. Wear your uniform or a red union shirt. See you on the streets! No contract? NO PEACE! Join us!"
The two key issues are working conditions and wages, and they're intertwined. Specifically overwork. It's "brutal," the union says.
It also led to a 95%-5% strike authorization vote weeks ago. If the workers walk, it would be the first big strike to hit the whole Strip in 39 years.
When the coronavirus pandemic hit, almost the entire industry shut down, and the local faced an unemployment rate above 90%. Once the hotels started reopening, even as the contagion ebbed, the legislature, then Democratic-run and with a Democratic governor, banned a plan by the big hotel chains to eliminate daily cleaning of rooms and other services.
But this year, with a right-wing Republican governor in office, the legislature—even the Democrats—repealed the room-cleaning requirement after intensive lobbying by the hotel chains: MGM Resorts International, Caesars Entertainment, and Wynn Encore Resorts.
And with occupancy and profits, at the big hotels/casinos now up to pre-pandemic levels, workers coming back to the job found the job more back-breaking than before.
The strike would include guest room attendants—the workers most affected by the overwork edicts–kitchen workers, bellmen, laundry workers, cooks, servers, and porters, the local said. Besides saner work rules, they want a raise, too, as Vegas room rates have risen 95% since 2019, while employment is down 11%.  The workers also demand stronger recall rights.
"Right now, we have too much workload, they don't respect our stations, we go to different floors, different towers, and they don't want to shorten the number of credits," Flamingo guest room attendant Elida Amador told More Perfect Union, citing how many rooms they must clean.
"If you have an accident, you get hurt, they also want to discipline you for getting hurt," Amador added. "But that's why: We get hurt because of the heavy workload, and we have to complete it, and if you don't, they give us discipline."
A Local 226 survey between April and August found 88% of workers reporting pain while on the job, 57% saw doctors for on-the-job injuries, and 15% needed surgery.
"The rooms aren't cleaned every day, and every day we see guests who are super, super annoyed. They're angry and they insult us," MGM Grand housekeeper Xochitl Mendez, a 14-year veteran, told Fortune. "Sometimes we don't want to go into the rooms because the guests are so mad." She calls clean rooms a safety issue.
Once, she said, an angry guest yelled at her and threw magazines when she entered the room, shouting, "Why hasn't this room been cleaned when I'm paying so much money?"
The Las Vegas workers are also part of the larger movement of fed-up workers which has swept the nation for the last two years or more. The workers, many if not most of them young, female, workers of color, or all of the above, have had it up to here with corporate exploitation of their labor, with the dollars they earn going into their bosses' pockets, not theirs.
Other fed-up workers include fast food workers, port truckers, adjunct professors, Amazon and warehouse workers, retail workers, Uber and Lyft drivers, and medical workers, from RNs on down.
They've been joined by teachers—the "Red for Ed" movement—UPS workers, and the Auto Workers striking the Detroit-based car companies, among others.
All share the same attitude of refusing to take crumbs from the bosses' tables anymore.
"No one ever wants to go on strike," Pappageorge, Executive Secretary-Treasurer of Local 226, told The New York Times. "But working-class folks and families have been left behind, especially since the pandemic."
We hope you appreciated this article. At 

People's World

, we believe news and information should be free and accessible to all, but we need your help. Our journalism is free of corporate influence and paywalls because we are totally reader-supported. Only you, our readers and supporters, make this possible. If you enjoy reading 

People's World

 and the stories we bring you, please 

support our work by donating or becoming a monthly sustainer today

. Thank you!