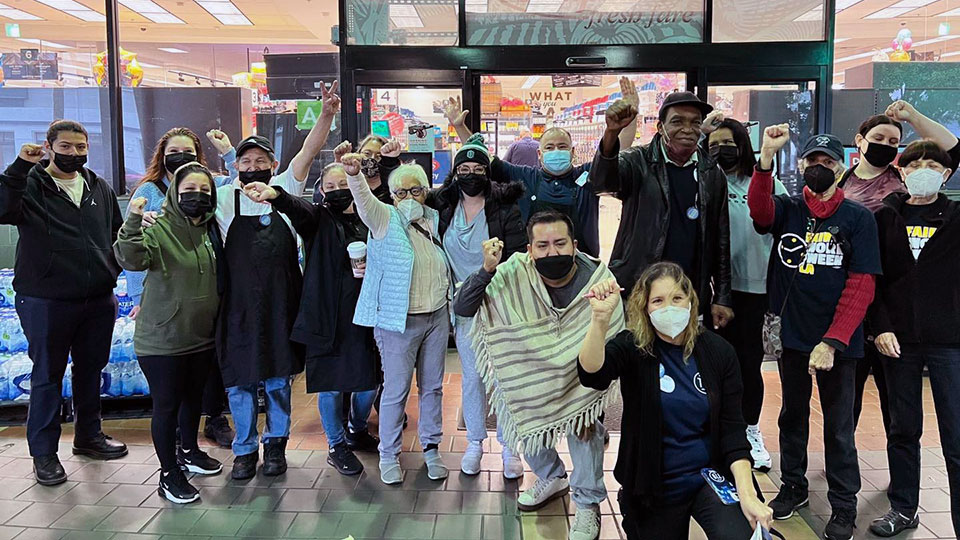 LOS ANGELES —Some 48,000 Southern California grocery workers, members of United Food and Commercial Workers Local 770, may be forced to strike three big California food store chains—again.
In a change from the scenario of around a decade ago, the union and negotiators for Ralph's/Kroger and Albertson's/Vons/Pavilions planned to meet January 30 in an attempt to avoid having the workers walk out due to the companies' labor law-breaking, formally called unfair labor practices.
"We cannot continue to negotiate the contract we deserve while the companies break the law," Local 770 said in a bargaining update to its members. Ralph's execs' response, Reuters reported, was to start advertising for replacement workers, known in the labor movement as scabs.
The local called the strike authorization vote, held on March 23, "overwhelming," but did not disclose exact figures. The old contract expired on March 6. It also warned the workers not to walk out until it formally approves the strike.
The chains offered the workers, including pharmacists and front-line workers such as stockers and cashiers, a yearly pay hike of "less than 1%," far below both inflation and what the workers, called "essential" as the nation fought the coronavirus pandemic, believe they deserve for both the danger and their living standards.
In that respect, the Southern California grocery workers share common cause with other low-paid, disrespected, but "essential" workers nationally whose working conditions and lousy wages the pandemic exposed from coast to coast.
That exposure in turn has led to a spike in employer-forced strikes for almost a year, federal Labor Department records show. It's also led to organizing drives at monster non-union firms such as Amazon and Starbucks.
"A strike is always a last resort. We will continue to push for the companies to do the right thing and come to the table prepared to bargain in good faith," the local said.
The local also demands equal pay for equal work and the chains hire more people to handle the groceries and staff the stores. Its bargaining goals include higher investments in job safety, a particularly important topic given the exposure of the front-line workers to the virus. Plus, many toil in back-breaking jobs that cause ergonomic (musculoskeletal) injuries.
In a repetition of what happened before, when the chains—then Kroger/Ralph's, Albertson's, and Vons, separately—forced the workers to walk, the grocers this time broke federal labor law, according to charges Local 770 filed with the National Labor Relations Board's Los Angeles regional office.
In the prior forced strike, the chains broke state labor laws. Then, California's Department of Labor and Industry hit the firms with fines and judged they colluded against their workers, too.
"Should your employers continue committing unfair labor practices (ULP's) like conducting unlawful surveillance of workers protesting or refusing to implement wage increases as required by your contract, to name a few, then we must take action," Local 770 said in its latest bargaining update, on March 26.
Other charges said the three chains are trying to intimidate the workers, interfere with legal union activity. It also said the chains tried to undermine bargaining but did not say how. Under labor law, "direct dealing" by employers with workers, going around the union contract, is also illegal.
The union said it "offered a comprehensive wage proposal that would provide significant wage increases for all workers in the stores and reduce the number of hours you would have to work to achieve top rate.
"But unfortunately, Ralphs, Albertsons/Vons/Pavilions responded by offering a mere 60 cent per year hourly increase–less than a 1% raise during a time of unprecedented inflation, rising cost of living, and not to mention immense company profit. This disappointingly low wage proposal is nowhere close to reflecting your hard work and sacrifice.
"These companies can more than afford to stay competitive and offer the wages and benefits you have earned, which is why now is our time to stand up for better wage increases. Our communities cannot exist without the essential work that you do."
The low pay also leads to short-staffing, the local said, which is why one of its bargaining demands is the three chains hire more workers, and institute predictable shifts with guaranteed numbers of hours per worker for everyone.
"Better scheduling helps workers build better lives, giving you the financial security and predictable hours you need to plan for your future," Local 770 explained.
"Your customers and communities know how essential you are and it's time for your employers to recognize that too," the union concluded.