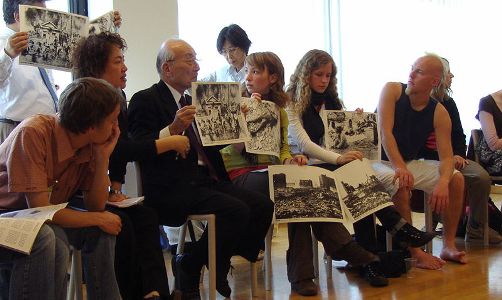 TOKYO (Akahata) — Atomic bomb survivors from Nagasaki and Hiroshima, known as Hibakusha, will go to New York on the occasion of the NPT Review Conference in May.
The Japan Confederation of A- and H-Bomb Sufferers Organizations (Nihon Hidankyo) announced March 17that it will hold the A-bomb Exhibition at the U.N. headquarters during the Non-Proliferation Treaty Review Conference.
This is the second exhibition since the 2005 NPT Review Conference. The exhibition will start on the opening day of the NPT Review Conference on May 3 and will end in June.
The group plans to send 54 delegates to New York of which 43 are Hibakusha. They will sit in on a NPT Review Conference meeting, give testimonies about their experiences at the A-bomb Exhibition, and make visits to each nation's permanent mission to the UN to petition for the elimination of nuclear weapons.
In the petition, they call on the UN secretary general, chair of the NPT Review Conference, and each nation's leader to work for further advance of "an unequivocal undertaking" to accomplish the elimination of nuclear weapons adopted by the 2000 NPT Review Conference, and to move decisively toward a world without nuclear weapons.
The Nihon Hidankyo delegation will also exchange their views and activities with various NGOs through the world joint action day programs during the conference.
In addition, the delegates will visit about 30 schools and universities in and near New York City to give their testimonies.
Photo: A survivor of the atomic bombing of Nagasaki tells young people about his experience and shows pictures at the United Nations building in Vienna, during the NPT PrepCom in 2007.