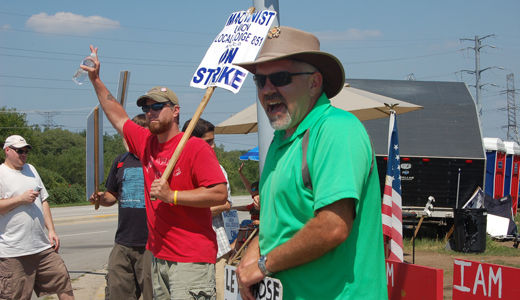 The U.S. national holiday, Labor Day, started out as a safe alternative to the militant labor traditions of May Day. But things change. Labor has changed in the fight against the vicious attacks on it over the last 30 years. Labor Day is more and more a day of struggle for worker rights. At the same time, May Day is being reclaimed as the workers' fight back holiday.
This Labor Day workers will be marching and highlighting union and election struggles around the country. But, after the marches, it might be a good time to kick back and read a good book by a lifelong activist and leader in those fights.
"Playing Bigger Than You Are" is a great book to read in the heat of struggle. Author Stewart Acuff has a lot to say about how we organize and build people power to win. (Read John Case's interview of Stewart Acuff here.)
Many of us in the labor movement first heard of Stewart after he was elected president of the Atlanta AFL-CIO in 1991. In 1995, he led a broad coalition of labor and community activists in militant action to occupy the Atlanta office of then-House Speaker Newt Gingrich. They were giving voice to millions of working class people's disgusted with Gingrich's "Contract for [on] America.
What a spark! Labor and community groups around the country responded in protest against Gingrich's plan. As Stewart points out in the book Gingrich quickly became the "controversial Speaker Gingrich."
The "Contract" was very similar to the Republican talking points of today, though not as extreme as the current Republican platform.
For some who know Stewart, the reach and breadth of his organizing experience in this book will reveal a whole new side of him. Community organizing in Dallas, Texas and Memphis, Tenn., for ACORN, Stewart helped lead battles from getting stop signs at dangerous intersections, to fighting for more equitable distribution of Housing and Urban Development funds.
It's ironic that while GOP presidential nominee Mitt Romney touts his dubious role in the 2002 Salt Lake City Winter Olympics, Stewart really did play a critical leadership role fighting for union rights in the 1996 Summer Olympics in Atlanta. After his 1991 election, Stewart hit the ground working to guarantee that the 1996 Olympics were union-made. He worked hard to help build a broad labor-community coalition that included key sectors of the civil rights movements.
And they won.
I would especially recommend this book to young organizer and activists who are in motion and just getting started. "Playing Bigger Than You Are" highlights many important lessons about organizing. But perhaps even more important, the book really underlines an approach to organizing that focuses on learning everyday from your experiences.
"It's not about concepts and techniques as important as those are. We organize to give people a voice. We organize people no one will listen too and give them a voice that everyone will hear," Stewart writes.
And always remember, "You cannot build a union or community organization for others, they have to do it themselves," he wisely counsels.
Book review
"Playing Bigger Than You Are — A Life in Organizing"
By Stewart Acuff, forward by Sen. Bernie Sanders
2011, Levins Publishing, 129 pp., $24.95, paperback $14.99
Photo: John Bacthell