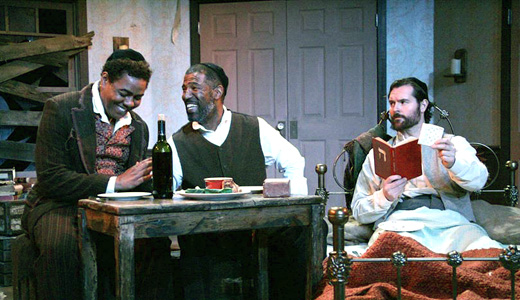 LOS ANGELES – The Jewish holiday of Passover, an eight-day commemoration of the Exodus of the Hebrew nation from Egyptian slavery, begins this year on April 14. Playwright Matthew Lopez has taken the Passover theme and given it a most unusual conceit in The Whipping Man. Since premiering in 2006, the play has been produced by over two dozen theaters across the country, and is currently in its premiere Los Angeles staging by the West Coast Jewish Theatre. Lopez won the John Gassner New Play Award from the New York Outer Critics Circle for this work.
The play takes place over two days, April 13-15, 1865. The Civil War is over. Slaves are being freed, soldiers are returning home, and in Jewish homes the freedom festival of Passover is being celebrated. Into the chaos of war-torn Richmond, Virginia, erstwhile capital of the Confederacy, comes Captain Caleb DeLeon, a young and severely wounded Jewish Confederate officer (the Spanish name suggests his Sephardic Jewish background – Jews who lived in Spain until their expulsion by the Inquisition).
DeLeon finds his family home in ruins, abandoned save for two former slaves who wait in the empty house for life to regain order and normalcy. News comes of the assassination of the president, "Father Abraham."
The two black characters, the older house servant Simon (Ricco Ross) and the younger, streetwise John (Kirk Kelleykahn), both sport yarmulkes covering their heads out of respect for God. Yes, they have been raised Jewish in the DeLeon household. Although Simon cannot read, one of his treasured possessions is a copy of the Passover hagadah (the text that sets forth the Passover Seder/dinner ceremony) that grandfather DeLeon once gave him. Caleb (Shawn Savage) himself, just hours distant from the mud, infection, and death of trench warfare, has lost his faith. The three men wrestle with their shared past in this house and the reality of their new environment absent masters and slaves.
I kept imagining a 10-part miniseries with all the other characters fleshed out, and an author's assignment to reduce it all to a three-man play in two acts. The material is that rich, now densely concentrated in crackling, often terrifying dialogue that unravels a shocking new revelation every few minutes. There are more skeletons in this plot than in the cemetery on Halloween.
The Whipping Man – the guy employed for the sadistic work of disciplining the family slaves – is summoned up in vivid recall, but is not seen on stage. His handiwork is, however: the crosshatch of severe scarring across Simon's back, "the family legacy," as he puts it.
I got to thinking: The Civil War was really not so long ago. When I was a kid in the 1940s and '50s, I'd visit my mother's family in Virginia. I don't recall that I actually did meet such individuals, but it would have been possible for me then to hear Civil War stories directly from people who experienced them as children. The Whipping Man's legacy is, historically speaking, still pretty fresh – and revived every time a Black person is lynched one way or another.
The ironies of a Southern Jewish slaveholding family celebrating Passover literally tumble forth in a mighty stream. (At the threesome's makeshift Seder, complete with army hard tack substituting for matzoh, John wonders if in the past they were Jews or slaves as he slyly asks, "What makes this year different from all other years?") But most people, perhaps all, have their blind spots – injustices, crimes, cruelties we somehow manage to rationalize or overlook. All the while, naturally, we notice every flaw in our neighbors. The Whipping Man asks us to examine our own contradictions and our own enslavement, whether to power, greed, or addiction.
The cast is superb, and delivers a gripping ensemble performance bathed in nuanced detail and considerable humor. I loved the black hood John wears when he goes out "discovering" food, household goods, whiskey and wine for the three men's survival, the mask turning the Ku Klux Klan outfit inside out. Howard Teichman, artistic director of West Coast Jewish Theatre, directed. It's an achievement to get non-Jewish actors to render Hebrew prayers credibly, though I wondered if the Eastern European pronunciation would have been correct for Sephardic Jews.
Lopez gives us a high-drama meditation on freedom, painfully earned. How will we use it?
The Whipping Man runs Thursday, Friday and Saturday at 8 p.m., and Sunday at 3 p.m. through April 13. Tickets are available online at www.wcjt.org or by phone at (323) 821-2449. The Pico Playhouse is located at 10508 W. Pico Boulevard in Los Angeles, 90064.
Photo: Scene from The Whipping Man. West Coast Jewish Theatre Facebook page