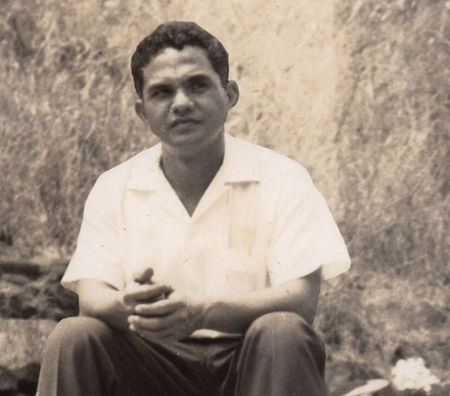 Writer/director Ty Sanga's Visions in the Dark: The Life of Pinky Thompson is a serviceable documentary about a significant Hawaiian leader. Sanga's mostly nonfiction film uses the usual techniques of doc filmmaking – archival footage, talking heads, news clips and the like – to tell the story of Pinky Thompson. Cinematically, the film stands out with cutaways of the constellations, starry scenes full of resonance relating to Pinky's role with the Polynesian Voyaging Society – ancient Pacific Islander voyagers charted their courses largely by following the lights in the night skies -as well as, perhaps, symbolism about the nature of the cosmos.
During the dozen years I lived in Hawaii I saw Pinky Thompson around Oahu, as he was one of a handful of the Kamehameha Schools' powerful trustees, whose influence extended far beyond the confines of the educational realm. He seemed like a mild mannered man of medium height, more in the background, unlike his renowned son, Nainoa Thompson, the master navigator of the traditional Hokule'a voyaging canoe, whom I interviewed.
I learned a lot in Visions about the man who was widely referred to by his nickname: That Pinky came from a hardscrabble background; was a wounded World War II veteran who stormed the beaches at Normandy; was a co-founder of Alu Like (a sort of social services organization to assist Hawaiians); and he played a major role in creating the Kaʻiwakīloumoku Hawaiian Cultural Center at the Kamehameha Schools' Honolulu campus. Pinky's insights as a social worker and educator into early childhood development, especially of indigenous youngsters, is also noteworthy.
Nevertheless, this 76-minute film has flaws. First of all, there are numerous reenactments, especially during WWII scenes, which are not labeled as such in what is supposed to be a work of veracity and actuality. This is a problem in a number of works that purport themselves to be "documentaries," but do not clearly identify scripted recreations with actors for what they are.
But more than a question of cinematic style, Visions seems to be more hagiography than biography per se. We get only the viewpoints of the subject's loving family, friends and colleagues – and none of the opposing perspectives. This is another widespread problem with bio-docs, such as 2013's Gore Vidal: The United States of Amnesia, which glorified an author who was vilified by many; detractors' voices are rarely if ever heard in that doc, thus depriving viewers of a well-rounded view of the controversial subject. Now, Pinky may not have been so contentious a figure as Vidal, but the billion-plus dollar entity he was a trustee of, Kamehameha Schools, certainly was.
Why doesn't Visions deal with this controversy that spurred hundreds, if not thousands of Hawaiian protesters to march in the streets at a time when Pinky held the most highly coveted sinecure in Hawaii as a KS trustee?
Well, as Deep Throat famously said in the 1976 movie All the President's Men: "Follow the money." According to a KS publication: "The film has strong ties to Kamehameha Schools. Randie Fong – vice president of Hawaiian Cultural Affairs at KS and head of its Ho'okahua Hawaiian Cultural Vibrancy Group, and his wife Jamie Fong, manager of Kaʻiwakīloumoku – were executive producers of the film providing support and guidance throughout its production. KS alumnus Vince Keala Lucero…produced the film." Visions' credits reflect this rarified pedigree.
Thus, Visions does not appear to be an independent work but one commissioned to reflect specific perspectives, in particular the world view of establishment Hawaiians. I remember that Pinky was reputed to be a millionaire due to his position as a Kamehameha Schools trustee, and this leads back to the aforementioned controversy that embroiled what is far more than an indigenous educational institution.
During the 19th century, Hawaiian Princess Bernice Pauahi Bishop essentially established the Kamehameha Schools to educate children of Hawaiian ancestry with her wealth and land trust. To administer this vast trust set aside to benefit Hawaiians, Hawaii's Supreme Court appoints five trustees. The Bishop Estate is now worth more than a billion dollars, and an argument of Native activists is that the Kamehameha Schools Bishop Estate (KSBE) only uses a portion of its vast endowment to educate Hawaiian children, who are – as Visions amply demonstrates – a disadvantaged minority group.
To the best of my recollection, KSBE critics claim there's an insidious reason for this: As the trustees have annually been paid a percentage of the estate's worth, the trust has been involved in commercial activities that are far more profitable than educating youth. This commerce makes their annual compensation far higher – even if it comes at the expense of indigenous children and is contrary to the Princess' will. They contend that the trustees have pursued the minimum amount of educational activities as a front, a fig leaf, to make it seem that they are acting in accord with the law and Pauahi's will, while enriching themselves through real estate and other profiteering activities.
I don't know if these allegations are true – but it would be a great subject for an independently made documentary, which Visions is obviously not. The above controversies, which stirred widespread discontent and demonstrations while Pinky was a trustee are never even mentioned in this KS financed and backed production.
Visions presents a top-down view of Hawaiian issues. Senator Daniel Inouye is depicted as not only a friend of Pinky, his fellow wounded WWII vet, but of the Hawaiian people. In fact, many Hawaiian Sovereignty activists were critical of Inouye and the role he played vis-à-vis the Islands' indigenous people. The late Kawaipuna Prejean (Hawaiian nationalist, activist and advocate for the Hawaiian sovereignty movement.) caustically used to refer to Inouye – who lost a limb during WWII – as the "one-armed bandit."
Sanga's doc does briefly cover the overthrow of the independent nation of Hawaii in a U.S.-backed coup, and correctly shows the correlation between colonialism and the inferiority complex of members of an oppressed, dispossessed minority. But this is only mentioned in passing in the documentary and for viewers unfamiliar with Hawaii's troubled past this history requires more exposition and expansion. One might argue that this is beyond the scope of this biopic, but it does tie in with the important points Pinky Thompson made about childhood development.
Photo: Film still, LAAPF Festival.
Visions in the Dark: The Life of Pinky Thompson represented the "Pacific" component of the Los Angeles Asian Pacific Film Festival.
A book co-authored by L.A.-based reviewer Ed Rampell is "The Hawaii Movie and Television Book".