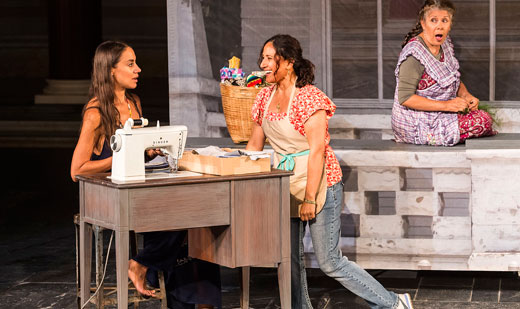 MALIBU, Calif. – It's a challenge to stage any of the surviving ancient Greek or Roman plays for a modern audience. Gay Los Angeles playwright Luis Alfaro, now 53, 1997 winner of a MacArthur Foundation "genius grant," has made a personal project out of transforming them into contemporary stories that still retain the pity and terror audiences two and a half millennia ago sought when they settled down in the municipal amphitheater for a little catharsis.
He's already done "Electricidad," based on the Electra story, and "Oedipus el Rey," as well as a children's theater production, "Aesop in Rancho Cucamonga." Now the theatergoing public can see his version of the Medea story in a gripping tale of mounting terror at the Getty Villa in Malibu.
"Mojada: A Medea in Los Angeles" is Alfaro's third version of the Euripides text: Earlier adaptations were staged in San Francisco and Chicago. Currently the play is set in Boyle Heights, the heart of immigrant Latino L.A., and all unfolds within a packed 90 minutes.
Medea and Hason, with their young son Acan and their combination friend/housekeeper/cook/curandera (folk healer) Tita, have endured a harrowing journey from their native state of Michoacán over the border to get here. The challenge of surviving in the new land, much less thriving and getting ahead, is really too much for the small-town Medea, rooted in her indigenous culture, but is exhilarating to Hason, who wants to adapt and assimilate, like, yesterday. Call me "Dad" now, he tells his son, not "Papi."
Medea's foil is the ambitious, scheming Armida, who immigrated years ago and has carved out a small empire for herself in Boyle Heights, using City Hall connections and a previous marriage to establish herself. The cast of characters, with their distinct personalities, reflect the various ways newcomers find their place en el Norte.
It's remarkable the way Alfaro opens "Mojada," with fairly extended introductory scenes full of light humor and earthy gossip. You can't help thinking, with only 90 minutes at his disposal, when is he going to get to the meat of the story? But he is cagily laying the foundation for the tragedy, as little by little we learn the backstory against which the current developments play off.
Alfaro is certainly no romanticist about rural life back home: That too, was a land of terror, especially for women like Medea, maltreated and disinherited by her father, then her brother. "I belonged to the land like one of the animals…. I wasn't his sister any more, but his property."
While Hason goes out on construction jobs, Medea is virtually chained to her sewing machine at home, where she shows her skills as a maestra, or in the curandera's words, a "puro pinche da Vinci" (a regular da Vinci, but expressed more graphically). Medea has also learned some of the curandera's art of brujería (witchcraft) and knowledge of herbs, which will come in handy by the end of the play.
Alfaro studs his play with little gems of wisdom, some of them hard, bitter pills to swallow, such as when Hason asks Medea, "Do you think anything in this country is free? Everything has a price." And the cruel Armida gloats, "I didn't create the morality of this nation. I just use it for negotiation." She orders Medea to get out of the house (that Armida owns), and just "Get lost in this country." How many people – millions – are "lost" one way or another here in the U.S., without papers, without homes, without sustenance, security or future? Is this the price we must pay for others to succeed so royally?
The Greeks were famous for not depicting horror on stage but summoning up moving words to describe it for us. The passage where Tita reveals the details of Armida's death by high-fashion dress is a marvel of Latino magical realism.
The cast of six, directed by Jessica Kubzansky, and produced by The Theatre @ Boston Court, are all great performers. My blind Mexican friend who accompanied me that night made a point of remarking how perfectly they articulated their speech – all the quicksilver shifts between English, Spanish and Spanglish, between raucous humor and tear-jerking horror, and between the elevated tone of the Greek theater and the gutsy language of the street.
Medea is played by the beautiful, sad Sabina Zuniga Varela, and Hason by the jaunty Justin Huen. VIVIS played Tita the curandera with great range – she started the play with an indigenous rite and proceeded to participate in all the neighborhood gossip, even wielding a machete when necessary. The comic neighbor Josefina, seller of pan dulce, is played by Zilah Mendoza; Armida with chilling remorselessness by Marlene Forte; and the son Acan by Anthony Gonzalez, who is a member of the children's traveling company at the Bilingual Foundation of the Arts.
The spacious amphitheater at the Getty is vacant as the play begins, but for most of the action a roll-on structure indicating the house in Boyle Heights where the action takes place occupies center stage. Efron Delgadillo Jr. is responsible for the effective scenic design.
A great theatrical opportunity for Angelenos awaits in Malibu. With any luck "Mojada" may come to regional theaters around the country soon.
"Mojada: A Medea in Los Angeles" plays Thursday, Friday and Saturday at 8 pm through October 3rd. The Getty Villa is located at 17985 Pacific Coast Highway, Pacific Palisades. For tickets and further information: (310) 440.7300 or www.getty.edu.
Photo: left to right: Medea (Sabina Zuniga Varela), Josefina (Zilah Mendoza), Tita (VIVIS). | News.getty.edu