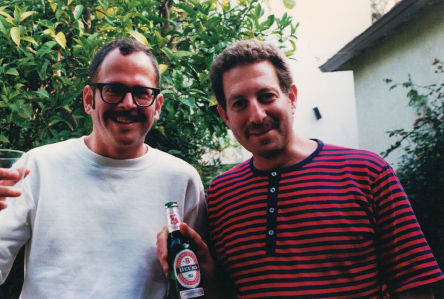 (A Florida artist has cremated and buried the Confederate flag, as reported in this PW article.)
The year 1986 turned my world around. I started off the year with a partner of about six years' duration, though by then it wasn't going so well. By June we decided to part company; Stephen remained in my Upper West Side apartment until he found his own place. And I had a stimulating job as publicity manager at the venerable old music publishing firm of G. Schirmer. But that spring, the firm was bought out by another company, which promptly fired almost the entire staff. Silly me, I thought I was so indispensable there!
But as that door proverbially closed, another opened. Since 1978, I had been prodding intermittently at a biography of the great radical gay American composer Marc Blitzstein. I had completed a mountain of research and interviews, but had not really sat down to start writing. Now I had more time on my hands, and an unemployment check to tide me over. My agent, Frances Goldin, put the fear of God in me when she told me that one editor after another at different publishing houses turned down my book proposal because they really didn't know who Blitzstein was, and I had no previous books or a track record of sales for them to go on. Now, she informed me, she would send out no more proposals unless accompanied by a couple of chapters. Editors might not know who Blitzstein was, but at least they wanted to see if I could write.
I figured editors would not be captivated by the first chapter or two of Blitzstein's life – his birth and childhood in Philadelphia, then his student years – because they would not recognize any big musical or theatrical names. So I started writing his life from the late 1950s onward, with Orson Welles, John Houseman, Leonard Bernstein, Joseph Stein, Sean O'Casey, Agnes de Mille, Melvyn Douglas, Shirley Booth, Bernard Malamud, and other famous characters populating the composer's career.
Two big events occurred within a couple of days of each other that October. On Saturday night, Oct. 4, a friend visiting from Wisconsin joined me for a night out "with the boys" at a raunchy safe-sex club in Lower Manhattan called the Locker Room. Safe sex was, of course, the order of the day, as AIDS had already claimed thousands of lives in New York City alone. The place really got hopping after 4 a.m. – we didn't leave 'till 7. We bonded with one handsome young fellow named Ricky Barnett, and I told him I'd like to call him the following week. I'd find his name in the phone book, he told me, and in whatever mental state I left the club, I was able to recall his last name as the same as my childhood family dentist.
Now that I had delivered some completed chapters to Fran, she got them over to Michael Denneny, a pioneering editor at St. Martin's Press with a special, though not exclusive interest in gay-related subjects. Michael accepted my book on Tuesday, Oct. 8. Overnight, the character of my project changed. Up to then I had been conducting my research in an on-spec void, poking my head up only occasionally for a magazine article here and some program notes there. It became qualitatively another enterprise entirely now to be writing for an editor, with deadlines, regular submission of fresh chapters, and pay. As my agent, Fran made the case that with the offered advance I could not give up all outside work assignments and devote myself full-time to the book, so St. Martin's doubled it.
It was some time, perhaps years later, before I heard from Michael exactly how he came to accept my book. He had a close friend in the conductor Bruce Ferden, whose performances I had attended at the New York City Opera and elsewhere, although I had never met him. When Michael received my proposal, he asked Bruce if he thought Blitzstein was worth a book, and Bruce encouraged him to take it on. So I feel a certain personal debt to Bruce as well. Bruce died of AIDS in 1993, less than a year after conducting Philip Glass's opera The Voyage at the Met.
I did make the call to Rick the next week – he was surprised but happy to hear from me – and we scheduled our first date: a visit to the Brooklyn Museum show about the Machine Age in America. I stayed with him that night in his little Tribeca apartment, and the next night we attended two one-act plays by Robert Patrick. Rick had experienced a sudden, unforeseen breakup with a boyfriend a few months before our meeting, and I was also emerging from my relationship with Stephen. Our cynical, hardened, cautious hearts quickly started melting. We were smitten, glomming onto one another from the start like two sacks of flour slammed together.
We loved being with each other as much as possible and rarely spent a night apart from our first date on. He loved my gay activism, the Gay Men's Chorus that I sang with, the People's Voice Café on Saturday nights for topical music. I appreciated his work with contemporary artists, curating gallery shows in the vibrant East Village scene, his trendy, smart set of friends, his refined esthetic.
We demonstrated together against the forthcoming California Proposition 64, the Lyndon LaRouche initiative to punish and quarantine people with AIDS, a dangerous harbinger of federal policy were it to pass. Reagan had been quoted in the New York Times on Oct. 3 making an AIDS joke. Every day brought news of a friend stricken with pneumocystosis, or a chorus member eligible to take the new drug AZT, or hospitalized, or dead.
Scary times for the gay community. It was impossible to absorb all of these deaths. One after another. I numbed – we all numbed – the feelings there, just buried and twisted into a tough knot. Who will be next? Who would survive this holocaust?
That time of terrible news and scant hope reminded me so much of the Vietnam era, when our whole lives as young people of military age got swept up in the war and the draft and way too much premature death. A whole generation of young gay men were disappearing to their early graves, and the rest of us simply had to buck up, stiffen our spines, and carry on. We had no respite, no time to properly mourn. We couldn't descend into passivity, and we fought back with every resource at our command – for our brothers, for our health, for our spirit, for our lives.
But Rick and I were in love, and we held onto each other so, so tight.
Fran had a distinguished stable of authors whom she represented. Aside from the historian and memoirist Martin Duberman, who had initially introduced me to her, Fran's list included Adrienne Rich and Barbara Kingsolver, and many others, all deeply committed feminists, socialists, activists, progressives. Each year she hosted a holiday celebration for her "august authors and their eminent editors," and this year I attended bursting with pride over my first publisher's contract. Rick and I had become inseparable by then, and in any case I wanted Fran to meet him, so he accompanied me.
The next morning Fran had pointed words for me. "Eric," she admonished on the phone, "you know that shirt your boyfriend wore last night? He can't wear that any more, I hope you understand, at least not anywhere around me." Indeed, I did understand. Never really thinking through the logical implications of his Confederate flag t-shirt, Rick associated its message simply with being a "rebel" and "going against the grain." Although I knew otherwise, I shrank from saying anything beforehand, for fear of provoking an argument so soon, only a month into our ecstatic new relationship. But Fran was right and I had to raise it. Rick heard my little lecture about racism and slavery and what that starred and barred image projected to the world, and he didn't defend it. He never wore the shirt again.
A year or so later, rummaging in the box where I kept my shoeshine gear, I found it there, streaked and indelibly stained with black polish.
Photo: Provided for article by Eric Gordon/PW