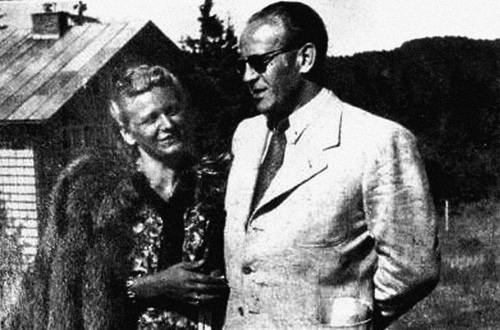 LOS ANGELES – A well prepared concert reading of Frau Schindler, a new opera by composer Thomas Morse to a libretto by Ken Cazan (with Morse), took place at the University of Southern California on February 5th. The opera places Emilie Schindler, Oskar's wife, at center stage. It's is a keen psychological portrait of the woman who, alongside her husband, saved a thousand Jews from extermination by employing them in his factory. The story is well known from the 1982 book Schindler's List by Australian novelist Thomas Keneally, subsequently turned into a blockbuster film directed by Steven Spielberg.
In three acts, the opera features more than 20 roles, plus chorus, in scenes that alternate between the Schindler home and the factory. Much of the final act takes place in Switzerland, where the Schindlers find temporary refuge at war's end, and then Argentina, where they settled. Professional singers played the two leads: mezzo-soprano Blythe Gaissert as Emilie, and baritone Troy Cook as Oskar. The rest of the cast, and the orchestra, were comprised of USC students. The one-night event was a presentation of the USC Visions and Voices program. Brent McMunn, conductor and music director of Thornton Opera at USC, did heroic work preparing this difficult score and leading his talented young performers.
Emilie is not the only woman in Oskar's life: He pursues a number of serial affairs, making little attempt to keep them on the down low, which becomes a constant leitmotif of the opera. Nevertheless, Emilie believes he needs her, and the home, stability and common sense that she provides.
The faithful wife has been selling off family jewels to support Oskar's succession of unrealistic business ventures. When she is recuperating from a back operation, Oskar never comes home from his business affairs to see her. Toward the end of their lives, Oskar effectively leaves Emilie behind in Argentina when he returns to Germany and an attractive job offer.
Emilie is childless for reasons unexplained. At one point in the second act, she has a poignant scene where, against her own Catholic inclination, she helps one of her Jewish women workers abort an unplanned (and illegal) fetus. (The almost comic irony to this is that Ms. Gaiessert, the singer of the Emilie role, was herself quite visibly pregnant!)
Composer Morse has a background in film and popular music, and currently shuttles between Los Angeles and Berlin. Frau Schindler is his first opera. He is certainly aware of historical precedents in opera. In the scene where Oskar introduces to his brutish Nazi colleagues his new business plan of making armaments under cover of an enamel factory, employing a thousand Jewish workers whom he will replace as they drop, he entertains them with a recording of the "Liebestod" from Richard Wagner's Tristan und Isolde, that rapturous fusion of love and death that concludes the opera. And all the while he expostulates about the New World Order they are creating. Wagner was notoriously Hitler's favorite composer, leading many in the post-war world, especially Jews, to reject his work.
The way the Nazis' New World Order is described – basically extracting free labor out of populations that have little other access to housing and food, or even life itself – suggested parallels to such "orders" that for all practical purposes exist today in many places, on agricultural plantations around the world, among the foreign worker corps in Saudi Arabia and the United Arab Emirates, and in maquiladora-type factories in Latin America and Asia.
I had picked up in the orchestration remarkable simulations of glass, particularly from the harp which plays an outsized role in the pit. These suggestions of lightness, transparency and fragility I thought might have recalled the Nazis' coordinated campaign of terror and breaking of windows on Kristallnacht (the Night of Broken Glass), which occurred in multiple German and Austrian cities on November 9-10, 1938. And sure enough, just moments later, the Nazi business partners at the Schindlers' dinner party toast their new business scheme by casting Emilie's heirloom Baccarat champagne glasses into the fireplace.
How much melody does opera require?
Morse sets his text the way people talk, although more concisely and singably. His "set pieces" – extended solo passages – are few, but are wonderfully subtle reflections on character, especially those for the title role, and a lyrical rumination on women in a time of war by Emilie's friend Frau von Daubek (Katie Beck). Most operas have some expository dialogue (up to the 20th century generally referred to as "recitative") between "numbers." Beginning with Wagner and then Richard Strauss, the proportion of declamatory writing over set pieces increased: Late Strauss works such as the pre-Nazi era Intermezzo (1924) and Die schweigsame Frau (The Silent Woman), premiering in Dresden in 1935, are largely in this style. Morse surely must have had such models in mind – the kind of operas actually being written during the Nazi era – in his compositional strategy for Frau Schindler.
The conversational mode naturally revives the old debate over how much melody opera actually requires. If the acting, stagework and the spectacle are impressive enough, audiences will forgive a work that is other than (or less than) a stunning parade of stellar arias, duets, ensembles, choruses and orchestral interludes. Even in Wagner's 19th-century operas the text is largely declaimed: The truly memorable "hit" tunes of his epic works occupy probably no more than 30 or 40 percent of their length, which explains why so many people, including avid opera lovers like myself, find much of his work overblown and tedious.
There is enough on-stage action in Frau Schindler, such as a dinner party, an afternoon tea with another woman who is herself a quiet dissenter from the régime, confrontations with Nazi thugs, and the appearance of the Jewish prisoners, to keep the eye and brain engaged while listening to a somewhat wordy score. Although in the end, an opera will have lasting impact not primarily through its subject matter but through its music.
Although set chronologically, I noticed one detail out of order. The year is 1944, when the Soviets are moving in from the East, and the Americans from the West. The Nazi era is patently coming to an end. But then there's a news report about the German losses at Stalingrad, which took place well over a year before. Morse's music at that point is a wrenching threnody for the dead. Oskar's single real aria in the opera follows, his recall of the dark times they have all passed through and his appeal to his fellow human beings to get on with their lives and do the best they can. His words are somewhat prosaic, but this is nevertheless a shining moment for his character.
Commissioned by the Staatstheater am Gärtnerplatz in Munich, the opera is slated to receive its world premiere staging in a German translation that may actually be more idiomatic to its subject than the original English. I believe the German and more contemporaneous equivalents of "a blip on the radar screen," "they bought it hook, line and sinker" and a few other ahistorical expressions that cropped up in the libretto may indeed sound better in Munich.
If opera is, in Wagner's term, a "Gesamtkunstwerk," an art form that brings together all the arts, then it is especially rewarding to see that artists today are dedicating themselves to serious topics that may attract a public. Congratulations are due all around. I'll be following the news from Munich to see how well they like Frau Schindler.
Photo: music.usc.edu