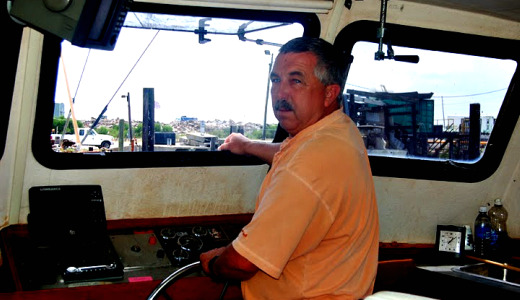 CHALMETTE, La. – Sixty miles off the Gulf of Mexico, the shrimpers and the people who work for them here worry and wait in a world of hurt. Their boats are tied up. They are not heading out to get shrimp as they do every year in May. Instead, they are waiting to be called by BP to help clean up the oil that is spreading over the waters following last month's oil rig explosion.
"The people here make their living off those same Gulf waters they keep showing on television," said David Dixon, a boat captain who has been a Bayou shrimper for 48 years. Dixon catches shrimp, minnows and crickets which he sells at his live bait shop here which, according to his business card, is "open seven days, early til late."
"Everybody is afraid, everybody is hurting and we feel that there will be no way to recover from this oil spill," he said. "We were very slow to recover from Katrina and just as we were starting to come around this had to happen."
A mile down the road Jeff Pohlmann, the owner of Today's Ketch, a small fresh seafood restaurant, said, "The hurricane destroyed the boats of the people who delivered to me, but this oil spill can destroy the very product we depend upon."
Today's Ketch was the first place in St. Bernard's Parish where people could get hot food after Katrina. Pohlmann was working his business "around the clock" even before he had a home to live in. His employees lived in trailers in the parking lot.
"People here have house and boat notes they have to pay," Pohlmann said. "They are the ones who came back after the storm. Now they can't fish. You can't pay the bills with no money. This will destroy the economy and our way of life, maybe forever." As he spoke, a dozen local people in his little restaurant were enjoying what he said could be the last fresh shrimp sandwiches of the season.
Captain Dixon said his only chance to make money this shrimp season will be if he gets called by BP to help lay the protective boons the company hopes will slow the oil slick's relentless movement toward the shores.
As he invited People's World reporters onto his boat this week, Dixon said he was not optimistic about anything BP is currently doing about the disaster.
"I attended a training session this morning that BP held for us, thinking they might have some type of plan," he said. "Instead, they were asking us what we thought should be done – how much of the area did we think they should be protecting with those booms and so on and so forth."
He said, "A BP representative drove me around in a golf cart to survey an area and when I asked him about how or if or when this leak might stop, he told me, 'We don't know. It could be three months, it could be six months, it could be six years – we have no idea'."
As he showed us around his boat Dixon said he feared that fishing may be destroyed forever in the region. "The chemicals they are dropping to disperse the oil could end up destroying the ability of marine life to reproduce for many generations into the future," he said, "and that would mean disaster even if they do stop the oil before it comes up into these marshes."
"I need the money and I know they'll call me to lay those booms," he said, as we stepped off his boat. "But that's not what I was meant to be doing. I don't want to do that. I'm supposed to be bringing in the shrimp."
Photo: Captain David Dixon aboard his shrimp boat. (PW/Blake Deppe)