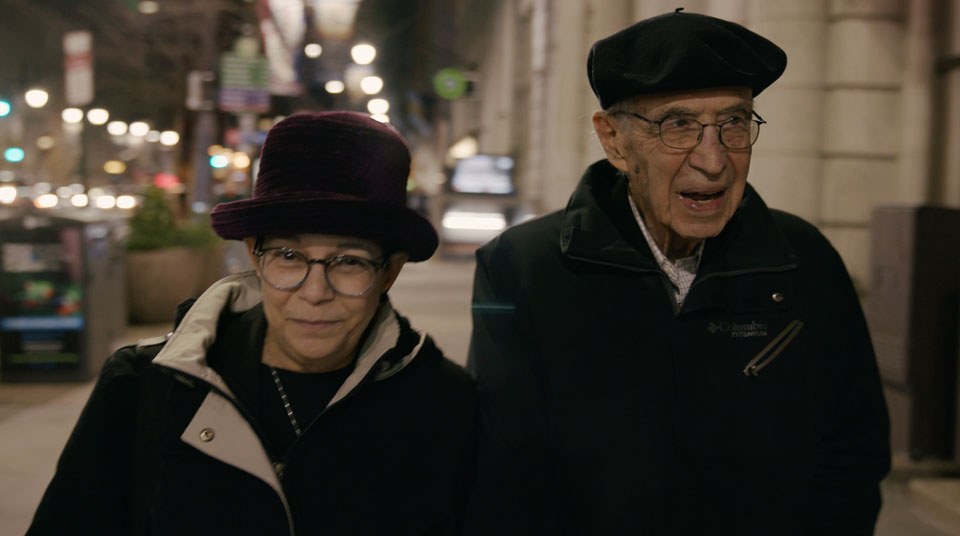 It is both fortunate and unfortunate that the new documentary A Tree of Life: The Pittsburgh Synagogue Shooting exists. Fortunately, the film serves as a commemoration of one of the most tragic days in recent history, and a relevant lesson regarding the dangers of hate speech. Unfortunately, the film exists because anti-Semitism is alive and well, and it is still an all-too-present problem in our mainstream discourse.
The new documentary is intensely reflective, taking a deep look at the individuals affected by the shooting and the events leading up to that fateful day. It offers warnings to heed in the aftermath and beyond. There aren't a lot of bells and whistles to this film, but the simplicity allows viewers to focus on the stories told and the humans who tell them.
Directed by Trish Adlesic, with a full list of executive producers that includes Michael Keaton and Billy Porter among others, A Tree of Life is centered on Oct. 27, 2018, the day a gunman opened fire inside a Pittsburgh synagogue, killing eleven people as they prayed, in what would become the deadliest anti-Semitic attack in American history.
The story of the assault is told through voices from the affected community, including Carol Black, Dr. Joseph Charny, Anthony Fienberg, Audrey Glickman, Daniel Leger, Hannibal Lokumbe, Wasi Mohamed, Rabbi Jeffrey Myers, Michele Rosenthal, and others. The film's variety of interviews are not only recountings of that day, they are contemplations on what caused the horror and how to rebuild going forward.
In a day and age when most people are multi-tasking constantly—even when watching a film or television series—A Tree of Life has a quiet intensity that forces the viewer to stop and pay attention to the words being spoken. This is thanks to the choice director Adlesic made to create deeply personal portraits of each interviewee as they talked about the day a mass shooter showed up at their place of worship.
It's a heavy topic, and that weight is felt as soon as the film begins. You skip the frying pan and go straight into the fire of the nightmare that unfolded. Once that tone is set, the documentary expands in order to paint a wider picture of collective trauma, the dangers of hate-based rhetoric, and how the threats to one small community are actually connected to a greater society-wide danger.
Viewers are shown protests and vigils in the aftermath, along with archived news footage of the day of the shooting. What emerges is a more nuanced and complicated exploration of how we react and deal with these moments of violence. That's because it is made clear that the Pittsburgh synagogue shooting was not a one-off incident, but rather one example of the emboldened radicalization of bigotry and hate speech that has emerged in recent years.
Not everyone sees eye-to-eye in the film. Some are more overtly political than others. When the question of former President Donald Trump comes up, some of the interviewees refuse to directly answer as to whether they think Trump—who has been known to use anti-Semitic rhetoric—helped galvanize the shooter and others like him. Adlesic gives the respondents space to think about their answers and what they want to say. The hesitancy we see from some, and the forthrightness we see from others, also help to display the reality that everything isn't so cut and dry when it comes to looking for solutions.
What is pretty clear from the film is that, four years later, society is still struggling to fully embrace a no-tolerance policy to hate speech and anti-Semitism.
One of the most influential music artists of his generation, Kanye West, has repeatedly expressed public sentiments that feed into harmful stereotypes regarding Jewish people. Yet, there is still a debate on whether he should be completely de-platformed and held accountable. Some of his supporters were bold enough to drape large signs over the busy 405 freeway in Los Angeles recently with slogans such as "Kanye is right about the Jews."
Speaking of Trump, the embattled ex-president has recently posted a tweet again insulting Jewish Americans. He says he did more than any other president for Israel, yet he claims Jewish Americans are not as "appreciative" of this as Evangelicals are. Trump then goes on to write that Jewish people in the United States need to "get their act together" before "it's too late."
Moments like these are not new, but their occurrence in the mainstream has multiplied in recent years. In particular, the infamous conspiracy theory and political movement QAnon—which believes a shadowy cabal is in charge of the government and only Donald Trump can save us—leans into a number of anti-Semitic stereotypes that claim prominent Jewish individuals, like George Soros, are behind all oppression and are eating babies.
According to the Anti-Defamation League (ADL), anti-Semitism is on the rise in the U.S. The organization's annual audit of anti-Semitic incidents showed a 34% increase year over year from 2020 to 2021. The group recorded 2,717 anti-Semitic incidents in 2021, which is reportedly the highest number since they began tracking in 1979. One can't help but make the connection to the fact that 2021 saw the highest amount of hate crimes reported since 2008. The statistics give substance to what history has already shown us: Hate affecting one group does not exist in a vacuum; it's connected to the broader presence of division often utilized against people in times of turmoil.
Four years later, there have been several more mass shootings, many of them also connected to hate and bigotry. The stories and struggles expressed in this film aren't presented as something for viewers to just passively absorb. In the 81 minutes, we spend with these individuals, we are challenged to acknowledge the link between them and ourselves. That moment four years ago is part of our times. A Tree of Life, although somber, should not be viewed as a stagnant piece of art. It is a powerful player in living history.
A Tree of Life: The Pittsburgh Synagogue Shooting is currently streaming on HBO Max.
(See also: Thoughts from a man who grew up at Pittsburgh's Tree of Life Synagogue by Rick Nagin, posted to People's World October 29, 2018.)