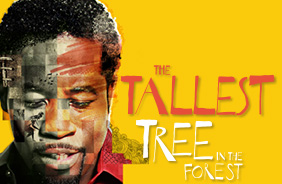 The Tallest Tree In The Forest
Writer/performer Daniel Beaty doesn't miss a beat in his one-man tribute to Paul Robeson, the son of a runaway slave who went on to become the African American actor/activist/Renaissance Man who rocked America with his outspoken politics, boundless talent, intellectual prowess, and imposing physical stature.
The Tallest Tree in the Forest opens with the banging of a gavel, signaling that this will not be a depoliticized depiction. The gavel refers to Robeson's 1956 appearance before the House Un-American Activities Committee (HUAC), which Beaty's drama leads up to.
The first word out of Robeson's mouth is the plural of the "N" word in "Ol' Man River," the number from Show Boat that was written specifically for the already renowned bass-baritone and Paul turned into a personal anthem. The musical, treating the theme of miscegenation, opened on Broadway in 1927.
Robeson performed the stevedore role from Broadway to Buckingham Palace to Hollywood, appearing in the 1936 screen version. In Britain Robeson became increasingly politicized, using his star power to support the Welsh miners, and charting a course wherein Robeson would feature his celebrity to advance movements.
Backed by a live three-piece band, Beaty performs about 15 songs, incarnating up to 40 different roles, showing Robeson gaining renown as an academic (1919 class valedictorian at Rutgers, then Columbia Law School) and athlete, as well as singer, actor, and activist.
Beaty unabashedly focuses on Robeson's radicalism, which took him in the 1930s to the Soviet Union, the first of many visits to a country that embraced him, and where he was welcomed by the great filmmaker Sergei Eisenstein. Paul spoke glowingly about the USSR, which set him on a permanent collision course with FBI chief J. Edgar Hoover.
Beaty also details Robeson's troubled marriage to Essie and his affairs with various women. Beaty slips into the Essie role by affecting a biting, pushy attitude. His portrayal of women is a weak link, although to the end Essie admirably stands by her man.
Robeson's dissatisfaction with his stereotypical screen roles, such as 1935's Sanders of the River, is recounted, although his final picture – Frontier Films' 1942 Native Land, a docudrama about homegrown American fascism, which Paul narrated – is not.
"The Artist Must Take Sides"
Robeson's postwar visit to the USSR, where he attempts to criticize Stalinism, and his White House meeting with Pres. Harry Truman in an effort to get anti-lynching legislation passed, are bold stuff. As is Robeson's performance at the Peekskill concert that broke out into a riot, with armed rednecks attacking unarmed progressives.
Robeson's defiance before the gavel-thumping HUAC is powerfully performed. Not content with blacklisting him so he couldn't perform at home (and earn a living) during the McCarthy era, the State Department revoked his passport, so he couldn't appear abroad, where he was still much in demand.
Robeson boldly stood up to HUAC and even mocked them. Repeatedly asked the $64,000 question-"Are you now or have you ever been a member of the Communist Party?"-Robeson courageously retorted:
"What do you mean by the Communist Party? As far as I know it is a legal party like the Republican Party and the Democratic Party. Do you mean a party… who have sacrificed for my people, and for all Americans and workers, that they can live in dignity?… Would you like to come to the ballot box when I vote and take out the ballot and see?"
By not muting Robeson's sharp politics Beaty shrewdly heightens the inherent drama of his life, a long battle for equal rights.
Robeson sang Yiddish songs in the Soviet Union as a rebuke to anti-Semitism there (Tree reminds us of that historic grand alliance between American Blacks and Jews), but declined to publicly criticize the Soviet Union in order to avoid providing fodder for Cold War propaganda.
Moisés Kaufman ably directs his "ensemble cast" in this highly entertaining, meaningful, dramatized history lesson. John Narun's projections enhance the production. It does justice to its subject, that towering talent who lived out the credo that "the artist must take sides."
The Tallest Tree in the Forest plays Tuesdays through Fridays at 8 p.m., Saturdays at 2:30 and 8 p.m., Sundays at 1 and 6:30 p.m., through May 25 at the Mark Taper Forum, 135 N. Grand Ave., Los Angeles. (NOTE: No 6:30 performance May 11, nor 1 May 25.) For more info: www.centertheatregroup.org/; (213)628-2772.