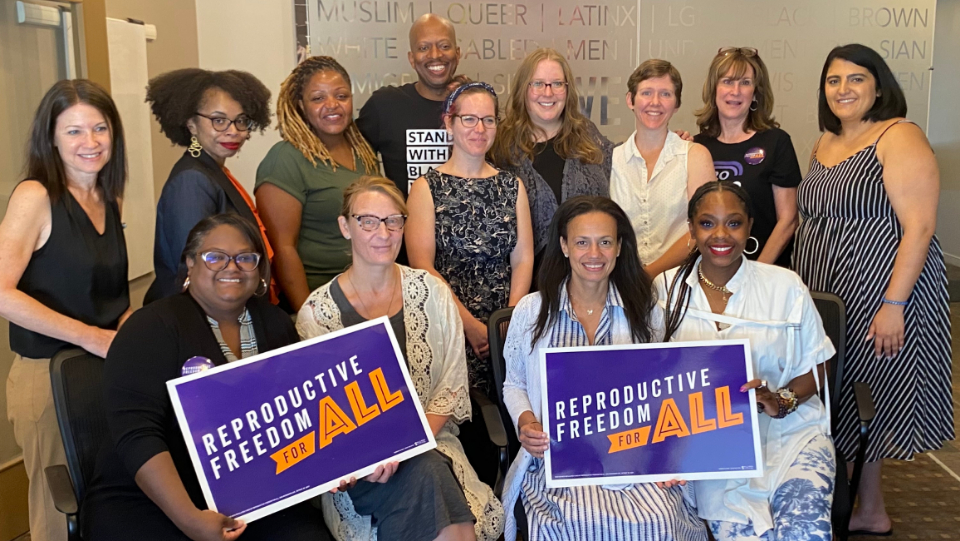 DETROIT—On Nov. 8th, at least six different states will vote on ballot measures concerning abortion. Since Roe v. Wade was overturned earlier this year, states have been tasked with developing policies addressing reproductive healthcare. In some states, existing anti-abortion legislation, which had been defunct under Roe, immediately went into effect following the Supreme Court decision. Organizers on both sides of the issue were quick to take advantage of the new political landscape, either working to stall state laws that criminalize abortion or strengthen them.
One such ballot measure is Michigan's ballot proposal 22-3, or Prop. 3, which would overwrite a 91-year-old abortion ban found in Section 14 of the Michigan Penal Code. Under the 1931 law, anyone providing the means to an abortion would be criminalized—without exception. Anti-abortion proponents seek to crystallize this archaic law into policy, effectively banning all abortion in the state.
In response, a coalition of citizens under the name "Reproductive Freedom for All" launched a petition to amend the state constitution to include the right to an abortion. In July, organizers had collected over 750,000 signatures, which qualified the measure for the November 2022 ballot.
If Prop. 3 passes, the right to abortion would be enshrined in the state's constitution.
The proposal would enact the following:
Establish a new individual right to reproductive freedom, including the right to make and carry out all decisions concerning pregnancy, such as prenatal care, childbirth, postpartum care, contraception, sterilization, abortion, miscarriage management, and infertility;
Allow the state to regulate abortion after fetal viability, but not prohibit it if medically needed to protect a patient's life or physical or mental health;
Forbid state discrimination in enforcement of this right; prohibit prosecution of an individual, or a person helping a pregnant individual, for exercising rights established by this amendment;
Invalidate state laws conflicting with this amendment.
The proposal does not come without concerns, however. The provision which allows for state regulation after fetal viability could create a loophole for anti-abortion legislators seeking to propose restrictions in the future. However, if passed, those seeking reproductive healthcare would be better off than they were five months ago.
The proposal would provide more protections for Michiganders or those traveling to Michigan for medical care than had been previously guaranteed under Roe because it will be embedded in the state constitution, rather than hinging on a legal precedent. Granted, this only codifies such rights at the state-level, and while 16 other states already have such protections, 13 others have embraced trigger laws similar to that of Michigan's Section 14.
Despite a recent poll which indicates 60% of Michiganders support Prop. 3, the volatile political environment that currently prevails and the state's history of poor voter turnout in off-years implies that the referendum may be a close race.
Pew Research shows a 61% majority of U.S. adults are in favor of legal abortion, suggesting that the Michigan vote could have serious ramifications for the future for reproductive justice throughout the country. Michigan's primary will show how voters lean on the question of abortion access in purple states and sets the stage for a national conversation on reproductive rights in the next general election.
Perhaps more significantly, it will create a roadmap for other states to challenge or repeal abortion restrictions through citizen-led initiatives.
Opponents of Prop. 3 argue that the ballot measure is "too extreme," relying on right-wing rhetoric concerning supposed "abortion on demand." The Diocese of Grand Rapids falsely claims that the amendment would allow for abortions for "anyone, anytime, anywhere."
However, Prop. 3 only provides protections for abortion until fetal viability, generally considered to be at around 23 weeks, after which point the state is permitted freedom to regulate.
With lawn signs and billboards reading "Too Confusing, Too Extreme," the opposition to Prop. 3—which includes Republicans and Democrats alike—appear to be missing (or, rather, avoiding) the point: Leaving the decision of one's bodily autonomy to the state (or anyone else for that matter) is already an extreme position.
Others are grasping at extreme hypotheticals to argue against the proposal, such as former Flint council member Monica Galloway, who has suggested that allowing a pregnant "12-year-old" to obtain an abortion without parental involvement "eliminat[es] consent." Conveniently, she and others who share her ideological viewpoint ignore the fact that should the law default to forcing people to carry a pregnancy to term, the conversation on consent is already non-existent.
Other opponents, particularly conservative Catholics, have invented predictions of children seeking sex reassignment surgery without regulation under the rights guaranteed under Prop. 3. These speculative scenarios reflect a complete distortion of the bill's language and readily neglect the principles of clinical medical ethics. Opponents lean on conspiracy and conveniently fail to focus on the core issue of "abortion" in their anti-Prop. 3 propaganda, suggesting a lack of consensus even within the anti-abortion movement.
Ultimately, efforts to ban abortion have always served those seeking political power who pander to the religious right, as well as private interest groups and corporations. They aim at restricting the rights of marginalized people. There are plenty of recent examples of forced sterilization and induced miscarriages in immigrants at the hands of ICE and Border Patrol, showing the right-wing agenda has nothing to do with protecting children and women and everything to do with maintaining state power and control over women's bodies.
Visit the Michigan Department of State's website for voting registration and poll information.