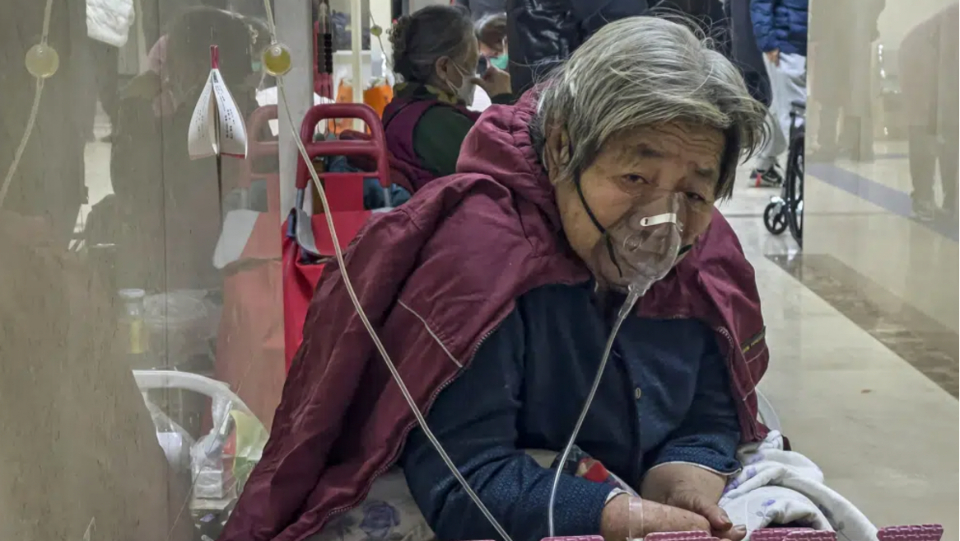 BEIJING—Patients, mostly older people, lay on stretchers in hallways or took oxygen while sitting in wheelchairs as a COVID-19 outbreak stretched public health facilities' resources in China's capital Beijing, even after its reported peak.
The Chuiyangliu hospital in the city's east was packed Thursday with newly arrived patients. Beds ran out by midmorning, even as ambulances continued to bring more people in. Hard-pressed nurses and doctors rushed to take information and triage the most urgent cases.
The crush of people seeking hospital care follows China's abandonment of its most restrictive pandemic measures last month after nearly three years of lockdowns, travel bans, and school closures that weighed heavily on the economy and prompted street protests.
The outbreak appears to have spread the fastest in densely populated cities first. Now, authorities are concerned as it reaches smaller towns and rural areas with weaker health care systems. Several local governments began asking people Thursday not to make the trip home for the upcoming Lunar New Year holiday.
The Transportation Ministry called on travellers on Friday to reduce trips and gatherings, particularly if they involve elderly people, pregnant women, small children, and those with underlying conditions.
People using public transport are being advised to wear masks and pay special attention to their health and personal hygiene, Vice-Minister Xu Chengguang told reporters at a briefing. The call stopped short of asking citizens to stay home entirely, as the government had since the pandemic began, although some local governments have urged migrant workers not to return home.
China ended a strict regime of lockdowns, quarantines, and mass testing in December, called "zero COVID," amid growing concerns about the economic impact and rare public demonstrations.
On Sunday, China is also due to end mandatory quarantine for people arriving from abroad. That has local governments, especially rural ones, worried about Lunar New Year holiday visitors.
"We recommend that everyone not return to their hometowns unless necessary during the peak of the outbreak," the government of Shaoyang county in Hunan province said in a notice dated Thursday. "Avoid visiting relatives and traveling between regions. Minimize travel."
Similar appeals were issued by Shouxian county in Anhui province southeast of Beijing and the cities of Qingyang in Gansu province in the northwest and Weifang in Shandong on the east coast.
The Weifang government notice said residents should celebrate the holiday with video and phone gatherings. "Avoid visiting relatives and friends to protect yourself and others," it said.
Despite such concerns, Hong Kong announced it will reopen some of its border crossings with mainland China on Sunday and allow tens of thousands of people to cross every day without being quarantined. The city's land and sea border checkpoints with the mainland have been largely closed for almost three years and the reopening is expected to provide a much-needed boost to Hong Kong's tourism and retail sectors.
Overseas, a growing number of governments are requiring virus tests for travelers from China. The European Union on Wednesday "strongly encouraged" its member states to impose pre-departure COVID-19 testing, though not all have done so.
Italy—the first place in Europe where the pandemic exacted a heavy toll in early 2020—became the first EU member to require tests for passengers from China last week, and France and Spain followed with their own measures.
That followed the imposition by the U.S. of a requirement for a negative test result within 48 hours of departure. New Zealand announced this week that it would not require any testing provisions for Chinese visitors.
China has criticized the new testing requirements and warned it could impose counter-measures against countries using them.
World Health Organization head Tedros Adhanom Ghebreyesus said Wednesday he was concerned about the lack of outbreak data from the Chinese government. At a daily briefing Thursday, Chinese Foreign Ministry spokesperson Mao Ning said Beijing has consistently "shared information and data with the international community in an open and transparent manner."
"At present, China's COVID-19 situation is under control," Mao said. "Also, we hope that the WHO secretariat will take a science-based, objective, and impartial position to play a positive role in addressing the pandemic globally."
The Chinese government has gradually opened up to visits by foreign officials, hosting Philippines President Ferdinand Marcos, Jr., this week. And U.S. Secretary of State Antony Blinken is due to make his first visit to Beijing in the coming weeks, during which he will meet newly appointed Foreign Minister Qin Gang, China's blunt-speaking former ambassador to Washington.
This article features reporting from People's World, Morning Star, and the Associated Press.