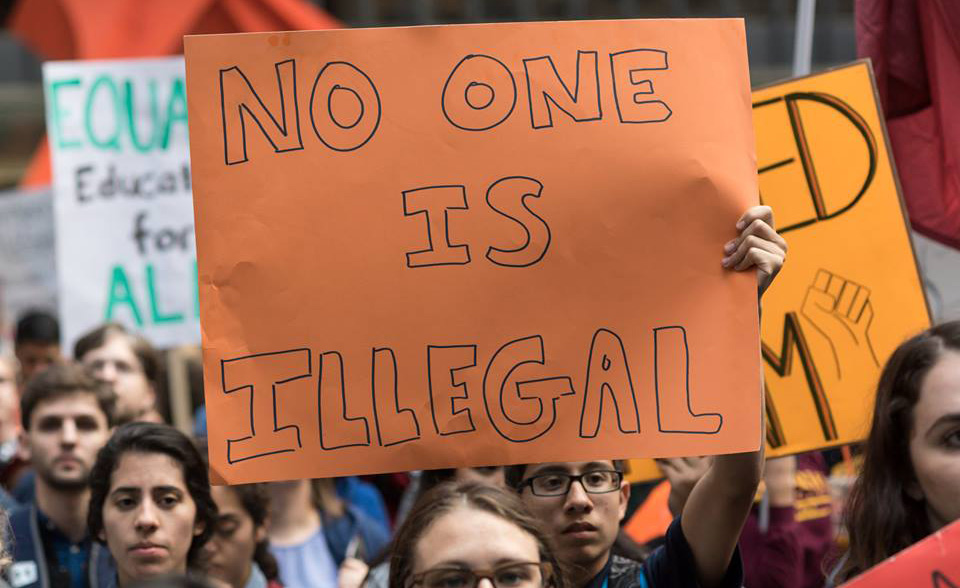 CHICAGO – Thousands of protesters hit the streets this week after Attorney General Jeff Sessions announced Tuesday that the Trump administration would be rescinding the Deferred Action for Childhood Arrivals Act (DACA). The policy, which was initially created under President Obama in June, 2012, shielded 800,000 undocumented youth from potential deportation and has allowed many others the opportunity to attain a work permit in the states.
While Sessions has proved to hold a long history of anti-immigrant policies, Trump has sent mixed messages as to whether he intended to keep programs like DACA. Earlier in the summer Trump issued a series of memos announcing that he was tentatively suspending his earlier decision to do away with the Deferred Action for Childhood Arrivals Act.
Organizations and activists alike responded immediately to the news, with protests sweeping the country. In New York City over fifty people engaging in non-violent civil disobedience were arrested in response to Trump's decision to repeal DACA. A total of 31 protesters were locked up and all have been released since their initial arrest.
Here a similar scene played out as thousands flooded the streets of Chicago with chants of "No walls, no registry, no white supremacy!" Demonstrators met up at the Federal Plaza where leaders of a number of organizations spoke about the ways in which allies could help fight against Trump's continuously dangerous policies. Victor Guzman, a Queer Chicago activist spoke in Spanish at the rally. "I want you all to be aware of us," he declared." Guzman has long been an advocate for undocumented Queer individuals throughout the city.
While the issues affecting undocumented communities have been further exacerbated by the Trump administration, the U.S. has a long history of inhumane deportation practices. Former President Obama, notably, has come out and strongly condemned Trump's decision to end the program which he started.
Other aspects of Obama's immigration policy, however, were not as progressive as his DACA program. During his tenure the nation saw the deportation of 3.1 million individuals – notably more people than any previous presidential administration, Democratic or Republican.
It is clear that the need for comprehensive immigration reform is greater than ever. Such reform is unlikely to come out of the present Congress, however, without continued mass pressure. Many fear that the demise of DACA will lead to mass deportation, but youth are still protected by several legal loopholes.
Employers are not allowed to fire, or change employee's work status until after the permit expires. Additionally, there is a small window of opportunity to renew before the policy is retracted, and rescinding takes full effect. In the meantime communities have united to support those most directly impacted by the recent announcement and continue to mobilize in the face of fascist policies.