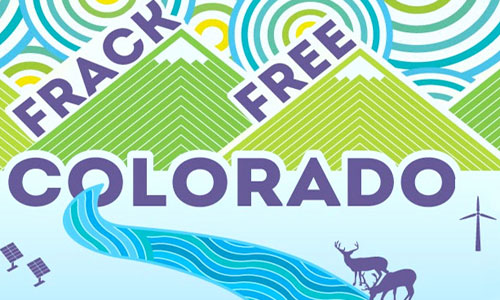 From the western U.S. to the East Coast, new grassroots coalitions are forming to protest one of today's most significant environmental hazards – the natural gas extraction process known as fracking. The nonprofit group Frack Free Colorado is protesting the practice today in Denver, Colorado's Civic Park. And in New York, musician Sean Lennon has formed Artists Against Fracking in order to better get the message out to the public that fracking needs to stop.
Positively linked by experts to both earthquakes and water poisoning, fracking involves drilling into the ground – and pumping harmful chemicals into the earth – to obtain natural gas. From environmentalists, to celebrities, to EPA officials, people across the board have highlighted the threat this practice poses.
Frack Free Colorado will today be making their voices heard; they will call for an end to fracking and demand that the state move farther away from fossil fuels, and closer toward renewable energy. "As Coloradoans, we feel that it's imperative to assess the environmental and health impacts of the fracking process," said group co-organizer Allison Wolff. "The collective goal of everyone involved in Frack Free Colorado is to open up a dialogue regarding the effects of fracking on our communities, families, and environment. We want to educate the public on the dangers of this process and discuss clean energy alternatives."
"The natural gas industry is polluting our rivers, aquifers, wildlife, and citizens," said Tara Sheahan, founder of organization Conscious Global Leadership. "In addition, oil and gas companies estimate that they will use approximately 6.5 billion gallons of water in Colorado this year. Our state does not have enough water to support this growing industry.
"Frack Free Colorado's goal is to take action to help people lessen their dependence on natural gas. We need to start living like First Nation people, who view the earth as a relative, [as opposed to] a resource to exploit."
The Colorado event is reportedly inspired by – and modeled after – a previous New York event called Songs Against Drilling, in which local musicians entertained and educated audiences on the matter of natural gas drilling and its negative effects.
This summer in New York, musician John Lennon's son, Sean Lennon, and mother Yoko Ono, formed Artists Against Fracking, and in August gathered a coalition of activists at the city's Paley Center to discuss the pursuit and development of renewable alternatives to fracking. Joined by actor Mark Ruffalo, they also urged New York governor Andrew Cuomo not to reverse the state's fracking ban.
Lennon was raised on a farm with his parents near the Marcellus Shale – an area that the natural gas industry is itching to tamper with. Lennon remarked that the local people in such areas would be the ones who paid the price.
"I feel like the end result of wanting to make profits through fossil fuels, and drilling for oil and gas, is that you overlook individual people and small-town farmers," he said. "That's what's happening in New York right now; they're promising they won't drill near the reservoirs that supply Manhattan," but what about the small towns in New York?
Ruffalo, also part of Artists Against Fracking, noted that not only is fracking dangerous to people and to the environment, but that it is also wasting precious time amidst the looming threat of climate change.
"Natural gas will not save us from climate change," he said. "And time is not on our side. A recent International Energy Agency report estimates we have five years before the chance to reverse climate change closes. We have the technology to do so; what we lack is the collective will. The biggest industry hoax is that the U.S. can't move to renewable energy now. It's a lie."
The lies and corruption of the fracking industry will be further shown to the public in December, when the film Promised Land is released. The movie stars Matt Damon (another vocal opponent of fracking) as a corporate salesman who visits a rural town to buy drilling rights from residents, but encounters resistance along the way from a grassroots coalition formed by a school teacher.
The film is to have a limited theatrical release on December 28, followed by an expanded release in January 2013, and will perhaps deliver one of the sharpest critiques of fracking yet.
Though the establishment of more anti-fracking outlets is a positive advancement, Lennon notes that the natural gas industry's lies (which tout fracking as one of the strongest job creators) will have to be continuously exposed. "This is not going to bring jobs to America and save our economy," he said. "And once they destroy one community, they'll move on to the next."
Photo: EcoWatch.org, courtesy of Frack Free Colorado