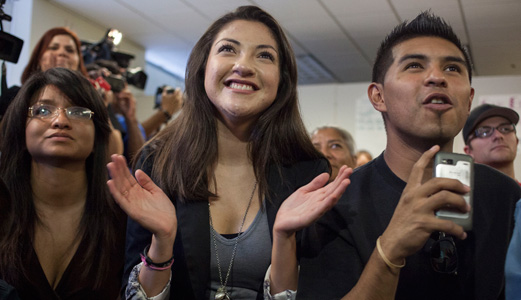 President Barack Obama's June 15 announcement that the Department of Homeland Security would no longer seek the deportation of eligible undocumented youth set off both excitement in the immigrant community and fury amongst the Republican Party leadership.
Immigrant young people have expressed enthusiasm at the move, which they said is a political step forward. Undocumented young people – the DREAMers – see the president's move as a result of their more than two years of organizing.
DREAMer is a reference to the Development, Relief, and Education for Alien Minors (DREAM) Act.
Obama's move allows undocumented immigrants who came here when they were under 16 and are now under 30, are in or have graduated high school, and who have no criminal history to apply for "deferred action." This means that they are able to go to Immigrations and Customs Enforcement and apply to keep the agency from initiating deportation proceedings against them for two years. This status can be renewed every two years, and the young people can also apply for the right to work.
According to analysts, this is as far as the U.S. Constitution allows Obama to go without legislative action.
Therefore, immigrant rights advocates while applauding the executive move, say passage of the DREAM Act and comprehensive immigration reform is still necessary. The DREAM Act would legalize the status of the eligible young people and offer them a path to citizenship.
"We all took time to celebrate," said a press release from United We Dream, which had taken the lead in fighting for an end to deportations of DREAM Act-eligible youth.
"We only hope that we can use this momentum to engage more dreamers and allies across the country. Only in this way can we continue to grow, and only by growing can we hope to achieve more victories like this one. Victories that ensure protection and equal rights for all immigrants."
What undocumented youth should actually do in the wake of the new executive order is far from settled. United We Dream organized four webinars, for which more than 3,500 people – so far – have signed up. The group intends to use these and other means to inform undocumented young people of their choices and the most sensible options going forward.
The group says, "We have also received hundreds of questions from dreamers in all parts of the country, all of which we are currently working to answer."
"I'm not sure what to do yet," said an undocumented Miami Dade College student from Hialeah who did not wish to be identified.
"But I'm happy. I wanted the deportations to end, and now I don't have to worry about that. Obama really helped us, he did. But the problem isn't solved," he said.
"I still don't know what I'll do when I graduate."
In a presidential election year, Republicans were quick to accuse Obama of acting illegally, calling it immigration reform.
Legal experts say the order falls under the principle of prosecutorial discretion. It is up to the executive branch to decide whom to prosecute under immigration law, and it has the discretion to not enforce certain punishments.
The same principle was applied at least as far back as Republican Ronald Reagan's administration, they say.
Plus, the American people back the president. A Bloomberg poll released today shows likely voters approving the move by a 2-to-1 margin, 64 percent to 30 percent.
The order has renewed the fight for the DREAM Act.
On June 20, more than 40 leaders of the DREAM Act movement will declare "their Right to Dream," and will announce "a massive public education campaign to ensure that the Latino and immigrant communities are energized and ready to fully participate in the implementation of the president's decision and the civic life of our country," United We Dream announced.
Despite backing from Obama and Democrats, Republicans killed all attempts to pass immigration reform through the Senate filibuster rule and other measures.
During the 2010 lame duck session of Congress the DREAM Act was brought to a vote and passed in the then-Democratic controlled House, but killed in Senate by Republicans who threatened the filibuster, refusing to allow the bill to come to the floor for a vote.
Photo: Students watch the broadcast of the announcement by President Barack Obama about the new U.S. immigration law, at the Arizona Dream Act Coalition office in Phoenix, June 15. Mark Henle/The Arizona Republic/AP