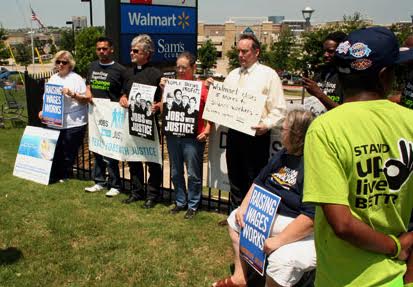 DALLAS – On June 2, nationwide rallies demanded re-hiring of laid-off Walmart workers. The Dallas action took place at the Sam's Club and Walmart on Northwest Highway & Skillman where we challenged the store manager to come out and accept a letter signed by 38,000 activists nationwide.
Our leaflet explained the situation: "Walmart recently closed 5 stores, laying off more than 2,000 people with just hours' notice. Their excuse? A national outbreak of plumbing emergencies. Only, none of the stores have received any permits to do the work. We know what's really going on! The California Pico Rivera store that Walmart closed was the first store to ever go out on strike. As leaders of OUR Walmart and the Fight for $15 movement, Pico Rivera workers held a sit-down strike in their store and even participated in civil disobedience last fall."
The demands are to:
Transfer all workers to active stores
Guarantee compensation through the transition
Let them return to their store when it reopens
The Dallas store manager wouldn't come out, so one of the OUR Walmart workers inside came out to get the letter and deliver it personally.
Photo: Dallas Walmart employees and supporters are fighting back! Jim Lane/PW