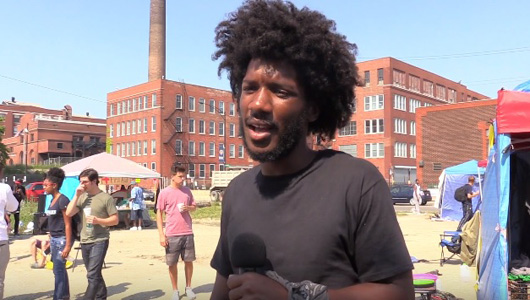 CHICAGO — It was a scorching eighty-seven degrees in Chicago July 26, but the abandoned lot on the intersections of Homan and Fillmore remained occupied by protesters with tents, banners and chairs, as they approached the fifth day of their sit-in.
The action continues to take place across the street from the infamous Homan Square warehouse, where numerous human rights violations have occurred at the hands of the CPD. It has been reported that as many as 7,000 people have been brought to the facility since August of 2004 — a majority of which were African Americans. Horror stories from the "black site" reveal tales of torture, interrogation, and even sexual abuse — making it a centerpiece of the broader national conversation revolving around police brutality.
The official action was launched last Wednesday by a coalition of groups, including the #LetUsBreathe Collective, BYP100, and Black Lives Matter, as they blocked the road leading to the Chicago Police Department's Homan Square facility. At first, activists cemented their arms together and chained themselves to prop ladders, demanding an end to state-sanctioned violence against communities. Since then, activists have moved to the lot across the street where they say they will remain while they actively challenge the systems of policing that have plagued black and brown communities across the nation.
Among those that participated in the arrestable action was Damon Williams, a leading voice in the #LetUsBreathe Collective. Williams, along with his sister Kristiana Colon and others, have been facilitating educational conversations at what they now call "Freedom Square," centered around the ways in which communities can challenge oppressive systems of power that target marginalized peoples. Williams elaborated on why the coalition picked the Homan Square warehouse site: "This is, to me, in America, the greatest known example of how our system does not work — it is designed and mechanized, as you see by the scale and stature of the building behind me, in a way that is violent and destructive to our community." (story continues after video)
Williams has been involved in the movement since the death of Michael Brown in Ferguson, Missouri, in 2014, when members from an collective called The Lost Voices inspired him to start organizing in his own community. The occupation of Homan Square is one of several national protests, under the leadership of African-American-led organizations. While they have not yet completed their first week, activists hope that 'Freedom Square' will set a precedent for more actions across the nation.
The location is set up with tents and donated food supplies for those who intend to stay for extended periods of time. There is even an outdoor snow cone station for participants who bring their children. "This is a lively space," said Williams, "but we are not just out here to have fun. We are here trying to practice and model the world we want to see. A world without police, a world without prisons, and a world based on new systems."
The Facebook event page for "Freedom Square" makes a call for action on behalf of the #LetUsBreathe Collective. It states that the occupation of the space will remain until the family of slain police shooting victim and teenager Pierre Loury is given the official police report from CPD,  and that activists will stand their ground until "Alderman Ed Burke and other councilmen on the City's Public Safety Committee immediately recall a proposed ordinance that would make protesting police violence a hate crime, commonly known as "Blue Lives Matter."
The Blue Lives Matter ordinance, which was recently signed into law in Louisiana, would expand the state's hate crime law to include targeting law enforcement officers, firefighters and other emergency medical services personnel. The passage of such a legislative measure would make it virtually impossible for the public to demand accountability for police misconduct, and would severely limit the ways in which communities could fight back.
The Collective voiced its support for the newly introduced ordinance for a Civilian Police Accountability Council (CPAC), which would serve as a replacement for the Rahm Emanuel appointment "Task Force." The community coalition backing the CPAC ordinance is being led by the Chicago chapter of The National Alliance. The CPAC would allow for elected community members to hold police accountable for acts of brutality or violence. Additionally, the CPAC would create a mechanism for communities to have a voice in determining how they are policed.
In the meantime, protesters continue on, despite the unwavering heat. Shavonna Brown, a member of the North Lawndale community, has been camping out for several days with her daughter and six siblings. She spoke to People's World about her own personal reasons for joining the occupation. "This represents freedom. I'm showing them [daughter and siblings] that when something's not right you have to stand up and say something. One person can be the change — it doesn't matter how old you are."
Brown said she was inspired after she took a trip to Atlanta, Georgia, to visit family and didn't hear gunshots the entire time she was gone. It was the first time she was able to venture outside of the city, and upon returning she said she felt compelled to make change in her own neighborhood.
Unfortunately, in the short time that she has been part of the occupation, Brown has already lost a close friend, 26-year-old Jonathan Mills, who was gunned down in Chicago on Monday. "He just dropped me off the other day and now he's gone," Brown said. She added that she was overwhelmed by the outpouring of love and support from other protesters. "I had so much support. I had so many people tell me it was going to be OK." Even though she is in mourning, she said the occurrences of the last couple of days have only cemented her resolve to continue the fight.
"I lost a best friend — and if I have to stand out here the whole summer and the whole winter just so people understand — I will. I'm not just doing this for myself. I'm doing this for our community."
Freedom Square is currently ongoing; for readers based in Chicago, activists continue to accept donations of food and other supplies at the location. The group is not yet accepting online donations from the public.
Photo: Screenshot taken from video
Video: Earchiel Johnson/PW