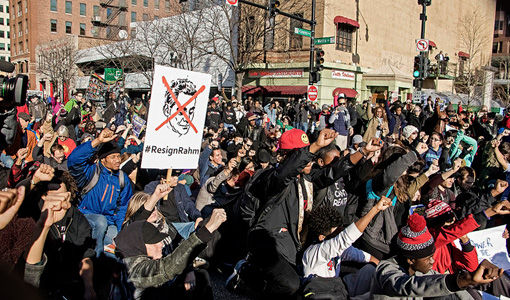 It's been several months since the Laquan McDonald video release sparked outrage across the country. 17-year-old McDonald was shot and killed by a Chicago Police officer in October of 2014. Jason Van Dyke unloaded a total of 16 shots into the teenager, many of which were fired well after McDonald was visibly incapacitated. Late last year a judge ordered the release of the the dashcam footage, igniting nationwide protest from activists calling for the resignation of Mayor Rahm Emanuel and Cook County State's Attorney, Anita Alvarez. McDonald is only one of numerous young black males that have become victims of the systemic violence perpetuated by law enforcement officials. Names such as Tamir Rice, Eric Garner, Michael Brown, and Laquan McDonald have become icons in a nationwide fight against police brutality.
Multiple officials came under fire for their negligence after the McDonald video was released. Many accused Rahm Emanuel of delaying the public release of the footage until after his Mayoral election. Anita Alvarez was also accused of assisting Emanuel in a city-wide cover up, sparking trending hashtags like #AdiosAnita and #ByeAnita across social media platforms. Activists were quick to note that it took over a year for Alvarez to formally file charges against Van Dyke, a length of time she has repeatedly defended. Alvarez insisted that the FBI contacted the Cook County state's attorney's office weeks after the fatal shooting and that her office and the FBI commenced working on the case together in December of 2014. While people have continuously challenged the timeline of events, Alvarez reassured the public that "investigations of police shootings and misconduct are highly complex matters that carry with them very unique legal issues that must be fully examined and taken into consideration."
In the midst of the bureaucratic uproar, citizens are gearing up to vote at the Cook County State's Attorney election on March 15. The upcoming race has the potential to set a precedent for the country, as many seek to challenge the system of accountability for law enforcement and elected officials. Former mayoral candidate and progressive politician Jesus "Chuy" Garcia, spoke with People's World in regards to the current state of affairs in Cook County. "Young people understand what's broken in our criminal justice system; being able to replace an antiquated manner of running things is a great opportunity to bring about change." Garcia says this election is not just about transparency but also about the effectiveness of elected officials on a national level. Garcia said Alvarez has demonstrated that she does "not possess the judgement or the integrity to fulfill her role as State's Attorney", a notion she is now challenging in her campaign.
Despite the backlash against Alvarez, a recent Chicago Tribune poll indicated that she is still leading the race with the support of 34 percent of those polled. Kim Foxx came in second at 27 percent, while just 12 percent supported Donna More. That leaves 26 percent, of the 968 randomly selected registered Democratic voters, undecided. Foxx, Alvarez's leading opponent, reaffirmed the significance of the upcoming election during a group interview on WBEZ Chicago: "We're at a tipping point where the world is watching- our state's attorney should be the leader in our criminal justice system, pushing for innovation, pushing for transparency, and accountability and a system that is fair and just for all." Foxx's campaign is quickly gaining momentum as she has received heavy endorsements from several politicians, including Governor Pat Quinn and Garcia. The Chicago Tribune published an open letter throwing its support behind Foxx as well, citing her twelve years as an assistant state's attorney, and employment history as chief of staff to Cook County Board President Toni Preckwinkle. The article stated "This contest comes at a time when citizens of metropolitan Chicago are re-examining, and demanding better of, the criminal justice system here: How prosecutors make charging decisions. What standards police officials require of their departments." Such editorial positions reaffirm the public's concern with the lack of political accountability in and around the city.
Regardless of the outcome, one thing remains clear; this election has mobilized a younger generation of activist voters. It has shown elected officials that citizens do not intend to continue fostering a culture of disingenuous politics. In challenging Alvarez's role as state's attorney, Chicagoans can set the bar for other cities in a fight to bring transparency to the fore, and to advocate for more effective forms of justice.
Photo: Bobbosphere/Twitter