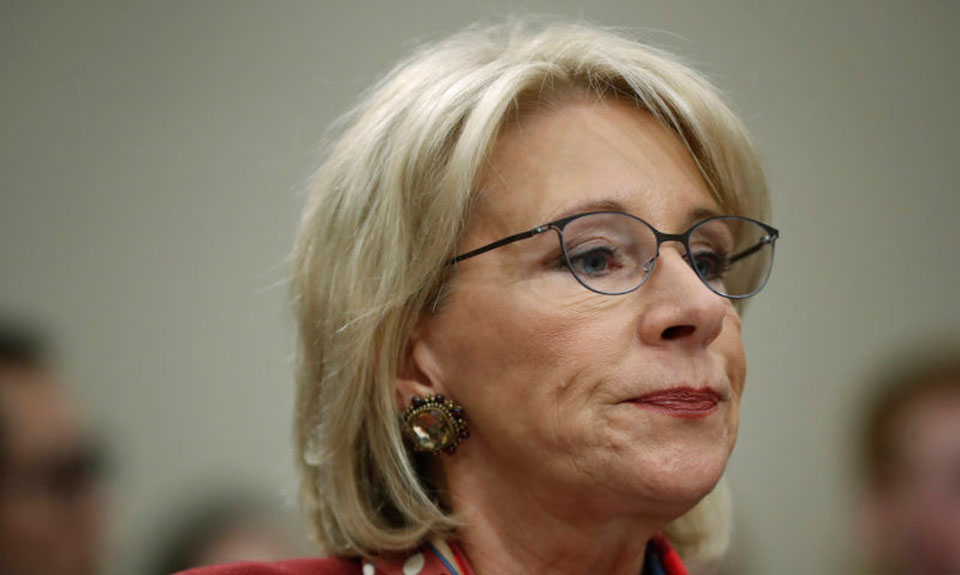 WASHINGTON —Union-hating former GOP Oval Office occupant Donald Trump and his Education Secretary, Betsy DeVos, may both be gone, but workers keep racking up wins against them.
The latest came December 3, when David Welch, the administrative law judge for the Federal Labor Relations Authority, found DeVos's agency guilty of 14 counts of unfair labor practices in her campaign to trash the American Federation of Government Employees, and its Local 252. The local represents 3,900 Education Department workers.
The Republican Party in general and the Trump regime and DeVos—a GOP big giver who hates public schools and their teachers—made federal workers a particular piñata in their right-wing-fueled war on workers. The FLRA, which ruled for the union, is the equivalent of the National Labor Relations Board, but for the government's two million workers.
Trump's war included three executive orders trashing federal workers' rights. AFGE sued to overturn those dictates. U.S. District Judge Ketanji Brown Jackson ruled for the union, saying Trump broke labor law covering federal workers. But the federal appeals court for D.C., which handles most federal agency cases, overruled her.
The biggest of the 14 counts were that DeVos unilaterally declared an impasse in bargaining and imposed a new, restrictive contract on the workers, that she illegally withheld two years of automatically deducted dues which the old contract said her department must send to Local 252 and that she refused to bargain over the impact of Trump's orders.
But that wasn't all. DeVos's agency repeatedly violated workers' rights to protect themselves. In one case, DeVos's agency was so petty that it physically barred Local 252 rep Sharon Harris from entering the agency headquarters for an official grievance meeting.
And DeVos refused to bargain over the impact of any changes, violating the contract. One was uprooting the Chicago regional office, moving it about a mile from 500 West Madison Street—just west of the river—to the federal building in the Loop at 230 South Dearborn Street. DeVos uprooted the Dallas regional office, too, moving it a mile in 2020, Welch wrote.
Instead, in those cases, like the others, DeVos and especially her Federal Student Aid branch chiefs and her HR people, broke the contract and broke federal labor law, Welch said.
Welch ordered the reinstatement of the prior contract covering the workers, signed in 2013, and payment of the dues, among other mandates.
Democratic President Joe Biden's Education Department asked Welch to drop the case because guilty findings might complicate ongoing talks over a new contract between Local 252 and the department. Welch said "no." He also said Biden's Education Department missed deadlines for responding to AFGE's case, and that its reasons for doing so didn't hold up.
"Under the Trump administration, the Department of Education engaged in a three-year campaign to strip its employees of their fundamental rights and destroy their union," AFGE President Everett Kelley said.
"Now that the FLRA has affirmed these charges, we look forward to working with the department's new leadership to restore employees' rights and ensure workers are made whole for losses resulting from these illegal actions."