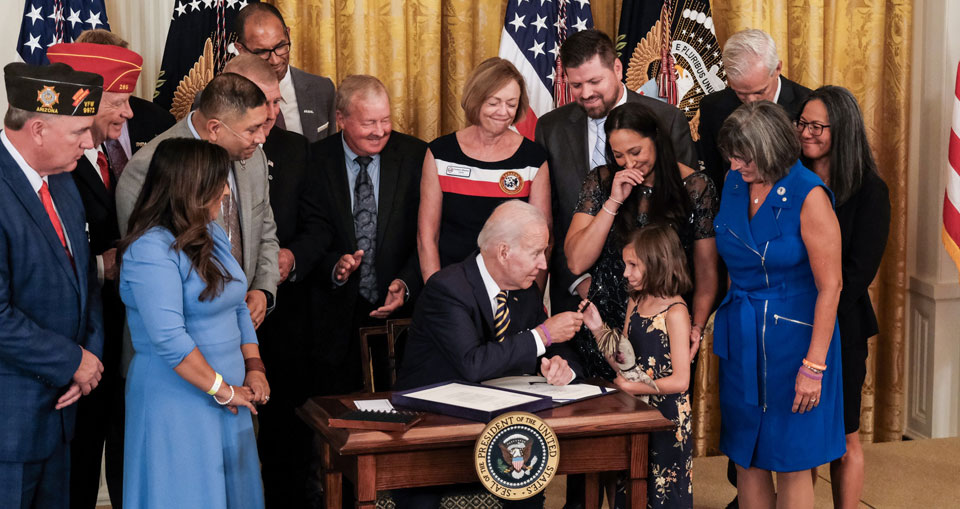 WASHINGTON —The Government Employees (AFGE), who represent most of the workers at the Veterans Affairs Department, are hailing the new law that extends VA health benefits to veterans exposed to toxic substances while they served in the military. But it took a Capitol Hill all-night vigil by injured vets to get Congress's OK.
President Joe Biden signed the measure, S3373, the Pact (Promises to Address Comprehensive Toxics) Act on August 10. It will cover an estimated 3.5 million veterans, principally Iraq and Afghanistan vets exposed to toxic chemicals from burn pits.
"As a veteran myself, this issue is personal to me," said AFGE President Everett Kelley in a statement. "On behalf of the 700,000 federal and D.C. employees we represent, a third of whom are veterans, I commend President Biden and the bipartisan group of lawmakers who voted… for fulfilling our nation's promise to our veterans."
"The 283,000 VA employees we represent look forward to caring for the heroes who have been left without critical medical assistance for far too long," added Alma Lee, president of AFGE's National VA Council. "AFGE health care professionals and claims processors look forward to providing these veterans the high-quality care they deserve."
Until the new law, the vets had to prove that toxic exposure caused their subsequent illnesses. Its key provision is a presumption the burn pit chemicals sickened them. The new law covers "veterans who have served in specified locations during specific time periods, which allows Veterans Benefits Administration claims processors to service veterans more efficiently and expeditiously," an AFGE fact sheet said.
The House easily passed the measure initially, and the Senate had OKd it 84-14, but their versions differed. Technical changes forced a second Senate vote the week before Biden signed it, and 24 Republicans and one Democrat revolted and stalled it. That vote was 57-42—and the 42 were enough to uphold a Republican filibuster.
The senatorial flip-flop led dozens of injured vets to literally sit in and camp out on the U.S. Capitol's steps demanding justice. Shamed by the embarrassing publicity, the holdout solons reversed course and gave in.
"They shouldn't be here," Burn Pits 360 co-Executive Director Rosie Torres told The Hill during the Capitol demonstration her group organized. "It's disgusting…They've turned their backs on veterans and their families (who) are sick and dying, But if this is what we have to do to get the bill passed, and at all costs, all measures, we're going to get it done."
S3373 also expands the VA by approving the construction of 31 new facilities in 19 states, and authorizes education and training for VA doctors and nurses—who are also represented by National Nurses United—on how "to identify, treat, and assess the impact on veterans of illnesses related to toxic exposures." And it tells the VA to educate claims processors on how to handle the burn pits claims.
"We have many obligations but only one truly sacred obligation: To equip those we send into harm's way and to care for them and their families when they come home," Biden said before signing the measure. Biden was surrounded by the family of a veteran who died from toxic exposure. He noted his own family was also affected. His late son Beau, who served in Iraq, was exposed to the burn pits. Beau Biden, a Delaware National Guard Major who was also state Attorney General, died of brain cancer from his service, leaving a young family.