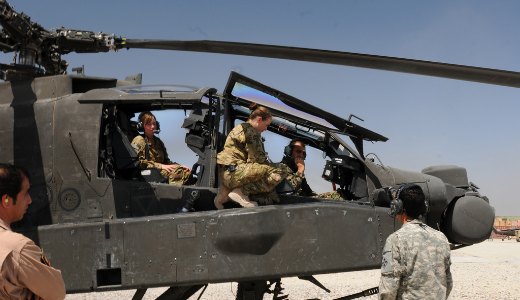 In the wake of last week's NATO air strike that killed 14 civilians, mostly children, in southern Afghanistan, Afghan President Hamid Karzai warned May 31 that NATO air attacks on homes must stop at once.
"If they continue their attacks on our houses, then their presence will change from a force that is fighting against terrorism to a force that is fighting against the people of Afghanistan," he told reporters at a Kabul news conference. "And in that case, history shows what Afghans do with trespassers and with occupiers."
U.S. and NATO airstrikes that have killed civilians have long been a bitter issue with Afghans, and Karzai has protested them many times. But observers said his latest comments were the strongest yet.
The May 28 airstrike took place after U.S. Marines, under small arms attack, called for air support. The Afghan government said two houses were struck, killing two women and a dozen children – some as young as two – as well as injuring several others.
Relatives and friends carried the battered bodies of several of the children to the governor's residence in Lashkar Gah, the capital of Helmand province.
As in previous air strikes that killed civilians, NATO apologized and promised an investigation.
Just before the raid, Karzai had ordered the Afghan Defense Ministry to take over all nighttime raids from the foreign troops. Afterwards, he issued a "last warning" to NATO to stop air attacks that end in civilian casualties.
By far the majority of last year's nearly 2,800 war-related civilian deaths were caused by armed insurgents. Air attacks were the biggest cause of civilian deaths caused by U.S., NATO and Afghan forces, but such deaths dropped by half in 2010 compared to 2009.
About 150,000 foreign troops are now in Afghanistan, two-thirds of them from the U.S.
Meanwhile, commentators are analyzing the May 26 vote in which the U.S. House of Representatives came within a hair of passing an amendment calling for steps to end the Afghanistan war.
"It may seem counterintuitive to count failing to adopt an amendment as 'taking an action,' but in terms of consequences, it is taking action," Just Foreign Policy's Robert Naiman wrote May 27 on the organization's blog.
Naiman said the over 200 Democratic and Republican votes cast for the measure introduced by Reps. Jim McGovern, D-Mass., and Walter Jones, R-N.C., were a warning to President Obama to announce a significant withdrawal of U.S. troops this summer or risk defeat in the House the next time the subject comes up.
Naiman noted that House Minority Whip Steny Hoyer, D-Md., "a leader among center-right Democrats" on national security issues, joined Minority Leader Nancy Pelosi, D-Calif., in voting for the amendment (she backed McGovern's anti-war amendment last year, but he did not.)
Writing for Politico, David Rogers said House Democrats "are showing real unity for the first time in pressuring President Barack Obama on Afghanistan – with influential moderates now expressing their impatience alongside the anti-war left that drove the early Iraq war debate."
Rogers quoted Rep. Howard Berman, D-Calif., ranking Democrat on the House Foreign Affairs Committee: "I saw it as a vote to manifest my growing impatience … I made a conscious shift. This was the first time I had done that."
In the Senate, California Democrat Barbara Boxer's "Safe and Responsible Redeployment of U.S. Combat forces from Afghanistan Act of 2011," introduced earlier this year, has five co-sponsors. It would express the Senate's support for Obama's plan to start withdrawing combat troops from Afghanistan in July, and require the president to give Congress a plan and an end date for the redeployment. The bill, S. 186, is currently before the Senate Foreign Relations Committee.
Photo: isafmedia // CC 2.0