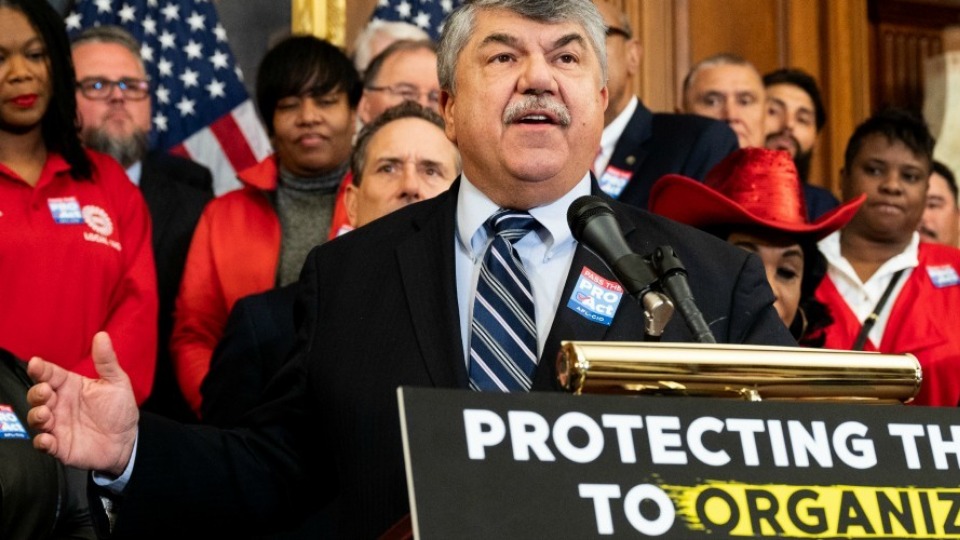 WASHINGTON —The AFL-CIO is spearheading a "National Day of Action" today, April 8, to organize workers to lobby senators to pass the Protect the Right to Organize (PRO) Act. If four Democratic holdouts and one independent can be turned around, the act will become law.
After a boost from Democratic President Joe Biden in early March, the Democratic-run House passed the PRO Act, the most wide-ranging, pro-worker rewrite of labor law since the original National Labor Relations Act of 1935.
The measure would make organizing unions easier, ban such common corporate tactics as mandatory anti-union meetings, and make union recognition elections faster.
It also would force the sunlight of disclosure on so-called "persuaders," a.k.a. union-busters, increase fines for corporate labor law-breaking, make it easier to get court orders against such tactics, and order arbitration if, after the union wins and is recognized, the two sides can't reach a first contract in a reasonable time.
Winning passage in the Senate is proving difficult, and unless Democrats in that chamber do away with or evade the filibuster, the minority Republicans may be able to kill it.
"We're not going to let a minority in the Senate stop" the PRO Act, AFL-CIO President Richard Trumka vowed at a press conference with lawmakers and the Leadership Conference on Civil and Human Rights during House debate on the law.
Trumka implied the PRO Act's political foes would face trouble at the polls. "If people (lawmakers) know corporations are too strong and workers are not strong enough, and they make corporations stronger" anyway, by defeating the PRO Act, "they do so at their peril," Trumka warned.
"And in an era of extreme polarization, nearly two-thirds of Americans—65%—approve of labor unions, so it's not surprising workers would form unions if they were given the chance. That's 60 million people knocking on our doors. The PRO Act would let them in."
Join the AFL-CIO's National Day of Action to win the PRO Act – Click here to make a call.
The fact that the PRO Act is receiving a fair shot in Congress now is only thanks to the victories against the right wing that were won in the 2020 elections. Previously, the PRO Act couldn't even make it on the Senate agenda. After the Democratic-run House passed the PRO Act last year, then-Senate Majority Leader Mitch McConnell, R-Ky., refused to even allow committee hearings or a debate on it.
So, "undeterred, working people fought to elect pro-worker lawmakers to the Senate, House, and White House. And we won," the AFL-CIO said in a recent statement. "Lawmakers gave us their word they would make the PRO Act a top priority. It's time for them to keep that promise."
The federation says the PRO Act would "empower workers to organize and bargain, hold corporations accountable for union-busting, and repeal 'right to work' laws, which were created during the Jim Crow era to keep white and Black workers from unionizing together."
Today's National Day of Action campaign was announced in late March by Postal Workers President Mark Dimondstein, a member of the AFL-CIO's policy-making Executive Council.
"Get involved with these fights, the fight for voting rights and the fight for workers' rights," he urged then.
Sources told The Intercept in late March that Majority Leader Chuck Schumer, D-N.Y., told Trumka he would not bring the PRO Act to the floor unless it has 50 sponsors and co-sponsors. It has 45 right now. No Republicans are expected to sign on.
The five Democratic holdouts are Sens. Mark Kelly and Kyrsten Sinema, both from Arizona, Mark Warner from Virginia, Joe Manchin from West Virginia, and Angus King, the Independent from Maine who caucuses with the Democrats.
Biden strongly supports the PRO Act and added it to his outspoken endorsement of the union organizing drive at Amazon's big Bessemer, Ala., warehouse.
"All of us deserve to enjoy America's promise in full—and our nation's leaders have a responsibility to deliver it," Biden said before the House vote on the PRO Act. "That starts with rebuilding unions."
"Unions give workers a stronger voice to increase wages, improve the quality of jobs and protect job security, protect against racial and all other forms of discrimination and sexual harassment, and protect workers' health, safety, and benefits in the workplace. Unions lift up workers, both union and non-union.  They are critical to strengthening our economic competitiveness.
"But too many employers and states prevent them from doing so through anti-union attacks. They know that without unions, they can run the table on workers–union and non-union alike. We should all remember the National Labor Relations Act didn't just say we shouldn't hamstring unions or merely tolerate them. It said we should encourage unions. The PRO Act would take critical steps to help restore this intent."
The National Day of Action is being backed by dozens of AFL-CIO member unions, as well as Pride at Work, Unemployed Workers United, the Asian Pacific American Labor Alliance, the Working Families Party, the Alliance for Retired Americans, the Coalition of Labor Union Women, the Coalition of Black Trade Unionists, Social Security Works, and many more organizations.
A simple automated system has been set up on the AFL-CIO website to make it easy for participants to call senators and join in the lobbying action from wherever they are.
Join the AFL-CIO's National Day of Action to win the PRO Act – Click here to make a call.
C.J. Atkins contributed to this article.