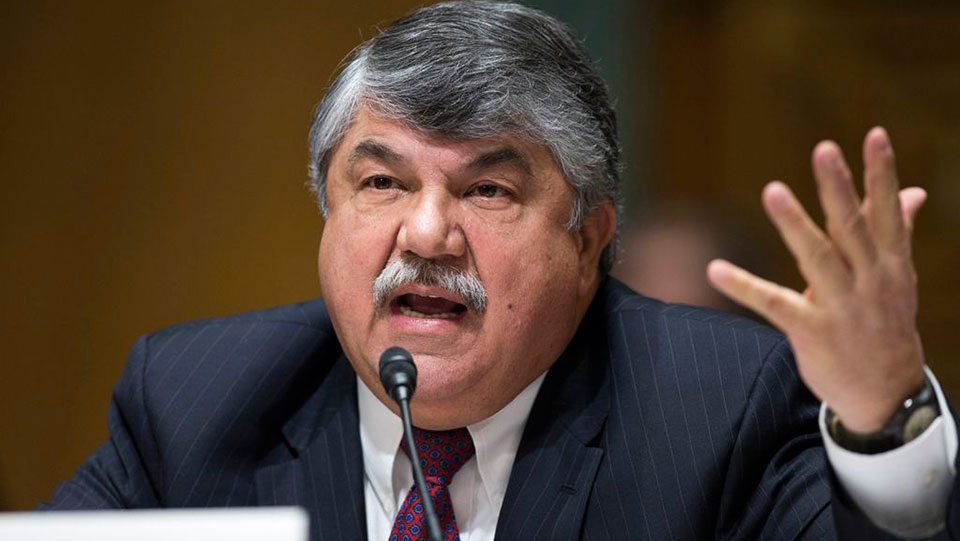 MATAMOROS, Mexico—The AFL-CIO, the Service Employees, Public Citizen, and an independent Mexican union filed a labor law-breaking complaint under the new U.S.-Mexico-Canada free trade agreement (USMCA) against a Philadelphia-based, Canadian-controlled auto parts firm which is illegally trying to stop the independent union at its plant in Matamoros, Mexico. The parts which plant workers make go into cars exported to the U.S.
The complaint, filed May 10, invokes the USMCA's Rapid Response Mechanism to demand mediation for 85 days between the Mexican Sindicato Nacional Independiente de Trabajadores de Industrias y de Servicios Movimiento 20/32 (SNITIS) and the firm, Tridonex.
If mediation fails, the case promptly moves to a three-judge panel for a hearing and decisions, the USMCA says.
The case also illustrates the continuing exploitation of low-wage Mexican workers by multinational corporations, even though the USMCA was supposed to lessen if not eliminate such repression.
The entire mess came the same day Democratic President Joe Biden named a new chief of international labor affairs in the U.S. Labor Department who's extremely familiar with the USMCA and its provisions: Thea Lee, the longtime AFL-CIO trade specialist, deputy chief of staff and, most recently, head of the Economic Policy Institute.
It also comes two months after a class of Mexican working women filed a case there, declaring the U.S. condones discrimination based on sex among workers who gain H2-A and H2-B visas, which allow them to work in the U.S. in jobs ranging from farming to fisheries to chocolate plants.
At issue in the AFL-CIO-SEIU-SNITIS case is whether under new Mexican labor laws Tridonex is illegally blocking SNITIS, whom the plant's workers voted for. The case was filed citing a USMCA provision promoting independent unions–at the insistence of U.S. bargainers pushed by the AFL-CIO.
The complaint says that for two years, Tridonex, a subsidiary of Philadelphia-based Cardone Industries, responded to SNITIS by harassing, intimidating, and firing between 600 and 717 workers and by getting the governor of the Mexican state of Tamaulipas to jail the union's advocate, outspoken labor lawyer Susan Prieto Terrazas, on trumped-up charges.
Facing international pressure over her case last year, Tamaulipas's governor freed her after a month but forced her into internal exile in another Mexican state, Chihuahua, and a ban on labor case advocacy.
And Tridonex sends withheld dues from workers' paychecks to company-dominated "protection union," the Union of Day Laborers and Workers of the Industrial Maquiladora in Matamoros, Prieto Terrazas says.
The "USMCA requires Mexico to end the reign of protection unions and their corrupt deals with employers," said AFL-CIO President Richard Trumka in announcing the filing. "Ongoing harassment of Susana Prieto and SNITIS members is a textbook violation of the labor laws Mexico has pledged to uphold."
Tridonex workers are suffering from the abuses of a corrupt and criminal union leader, who is protected by the company so that it can continue providing precarious wages and working conditions," said Prieto via the joint statement about the case.
"All of this through oppressors who harass, intimidate and beat the workers with the consent and protection of Tamaulipas Gov. Francisco García Cabeza de Vaca. We are fighting so no one ever is afraid of freely electing the union they wish to represent them and to make history, ending several generations of modern slavery," Prieto added.
Prieto first came to international notice when she led Mexican workers in maquiladoras in Matamoros, on the Texas-Mexico border, in a successful wildcat strike in 2019 for higher wages. She also took the entire repression of both her and the workers directly to Mexican President Andrés Manuel López Obrador in a one-on-one meeting with him last July, a recent letter from her to AMLO—seeking another such session—says.
"You know better than anyone about the age-old marriage that exists between the authorities and criminal organizations in Tamaulipas, as well as the political and business collusion that flourish not only here, but in Chihuahua, my home state: A convergence of illegal interests that drives the persecution," her letter said in part.
"The political persecution against me and my imprisonment affect the decades-long fight to improve the living conditions of workers in Mexico," Prieto wrote AMLO.
"This became visible with the struggle for union democratization and freedom of association by the workers of Tridonex and Fischer Dynamics, which were restraining the freedom of association and collective bargaining rights enshrined in the reforms to the Federal Labor Law of 2017 and 2019, as well as Chapter 23 of the USMCA, for which our country, as I have announced to various audiences, may be held liable before international tribunals.
"Corporations' denial of workers' basic rights undermines the livelihoods" of the workers, Prieto declared. It not only costs Mexican workers representation and wages but costs U.S. workers jobs, too, adds Service Employees President Mary Kay Henry.
"Tridonex's suppression of workers' rights has cost our members in Philadelphia hundreds of good manufacturing jobs, and now they're doing the same to workers in Matamoros," said Henry. "USMCA requires Mexico to enforce its labor laws and the Rapid Response Mechanism was designed to ensure facility-specific enforcement opportunities to help workers here at home and in Mexico who want to join together in unions, have safe workplaces, and raise their families with dignity."
The case against Tridonex is the first case filed under the USMCA's new pro-worker provisions, and the second overall. The first was filed with Mexico against the U.S.
Two months ago, dozens of U.S. and Mexican organizations—including the Teachers, the United Food and Commercial Workers, Farmworker Justice, and workers advocates in North Carolina and the Pacific Northwest—backed a class of working women covered mostly by H2-B U.S. visas for employment in the U.S. That class cited the same section of the USMCA, declaring the U.S. condones sexual discrimination in that visa program.
"The United States fails to live up to its commitments in Chapter 23 of the USMCA by enabling discrimination in the workplace, including pervasive sexual harassment and sexual violence, limiting workers' ability to seek free legal services to support claims for violations of U.S. employment laws, and failing to adequately monitor, investigate, and enforce violations of U.S. employment law," including Civil Rights Act violations, their class action complaint said.
The discrimination takes several forms, Adareli Ponce Hernandez, Maritza Perez Ovando and their co-workers added: 97% of H2-A visas, which offer higher wages and free housing to imported workers, go to men. Women get more of the more restrictive H-2B visas, but they're discriminated against there, too. In the last year for which H-2B visa data are available, 2018, men got 107,775 H-2B visas and women got 12,576.
The female H-2B workers, who toil in agriculture, crawfish, and chocolate processing, are also funneled into sex-segregated jobs and are paid less than men in comparable occupations, their complaint to Mexican labor enforcement officials said.
"The plaintiffs and their female coworkers were capable of performing the work assigned to men," their complaint said. "Ponce states she was forced to work on a women-only assembly line. When Ponce asked to work a job that involved the operation of machinery, her manager flatly told her no. Ponce's manager told her that role was only for men. Notably, the job that was reserved exclusively for men paid $2 more an hour and provided opportunities to earn overtime." The jobs for the women didn't.