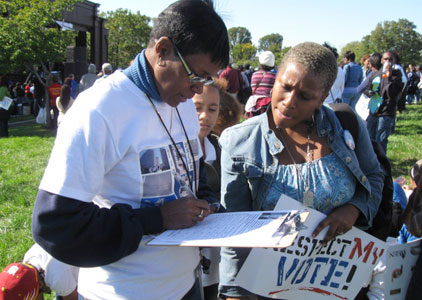 WASHINGTON – The party cleavage was stark in the GOP-run House last year on AFL-CIO-selected key votes, with the GOP a sea of red "x" wrong votes on labor's issues, and Democrats racking up almost as many blue check mark "rights."
The split was especially stark in some ideologically polarized state delegations. For example, South Carolina's five Republicans each voted wrong on every single one of the 18 votes, while Rep. James Clyburn, a member of the House Democratic leadership, compiled an 18-0 "right" mark – the only leader to do so.
The partisan divide in the voting study reflects the House's attitude as a whole, where anti-labor legislation often made its way to the floor, and was supported by a solid phalanx of the Republican majority.
Overall, 137 House Republicans each went 0-18 on the AFL-CIO's key votes, while another 18 also never voted with labor, but missed votes here and there. And 17 more agreed with organized labor's stand only once on last year's key votes.
By contrast, 72 Democrats voted in agreement with labor's stands every time. Another 8 missed votes here and there but still never voted against the union stand.
The Democratic total would have doubled, had not 79 Democrats' only break with labor been on the Congressional Progressive Caucus' substitute budget resolution. That group included House Minority Leader Nancy Pelosi, D-Calif., Minority Whip Steny Hoyer, D-Md., and Rep. John Dingell, D-Mich., the House's longest-tenured member. Another three opposed labor's stand on another lone vote on another issue.
There were occasional GOP deviations from the norm. They were led by Reps. Dave Reichert, R-Wash. (11-4, 3 absences), Jo Ann Emerson, R-Mo. (11-6-1), Ilana Ros-Lehtinen, R-Fla. (11-6-1), Mario Diaz-Balart, R-Fla., Chris Smith, R-N.J., and Steve LaTourette, R-Ohio (each at 11-7).
Just behind were Tim Johnson, R-Ill., Don Young, R-Alaska, Frank LoBiondo, R-N.J., Michael Turner, R-Ohio, and Michael Grimm, R-N.Y., all at 10-8. LoBiondo and LaTourette co-chair the small House GOP Labor Caucus. Grimm represents Staten Island and Turner's old district included Dayton.
The worst Democrats were Reps. Dan Boren, D-Okla., who is retiring (11-7) and Mike McIntyre, D-N.C. (11-7), redistricted out of his seat by the GOP-run legislature.
Unions use the AFL-CIO figures as part of their evaluations when deciding, locally, whether to support or oppose an incumbent lawmaker. The Oregon AFL-CIO, however, has gone beyond the key votes to evaluate lawmakers on their committee votes and their advocacy – or opposition to – pro-worker positions at key points in the legislative process. It has also factored in the nature of each lawmaker's district.
The Senate voted in such lockstep in 2011 that only five individual votes could not be predicted by the senator's party, AFL-CIO data shows.
The federation used four key votes in 2011 to compile its Senate records. Local and state unions use its voting studies as one component in their endorsement process. Out of 400 votes – four for each of the 100 senators – only one each by Republicans Jim DeMint (S.C.), Rand Paul (Kent.) and Mike Lee (Utah) and Democrats Jeanne Shaheen (N.H.) and Ben Nelson (Neb.) could not be predicted by their party affiliation.
The three Republicans all voted with the AFL-CIO and against a continuing resolution to fund the federal government at 2010 levels, last March 9. It was the Senate version of the House money bill for most of the federal government, with deep cuts for many domestic agencies and elimination of everything from money for Planned Parenthood to funds for the Joint Strike Fighter. It lost 44-56.
The AFL-CIO opposed that money bill because the cuts were too deep and too wide for programs people depend upon. Paul, DeMint, and Lee – the three Senate leaders of the tea party – opposed it because they wanted to cut even more.
Shaheen and Nelson parted company with the AFL-CIO when Sen. Olympia Snowe, R-Maine, tried to make it tougher for federal agencies to write rules governing various industries. She wanted to put the new hurdles in a small business bill. She got a majority of votes, 53-46, but needed 60 to overcome a filibuster and stick her amendment into the legislation. Forty-four Democrats and both independents voted against Snowe, while Shaheen and Nelson joined the GOP on the vote.
Photo: Rally for jobs, not cuts, Oct. 15, 2011, Washington, DC. PW