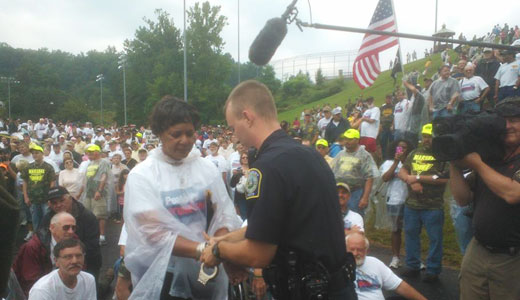 FAIRMONT, W. Va. – The Mine Workers-led monthly protests against the bankruptcy ruling for Patriot Coal that robbed tens of thousands of retired miners and their dependents of health care coverage continued and escalated on July 9: 31 people, led by union President Cecil Roberts and AFL-CIO Executive Vice President Arlene Holt-Baker, were arrested in the latest demonstration, in Fairmont, W. Va.
The protest there, which drew 5,000 people, was the 14th in a series the union launched months ago to highlight how the Patriot bankruptcy ruling hurts retired and active miners. The bankruptcy court not only let Patriot throw the retirees off health care, but also let the firm drastically cut wages and benefits for active union miners.
Before the arrests, Roberts, Holt-Baker and Steel Workers President Leo Gerard took turns denouncing Patriot, along with Peabody Coal Co., and Arch Coal. Those firms spun the retirees off to Patriot several years ago without providing assets to pay for health care, and when Patriot filed for bankruptcy the process puts workers at the back of the line and bankers first when a firm goes broke. Gerard was not arrested.
"The United States of America is not great because of CEOs," Roberts said. "It's not great because of lawyers. It's great because of the working people of the United States. This is a faith-based movement, it's a civil rights movement, and it cannot fail.
"We're standing for those afflicted with black lung. We're standing with those who are in hospice care taking their last breath with their priests and ministers and families all around them. We're standing with those who have cancer. We're standing with the afflicted because the Bible tells us, 'Honor your mother and your father,'" he said.
A steady rain didn't dampen spirits, Holt-Baker said. She called the downpour "the tears of the righteous trying to wash away the injustice of Patriot Coal."
"It's hard to believe that these Lexus-driving, latte-drinking, pocket-picking, health care-robbing, Wall Street coupon clippers, tax avoiders, pension-stealing, health care-robbing SOBs aren't in jail," Gerard, himself a miner's son from Ontario, told the crowd.
Patriot said it postponed dumping the retirees' health care by two months, to the end of August, after a federal bankruptcy judge in St. Louis, earlier this year, said it could dump them on July 1. The firm also says it is cutting salaries by smaller amounts than planned, and that it still wants to settle the mess in negotiations with UMW.
But even if the Patriot dispute is settled, members of the crowd and Gerard made the point that lawmakers must change federal bankruptcy laws, which are stacked against workers when a firm goes bust.
Photo: Arlene Holt Baker arrested at W. Va. protest. Facebook page