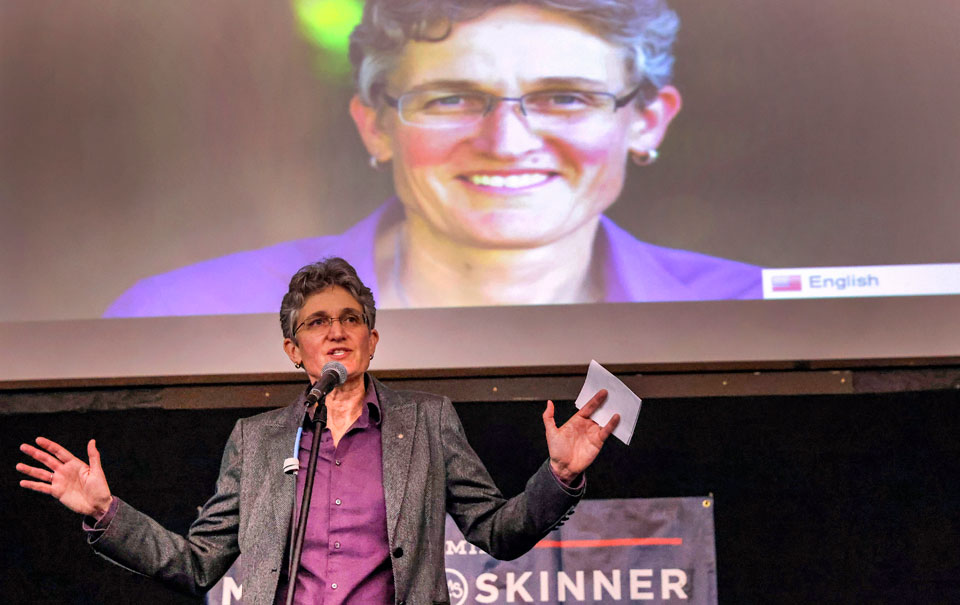 PHILADELPHIA (PAI)—It was buried at the bottom of a long resolution detailing the need to rewrite and strengthen U.S. labor laws, making them pro-worker again, but the AFL-CIO has reiterated that candidates' support for the Protect the Right to Organize (PRO) Act shall be a litmus test—though it didn't use those words—for labor's election endorsements.
The decision is no surprise. The late AFL-CIO President Richard Trumka made it part of a labor law platform plank in a major speech several years ago, and used the words, too. This language, at the end of Resolution 7, "The time is now for fixing America's broken labor laws," was blunt:
"We reaffirm our commitment, which we first made at the 2017 AFL-CIO Convention, that no candidate or elected official who fails to endorse and fight for these fundamental reforms should receive the support of working people," it says.
In practical terms, that means unions won't devote money or people to electing such labor foes this fall, regardless of their record on other issues. What it's silent about is whether unions will actively campaign for those politicians' foes, or sit out the elections involved.
In some cases, that may be the only choice—such as where a pro-corporate Democrat is the party nominee for a U.S. House seat but faces a Trumpite Republican committed to overthrowing constitutional government. But at least in one U.S. House race recently, labor showed its might against a fair-weather friend.
Rep. Kurt Schrader, D-Ore., voted against the PRO Act in 2019, though the Democratic-run House approved it. The state AFL-CIO uninvited him from its events the next year. After demonstrations at his office in 2021, he flip-flopped. But unions didn't—and don't—trust him.
Instead, big Oregon unions threw their support to his opponent in May's Democratic primary, former AFSCME member Jamie McLeod-Skinner. Her union backers included the Service Employees, the United Food and Commercial Workers, the Oregon Nurses Association, and the Oregon Education Association. The state's Working Families Party backed her, too.
The Government Employees backed Schrader because he voted for the annual defense authorization bill, the only Oregon Democratic representative to do so. The Teamsters and the Carpenters also backed him, the Northwest Labor Press reported.
The Democratic "establishment," led by President Joe Biden, backed Schrader, who enjoyed a 6-to-1 fundraising spending edge. It didn't help.
McLeod-Skinner criticized Schrader's legislative record, saying "He's fought negotiating lower drug prices, raising the federal minimum wage, and forgiving debt for college loans… When he does vote with Democrats, it is often after working to water down the original ideas," Ballotpedia reported.  McLeod-Skinner defeated Schrader 57%-42%.