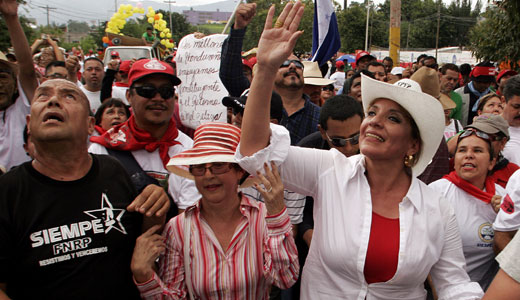 WASHINGTON – The AFL-CIO and two leading Honduran union federations formally complained to the U.S. Labor Department that Honduras is violating the Central American Free Trade Agreement by not enforcing its own labor laws. The groups asked the DOL to investigate, negotiate changes, and punish Honduras if necessary.
In the case, filed Mar. 29, the federations said the Latin American government is refusing to enforce its laws in the manufacturing, agriculture, and port sectors. Last year, the DOL found another CAFTA signer, Guatemala, broke the CAFTA pact.
Honduran workers' internationally recognized rights to freedom of association, collective bargaining, and acceptable working conditions are also violated, this year's complaint said. Many workers have nowhere to turn for legal relief and there is still excessive use of child labor in Honduran agriculture, it adds.
Honduras "has not complied with the ILO provisions" in CAFTA, said Francisco Joel López Mejía, Deputy Secretary General of the Independent Federation of Workers of Honduras, one of two Honduran union leaders who came to Washington to file the complaint.
"The [Honduran] government and corporations have continued to act with impunity, while undermining our most basic rights," Lopez Mejia said.
In particular, he said, the Honduran government changed its labor law in late 2010 to let firms hire up to 40 percent of their workforce on temporary, part-time contracts for what is usually full-time work. The other Honduran leader, Evangelina Argueta Chinchilla of the General Workers Confederation, said: "We are here in search of justice. For many years our government neglected workers and even violated their own promises. They ignored Honduras' unions, while dealing openly with corporations. They passed laws that undermine unions and reduce the standards of living."
Photo: A Honduras Labor Day rally. Corporations are undermining the rights of workers like these. Fernando Antonio/AP