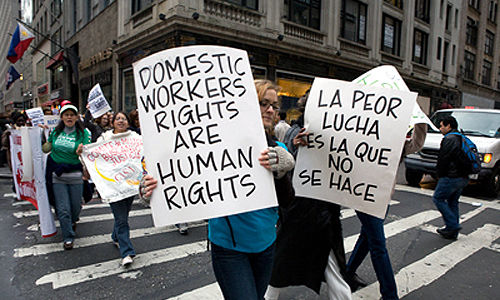 She became the child's nanny when the little girl was 18 months old. For the next seven years she nurtured and guided the girl through all the typical milestones of childhood – growing out of and into new clothes, toileting, walking, playing, meeting new friends, pre-kindergarten, first grade and more.
Haitian immigrants don't have a wide variety of employment choices when they arrive in New York – that's how Patricia Francois ended up working as a nanny for the child of a millionaire couple. She hadn't planned on loving someone else's child as if it were her own. That, and her limited employment options, she says, is why she put up with regular beatings she received from the girl's father and with the failure of the girl's mother to intercede on her behalf.
Francois is one of 200,000 nannies and other domestic workers – housekeepers and home health care aides – who serve wealthy families for long hours at low pay in the New York City area.
One day, when the girl was eight years old and the girl's father was again beating Francois, she begged him to stop but then, out of both fear and anger, threatened to call the police. "He then had the nerve to ask me, 'Do you have the money for a lawyer?' when he knew that I live from paycheck to paycheck," Francois said.
She called the cops anyway but when they arrived she was afraid to file a complaint. "I was with this little girl all her life," she explained. "I couldn't stand her having to see her daddy in handcuffs."
Eventually Francois and thousands of other domestic workers in similar situations got the help they needed by turning to Domestic Workers United, a nine-year-old group of activists categorized as one of many "non-traditional" labor organizations sprouting up all over America. The organization helped get her into a program that assisted in improving her job skills, and it filed a lawsuit on her behalf.
Domestic Workers United has fought for and won $450,000 in back wages that wealthy employers owed to their live-in workers With help from the AFL-CIO, it is close to winning passage in New York state of a Domestic Workers Bill of Rights.
For all of these accomplishments it received the Letelier-Moffitt Award on Oct. 15 from the Washington-based Institute for Policies Studies, which also gave the award that same day to a group of Salvadoran workers whose struggles have stopped two multinational corporations from conducting exploitative and environmentally destructive gold mining in that Central American nation.
Domestic Workers United, now a group of 2,300 of the nation's most exploited non-union workers, joins a distinguished list of past winners of the award including AFL-CIO President Richard Trumka, Jobs with Justice, and folk singer Pete Seeger.
The awards, which honor human rights crusaders, are named after former Chilean Foreign Minister Orlando Letelier and his aide Ronnie Moffitt, who were murdered by the secret police of U.S.-backed Chilean dictator Augusto Pinochet in a 1976 bomb explosion in Washington D.C.
Symbolic of the sweeping changes that have taken place since then was that this year Domestic Workers United received its award at an event where Labor Secretary Hilda Solis was the featured speaker. Solis is the daughter of a domestic worker.
A day before they received their award, members testified at a special Department of Labor hearing where they told their stories.
Bertha Dumuville, a nanny for five years, said, "I did not have bad experiences myself bit I know co-workers who did and who were fearful of losing their jobs or being deported. One family, on top of all her other duties, asked my friend to wash their car. When she didn't, they fired her."
"Another, who came from an agency from my country, St. Lucia [in the Caribbean], was not paid for three weeks – and the family wouldn't let her out of the house," Dumuville said. "When she finally could call the agency, they didn't return her calls."
Delores Wright, a Jamaican who has been a nanny for 21 years, said, "I am not afraid to speak up for my colleagues. Some cannot even eat food in the house they work in though they are there all day. Others work long hours with no overtime pay. And still others can't even get time off to go to the doctor."
Some of the Labor Department officials seemed surprised at the revelations. They took notes and promised further communications.
Domestic Workers United wants the department to put forward federal domestic worker regulations in areas such as meals, time records and sleeping arrangements.
"Like many others, I work in isolation and the working conditions are deplorable," said Lois Newland from Jamaica. "The hours are so long that the pay often works out to 50 cents an hour – far below the minimum wage. Live-in workers are sleeping on the floor or in the garage and have inadequate meals. Many of those who care for the elderly or children often sleep in the same room as the people they care for 24 hours a day, seven days a week."
Labor Department officials admitted that, prior to the arrival of the group from Domestic Workers United, they had known very little about the conditions faced by such workers.
Ai-Jen Poo, the group's founder and organizer, and herself the daughter of Chinese immigrants, says her organization also engages in intensive lobbying which has brought closer than ever the passage of the bill of rights in New York state.
If it becomes law, domestic workers would be covered by the state overtime pay law, would be guaranteed at least one full day off per week, would be covered by the state's anti-discrimination and human rights laws, and even part-time domestic workers would be covered under state disability laws.
"Right now," said Poo, "Some 2 million domestic workers nationwide are exempted as a class from virtually every federal labor law protection. If we pass the bill in New York it could be a model for the rest of the country."
Poo is pleased about the growing cooperation between the mainstream labor movement and non-traditional organizations such as hers.
Domestic Workers United, she said, has joined a coalition of 18 groups operating in 10 cities. She said the AFL-CIO was instrumental in helping build the coalition.
She also said she was excited about the major role the AFL-CIO has played in building for the first-ever international conference of domestic workers which will be held next year in conjunction with meetings of the International Labor Organization.
When she accepted the award for her group, Poo said: "Workers all over this country are facing the same thing as the domestic workers. It's brutal out there for everyone. The good news is that we are building solidarity with one another. The better news is that we're organizing. The best news is that we're going to win a Domestic Workers Bill of Rights and we're going to win passage of the Employee Free Choice Act."
Photo: nyc.indymedia.org/or/2009/09/107252.html