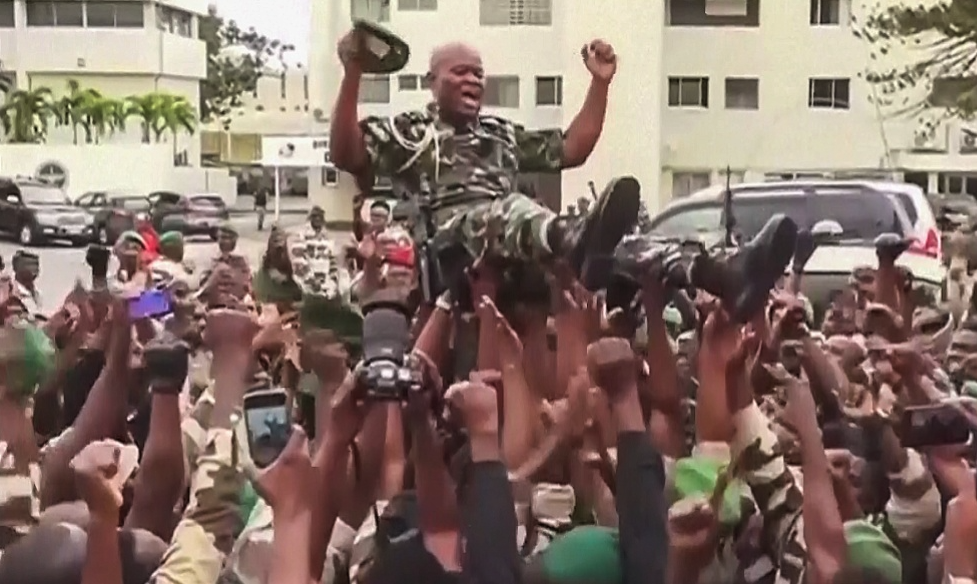 Security forces in Gabon said Wednesday they had seized power and "put an end" to the rule of the family that has held power for 55 years in the francophone country.
The military also announced that they had arrested the president, Ali Bongo Ondimba, whose re-election, after a campaign marred by violence, was announced just hours before.
Every vote held in Gabon since the country returned to multi-party democracy in 1990 has ended in violence. This time, within minutes of the announcement, gunfire was heard in the center of the capital, Libreville.
A dozen members of the military then appeared on state television and announced that they had seized power.
Introducing themselves as members of the Committee of Transition and Restoration of Institutions, they said: "In the name of the Gabonese people we have decided to defend the peace by putting an end to the current regime. We call on the people, the communities of brotherly nations that reside in Gabon as well as the Gabonese diaspora to remain calm and serene."
They added that they intended to "dissolve all institutions of the republic."
Later in the day, a second video carried on state television said the president and other people in the government have been arrested on various charges. Bongo was accused of massive embezzlement during his rule of the oil-rich country.
His cousin, Gen. Brice Clotaire Oligui Nguema, was declared the transitional president by the army. Formerly a bodyguard for Bongo's father, the late President Omar Bongo, Oligui was also previously head of the Secret Service and the Republican Guard.
Bongo, under house arrest, released a video urging the people to support him, but large crowds soon took to the city's streets to celebrate the end of his reign. He has served two terms as president since succeeding his father who died in 2009. Together, the father-son duo have ruled Gabon for 55 years.
Nine members of the Bongo family are currently under investigation in France on embezzlement, money laundering, and other charges. They are linked to more than $92 million dollars worth of properties in France.
"Thank you, army. Finally, we've been waiting a long time for this moment," said Yollande Okomo, standing in front of soldiers.
"Long live our army," said Jordy Dikaba, a young man walking with his friends on a street lined with armored policemen.
French mining company Eramet said it was ceasing all operations in Gabon. The company's subsidiaries in Gabon operate the world's largest manganese mine and a rail transport company.
Gabon is also the eighth-largest producer of oil in sub-Saharan Africa. The former French colony is a member of OPEC, but all its oil wealth is concentrated in only a few hands. As of 2020, nearly 40% of people aged 15 to 24 were unemployed. Last year, oil export revenues topped $6 billion, but the population remains impoverished.
Private intelligence firm Ambrey said all operations at the country's main port in Libreville had been halted, with authorities refusing to grant permission for vessels to leave.
The coup attempt came about one month after the military in Niger seized power and is the latest in a series of coups that have challenged governments with ties to France, the region's former colonizer.
French Prime Minister Elisabeth Borne, whose country has 400 soldiers in Gabon, said: "We are following the situation in Gabon closely.″
The coup in Gabon is the eighth in west and central Africa since 2020.
This article features reporting from Morning Star international editor Roger McKenzie. It has been supplemented with further material.
We hope you appreciated this article. At 

People's World

, we believe news and information should be free and accessible to all, but we need your help. Our journalism is free of corporate influence and paywalls because we are totally reader-supported. Only you, our readers and supporters, make this possible. If you enjoy reading 

People's World

 and the stories we bring you, please 

support our work by donating or becoming a monthly sustainer today

. Thank you!