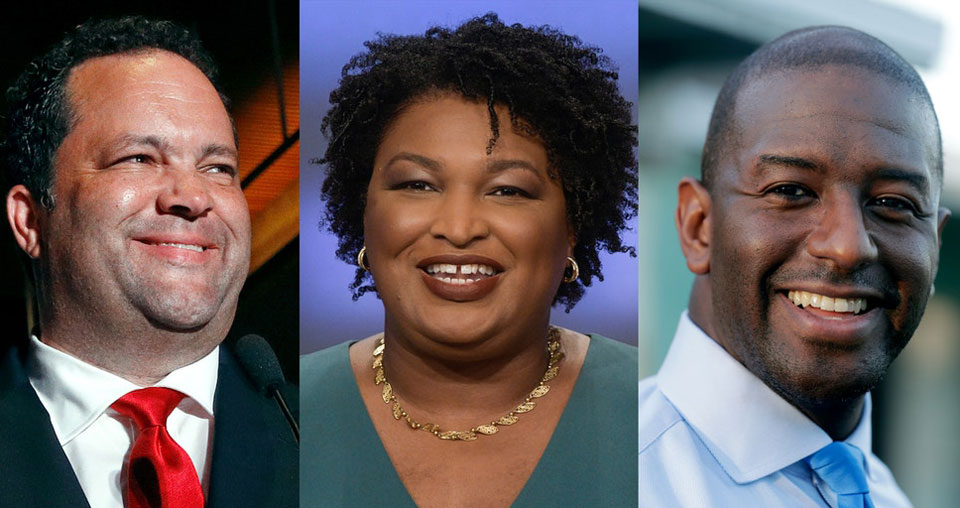 WASHINGTON—A rollicking, energized crowd of more than a thousand people greeted African-American gubernatorial nominees Stacy Abrams of Georgia, Andrew Gillum of Florida and Ben Jealous of Maryland as they talked about why they ran, how they ran and what they hope to accomplish when they win governors' mansions on November 6.
And the big theme in their answers on September 13 was that authenticity triumphs at the polls.
Gillum and Jealous hit that theme in a panel discussion at the Congressional Black Caucus foundation's legislative conference. Both men beat establishment-backed candidates in Democratic primaries. The top foes for all three Democrats were supposedly more moderate, and two, in Georgia and Florida, were white. Abrams' authenticity led both party regulars and insurgents to support her.
Jealous and Gillum also defied pollsters' predictions — in Gillum's case, even on primary eve. They showed him losing by seven percentage points. He won by four. "Don't trust the polls," he said.
The three also declared their authenticity shows up in their progressive positions, on health care for all and against the right wing's "stand your ground" law (Florida), pro-gun control – in Georgia, of all places – and for more education spending (Maryland), among other issues.
"If I was (to be) known for one thing, it's to massively increase money for our schools," Jealous said. "I'm going to finish the fight" for quality and equal education "my mom started."
"I didn't have to change my hair, my skin color or my ginger to become governor of Georgia," said Abrams, the state house minority leader. So when she talked sensible gun control in supposedly gun-happy Georgia, voters thanked her, even in rural towns "that are hardly bastions of liberalism."
"The only thing I haven't been is rich," added Gillum, the Tallahassee mayor and only non-millionaire in a multi-candidate primary. "I was the "broke' one," spending $6 million in the nation's third-most-populous state and its expensive media markets.  Gillum's foes spent a combined $90 million and lost.
"Voters saw I didn't have to compromise. That liberated me and I could be myself," Gillum said.
Jealous, former executive director of the Baltimore-based NAACP, ran on values his parents inspired – and wasn't afraid to utter the word "union" on the campaign trail. His mother was not only a union member but integrated her high school in the western section of Baltimore, after her family and civil rights groups sued to let her in.
"The (Democratic) establishment first tried to disown me from my own state," he said, referring to commuting between his white father's out-of-state home and his mother's place in Baltimore. The two had to live apart "because my parents' marriage was illegal," when they wed.
"And when you're from west Baltimore, you never forget where you come from. You can't get from growing up in a housing project to being a Rhodes Scholar without the help of unions" his mother belonged to, which provided her decent wages. "You're not supposed to mention unions south of the Mason-Dixon line," he added. Maryland is 10.8 percent union, ahead of Florida (5.6) and Georgia (4.0).
Whether authenticity will win in November is another matter. Gillum slightly leads Trumpite Rep. Ron DeSantis, R-Fla., who has already cast racial slurs into the campaign. Abrams is tied with Trumpite Secretary of State Brian Kemp in red-turning-purple Georgia.  Jealous trails incumbent non-Trumpite GOP Gov. Larry Hogan in deep-blue Maryland. And unlike in Georgia, Maryland's Democratic establishment politicians are either sitting on their hands or giving him tepid support.
Much of the result will depend on turnout, the three said. Compared to the 2014 primaries, Democratic turnout rose in all three states. But African-American turnout declined from the 2012 general election, when incumbent Democratic President Barack Obama ran, to 2016, when Hillary Clinton ran for the job.
Pre-packaged candidates don't give voters a reason to come out, Jealous said. Instead, they see no difference and stay home. Candidates who move to the middle "are playing with the marbles on the table. We're trying to bring more marbles into the game," he added.
Gillum said he reverses the pressure on him – as the first African-American major-party gubernatorial nominee in Florida – back on his crowds. "Go vote!" he urges, over and over again. If all three win in November, the U.S. next year would have more African-American governors all at once than it has had in all the years since Reconstruction ended.
But all three also face an onslaught of "dark money" funded ads from shady GOP groups, many of them including dog whistles designed to divide and scare white voters. And Gillum has already been a tweet target of GOP President Donald Trump. "Their goal is to make us go low," Jealous commented. "They use race to divide us."
Their response: Don't go in the gutter with their foes unless the foes cross undefined nasty lines. Then respond with scorn, and cite those insults to get their own backers to the polls. Jealous took an extra shot at politicians who, listening to pollsters and consultants, drift to the center. Those pols "are operating from the old playbook."
That playbook, he added, warns candidates not to discuss issues such as poverty, criminal justice reform or paying teachers enough to live on. Jealous said. The others agreed avoiding such issues is wrong.
"I broke all the rules about talking about gun safety," Abrams said. "And that's even though I know how to shoot, having learned from my grandmother."
That's when she told the story of a mother in the rural town, whose depressed college-age daughter used Georgia's lax gun laws to buy a gun and kill herself. "Please God, she (the mother) told me, be a governor who will save someone else's child."
"You have to give voters a reason to vote for something, not just against someone," Jealous concluded.