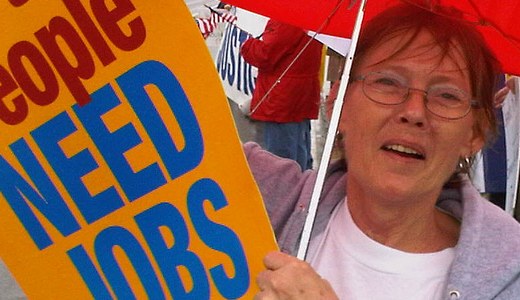 Despite the modest improvement in the overall jobs picture last month, the Republican assault on the public sector threatens to accelerate the rate at which public employees are being laid off, with especially dire consequences for African Americans and women.
Since January 2009, 429,000 public sector jobs have been lost at the state and local level, with no end in sight.
Susan Feiner, professor of economics, women and gender studies at the University of Southern Maine, wrote, "While women represented 57 percent of the public sector workforce at the end of the recession, women lost the vast majority – 79 percent – of the 327,000 jobs cut in this sector between July 2009 and February 2011," according to a report by the National Women's Law Center.
Feiner noted that women government workers at the federal (43 percent), state (53 percent) and local (61 percent) levels "have been able to better resist the wage reductions, benefit cuts and mass layoffs that giant multinational corporations have visited upon employees over the last decade."
"This is especially important for women," Feiner concluded, "because public sector employment offers the best opportunities to use one's education, forge a career and raise a family."
While no comparable hard figures appear to be available for African Americans, Steven Pitts, labor policy specialist at the University of California-Berkeley Labor Center, last week released a new research brief, Blacks and the Public Sector, which clearly reveals the devastating effect persistent public sector layoffs are having on the African American community.
Pitts showed in his striking study that:
The public sector is the single most important source of employment for African Americans.
Both before and after the onset of the Great Recession, African Americans were 30 percent more likely than other workers to be employed in the public sector.
For men and women, the median wage earned by black employees is significantly higher in the public sector than in other industries.
Prior to the recession, the wage differential between black and white workers was less in the public sector than in the overall economy.
In a hard-hitting commentary, the Rev. Jesse Jackson said, "This Great Recession has been a Great Depression for young people."
"Here again, there is a racial divide," Jackson added, "Over 40 percent of all African Americans between the ages of 16 and 19 are unemployed, compared with 21 percent of all whites of that age."
Calling black and youth unemployment "a national emergency," Jackson argued, "We cannot allow mass unemployment to be the new normal. We cannot write off an entire generation."