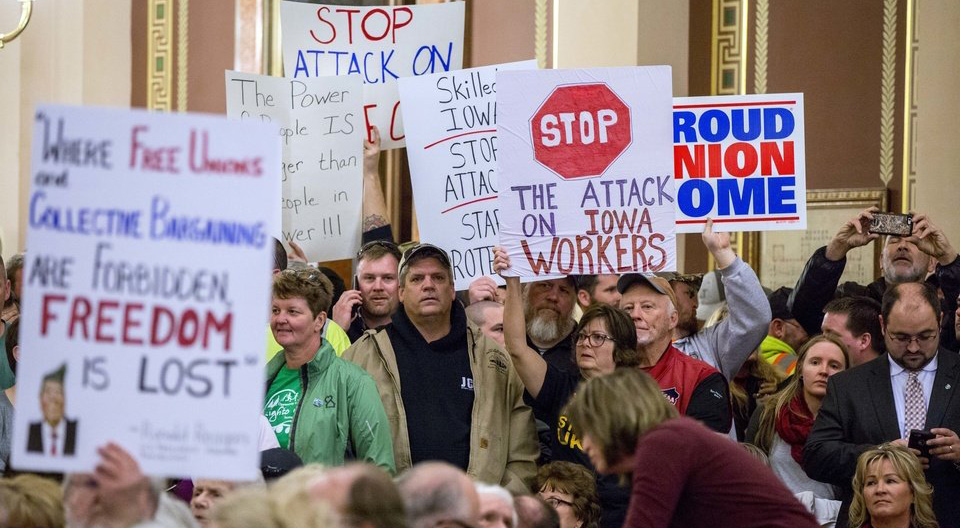 Fighting back against yet another Republican-run state government, AFSCME State Council 61 in Iowa is taking the state to court over a new law yanking bargaining rights from most public workers.
The law, signed Feb. 17 by Gov. Terry Branstad – whom Republican President Donald Trump nominated as ambassador to China – bars public workers, except some police and fire fighters, from bargaining for improvements to their benefits and working conditions.
Two of the four workers Council 61 asked to lead the suit are police officers and a third is a corrections officer. The law, however, covers all four, AFSCME's suit, filed Feb. 20, says.
The bargaining ban is unconstitutional in Iowa, says Iowa Council President Danny Homan, whose council represents 40,000 state and local employees in the Hawkeye State.
The law "effectively steals workers' rights that were established more than 40 years ago," the council said in a statement. "We are suing over the constitutionality. We believe the law treats public employees differently," Homan said.
The GOP-passed Iowa law is part of a wide-ranging nationwide campaign by business and the radical right to trash unions, and specifically public sector unions. They view unions in both the public and private sectors as the bastion of workers' opposition to the corporate-right wing agenda.
Their campaign includes right to work laws, laws barring public worker unions from bargaining, laws abolishing teacher tenure and more.
Council 61's suit says the new law breaks Article I, section 6 of the Iowa constitution. That section says "all laws of a general nature shall have a uniform operation" and that the legislature "shall not grant to any citizen, or class of citizens, privileges or immunities, which, upon the same terms shall not equally belong to all citizens."
The new law "violates this constitutional guarantee" by setting up different classes of public workers and giving bargaining rights to some of them, but not to others, the suit says.
The new law "can only be described as draconian, significantly altering a law that had been in existence for over 40 years, eliminating some public employee rights, restricting other public employee rights and, among other changes, making it almost impossible for public employees to secure and maintain representation through an employee organization," it adds.
The council sued the governor in Polk County (Des Moines) District Court. The council also asked the court to move quickly, since the state and the council are bargaining for a new contract. The current pact expires June 30.
No date has been set for a hearing on Council 61's suit.