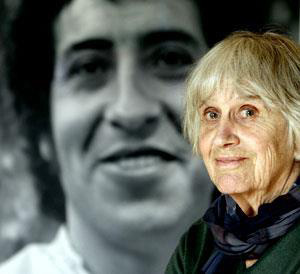 SANTIAGO, Chile (AP) — Eight former army lieutenants have been charged in the killing of communist singer and songwriter Victor Jara in 1973.
A January 2 press conference took place in Santiago with Jara's widow, Joan Jara, and their daughters, Amanda and Manuela, along with members of the Victor Jara Foundation and the prosecuting attorneys, Nelson Caucoto and Francisco Ugaz, along with others representing culture and human rights.
Joan Jara spoke from her heart: " It seems almost impossible that we are back. We have fought for decades and things are now moving. It is very difficult to talk .. There is a time for celebration but a time when we must be calm and know that there is much work ahead to finally achieve true justice. And especially true justice for all victims. "
Amanda Jara, Victor's daughter, also expressed the feelings of the family in relation to recent prosecutions "We want to take this time to ask the [Chilean] Supreme Court to get the United States to extradite Pedro Barrientos [living in Florida] to answer for what he did. I think it is important to acknowledge the will of the Visiting Minister, Appellate Court Magistrate Miguel Vasquez, for taking steps. The first complaint was filed September 12, 1978, and now is an important time for us and we recognize that the judge has done something very significant. " Amanda also thanked the prosecuting attorneys for their work, and thanked the Legal Medical Institute and the Human Rights Brigade. "We are excited, I'd say a little anxious, but expectant and must continue working because this is not over."
Gloria Koenig, Executive Director of the Victor Jara Foundation, spoke to the will of the judiciary: "It is vital that the judiciary send a loud and clear signal regarding their willingness to advance the investigation into the murder of Victor Jara and that means getting the U.S. government to extradite Pedro Barrientos, meaning he comes to Chile and can testify."
Vazquez ordered the arrest of Hugo Sanchez Marmonti and Pedro Barrientos Nunez, who lives in the U.S. in Florida, as the authors of the killing, and the other six former military officials as accomplices. All have been detained except Barrientos, who is expected to undergo extradition proceedings.
The day after the Sept. 11, 1973, coup that toppled elected Marxist President Salvador Allende, Victor Jara was arrested and held at the Santiago football stadium with 5,000 other supporters. Jara's body was found several days later, riddled with bullets and bearing signs of torture. His widow Joan arranged a hasty, clandestine burial in Santiago's general cemetery before fleeing into exile.
Victor Jara has long been revered as a champion of Chile's working people and was a national symbol of resistance during the years of the repressive regime of ultra-right army general Augusto Pinochet from 1973 to 1990.
Under Pinochet's brutal rule, thousands of workers, students, artists, progressives and their leaders were murdered, kidnapped and disappeared. Tens of thousands were tortured and 10 percent of the population forced into exile.
Pinochet did not commit these crimes without help. Then President Richard Nixon, then Secretary of State Henry Kissinger, and big corporations like ITT helped engineer the 1973 coup that overthrew Allende, the democratically elected president.
The 1975 Select Committee Report by Sen. Frank Church revealed, "On September 15, 1970, President Nixon informed CIA Director Richard Helms that an Allende regime in Chile would not be acceptable to the United States and instructed the CIA to play a direct role in organizing a military coup d'état in Chile." This document also showed that the U.S. role in the coup was illegally kept secret from Congress. It adds, "In the end, the whole of U.S. policy making may be affected."
Pinochet set up "Operation Condor," a terrorist alliance that killed Chilean Ambassador Orlando Letelier and his associate Ronni Moffett, in a 1976 car bomb in Washington, D.C.
The extent of U.S. involvement in the brutal activities under the Pinochet regime includes training tortures and murderers at the School of the Americas. The SOA is a combat training school for Latin American soldiers, located in Fort Benning, Ga. It has trained tens of thousands of Latin American soldiers since 1946. After the Pentagon was forced to acknowledge the use of torture manuals discovered at the school, it was closed down, but almost immediately reopened under a new name: Western Hemisphere Institute for Security Cooperation. The SOA has been popularly dubbed "the School of Assassins."
Victor Jara came from humble rural roots and rose to become one of Chile's most beloved musicians and a well-known theater director in the 1960s and early 1970s. At that time Chile was witnessing a growing movement of radical ideas that led to the presidential election of popular socialist candidate Allende in 1970.
In Joan Jara's book, "An Unfinished Song," she made a powerful and eloquent statement about the invaluable role that the cultural movement, and especially the folk music of the people, plays in the radicalization and fighting spirit of a people's movement for justice and social change.
In 2009, Jara's body was exhumed in an on-going investigation to clarify the circumstances of his murder. In December of that year an estimated 6,000 mourners accompanied Jara's remains in a four-mile procession that ended in a cemetery in the nation's capital, Santiago, where he was buried for the second time.
Then Chilean President Michelle Bachelet hailed Jara as a great poet, singer, social justice activist, actor and a man essential for understanding Chile's national identity.
"Finally, after 36 years, Victor can rest in peace," said Bachelet, who was herself persecuted under the Pinochet dictatorship.
Video of Victor Jara's last performance, August of 1973, in Peru. He sings the haunting, "Pienso en ti." I think of you.
Associated Press and Barbara Russum contributed to this article.
Photo: Joan Jara, from the Facebook page of the Chilean music group Inti Illimani.