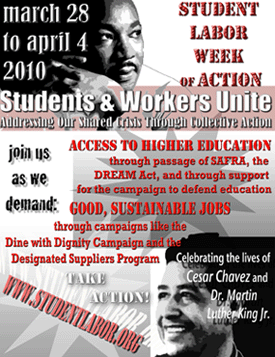 Nationwide students are on the move this week leading rallies, marches and educational forums highlighting student-worker solidarity, the fight for jobs, worker rights and increased access to higher education during the 11th annual National Student Labor Week of Action.
Actions in over 100 locations across the country are scheduled.
At the same time, thousands of students are celebrating the most sweeping overhaul of the college aid system in American history. President Obama signed into law the Healthcare and Education Reconciliation Act last week, which substantially increases grants for students, invests billions to boost college access, and eliminates bank profiteering by cutting them out of the student loan process.
Hundreds of students stormed Capitol Hill to lobby for the bill, now law.
Maria Escobar, national coordinator with the Student Labor Action Project (SLAP) was there the day Obama signed the measure into law.
"It was surreal knowing that this fight has been going on for 20 years," she said in a telephone interview. "And we worked so hard for this all year long and it shows that all of our direct organizing finally paid off."
But the fight is not over, Escobar said.
Escobar said the student-labor solidarity actions this week commemorate the life of two American heroes, who brought together civil rights with worker and union rights, Cesar Chavez and Dr. Martin Luther King Jr. Chavez was a founder of United Farm Workers.
March 31 is Chavez's birthday and Escobar said if he were alive he would still advocate for farmworker justice connecting the movement with community allies.
"He is still very much alive in the work that many of us do today," she notes. "He represented opportunity and hope for many immigrants who come to this country for work like my father who drives a bus," said Escobar. It's not right that workers like my father are forced to make low wages and that's why the fight for better working conditions and the right to join unions is so important, she said.
President Obama signed a proclamation designating March 31 as Cesar Chavez Day.
"Students and workers are coming together on many issues including the fight to pass the DREAM Act, advocating for fair labor contracts and stopping the devastating state budget cuts," she said.
Escobar said students will rally to support fair contract negotiations for Temple University nurses in Philadelphia, and host forums on green jobs and sustainable living wages for workers in Dayton, Ohio, plus much more.
David Fernandez is a senior at the University of Central Florida. He is also the president of the SLAP chapter on campus.
"Right now the biggest issue affecting students is the higher education crisis," he said.
Fernandez said a recent court ruling gave Florida's Board of Governors, an advisory body appointed by the governor, full control to raise tuition fees at state universities. He said students are already dealing with rising tuition costs on top of major budget cuts. The Board of Governors is not a democratically-elected body and will most likely continue to increase college tuition and make matters worse for the state budget crisis, Fernandez said.
"The university system could be further damaged because of this ruling and that's why we need to build a coalition to combat this problem," he said. "Young people and students need to get mobilized on campus and in their communities because this issue is a big deal for us."
Meanwhile student leaders say young people have also joined the fight against the big banks, to hold them responsible for the home foreclosure and economic crisis.
People are scared and trying to figure out how to survive in this climate, Escobar said. Even students that graduate with college degrees are not safe anymore when it comes to finding decent jobs, she said.
But, at the same time ordinary people everyday are becoming more and more aware and active in the struggle to fight for real alternatives to the current crisis, she said.
Photo: Student Labor Week of Action poster.